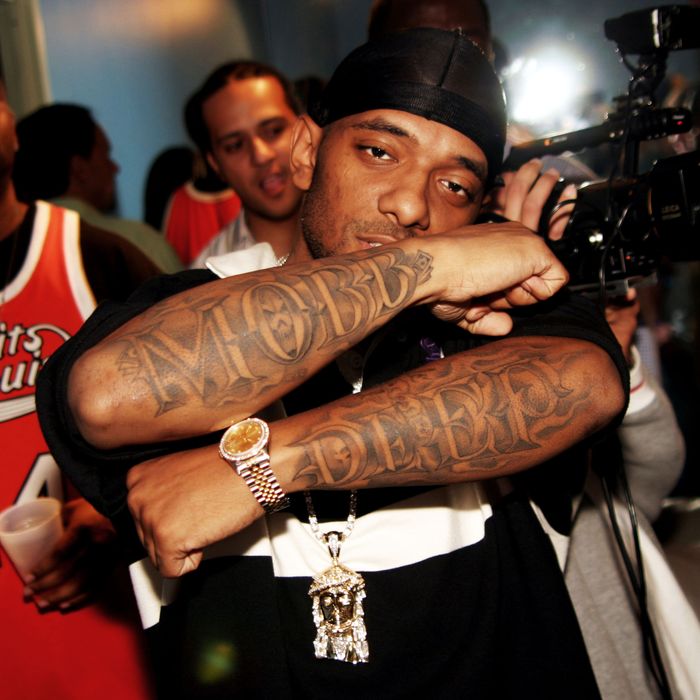 Photo: Johnny Nunez/WireImage
Last month's death of the legendary Mobb Deep's Prodigy was met with tremendous sorrow from hip-hop artists and listeners alike, who mourned, remembered, and celebrated the artist for his lyrical excellence and his contributions to the evolution of hip-hop culture. As Prodigy was quick to note while he was alive, hardcore hip-hop is built on a foundation laid by Mobb Deep, a group whose realist imagery and blunt honesty set a standard unsurpassed to this day. It seemed fitting that the artist, after losing a long battle with sickle-cell anemia, would be treasured in keeping with his deeds, and that a commemorative mural should be commissioned in Queensbridge, the Queens neighborhood he represented throughout his career.
Yet shortly after its unveiling, the mural was defaced, then restored, then defaced a second time, and finally taken down for good. Grief over the artist's death gave way to outrage over the insult to his memory: Who would dare to desecrate an icon and local legend of such stature? Answers were slow to come, but have finally arrived. Interviewed on YouTube by Gully TV, former Prodigy affiliate Mike Delorean related that the defacement of P's mural after his death came at the hands of Queensbridge natives he had insulted and otherwise dishonored during his life. Though respectful of Prodigy's accomplishments, Delorean himself was hardly on the best terms with Prodigy, due to business disputes and personal statements made in P's autobiography. According to Delorean, others, holding even deeper grudges, were responsible for splattering the mural with paint. "He scarred some people personally. … He talked badly about people … in jail. People who embraced him." The mural can't stand in Queensbridge, a neighborhood "where the people who he disrespected have kids that will see it every day."
Much as Prodigy's death was unfortunate but hardly unforeseen, the insult to his memory has a certain grim inevitability. No one earns a reputation for thorough honesty like P's without running the constant risk of insulting associates and friends, and P was known to be a proud and touchy personality prepared to preempt conflicts by starting them ahead of time. If the pain from P's sickle cell was one source of his aggravating tendencies, the harsh environment of Queensbridge was no doubt just as important: When "it's all about who gets who first," opportunities to patch up rifts are few and far between and grudges are likely to fester indefinitely. Like any great artist, Prodigy's memory is sure to outlive him, but it seems obvious, at least in retrospect, that memories of him would never be entirely friendly; sure, it would be nice to think so, but it would hardly be up to P's standard of truth.