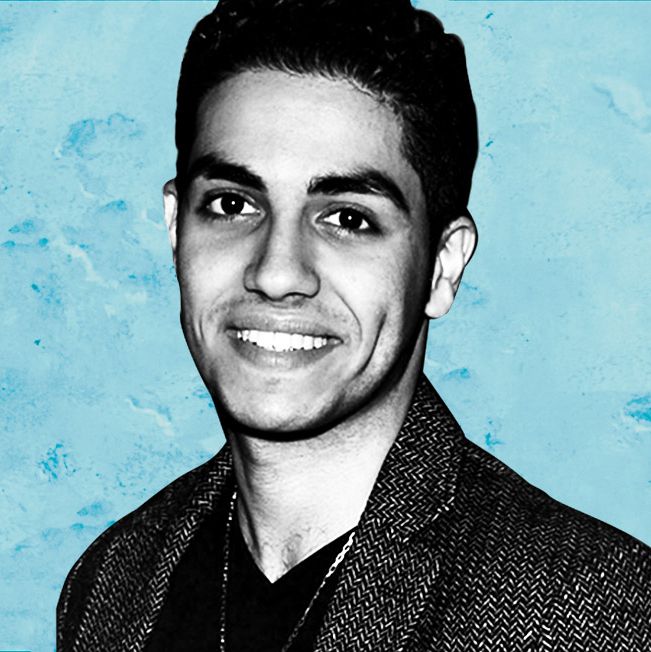 Photo-Illustration: Getty Images
Meet Mena Massoud, the guy who got the job a million actors of Middle Eastern and South Asian descent would have killed for: the title role in Disney's live-action reboot of Aladdin. After a reportedly extended search for Aladdin and Jasmine, Massoud beat out hundreds of other actors in a search process that also included names like Riz Ahmed and Dev Patel. Unlike them, he's a relative newcomer with a light digital footprint. Still, we scoured the internet for information on your new Aladdin to keep you one jump ahead of the riffraff.
All right. I'm an ignorant Westerner. How do I pronounce his name?
It's Mee-na Mah-sood.
Is he American?
No, he hails from our welcoming neighbor to the north, Canada. He was born in Egypt and his parents immigrated when he was 3 years old. He grew up in Markham, a suburb northeast of Toronto, and attended Brother André Catholic High School. For college, he started off by attending University of Toronto, where he studied neuroscience for a year, before transferring to Ryerson to study acting (also in Toronto) and graduating in 2014.
Ooh, a smarty. What was his first role?
Well, as you might expect from the Hollywood machine, his first IMDb credit is for "Al Qaeda #2" — a bit part on the TV show Nikita. That said, while he was finishing up at Ryerson, he auditioned for a Canadian teen drama by the creators of Degrassi called Open Heart and booked the part right after graduation. There he played Jared Malik, a hardass who runs the student volunteer program at a hospital where the show takes place.
What has he said about working in the industry as a brown actor?
The most press Massoud has done was promoting the first and only season of Open Heart, where he discussed his experiences a bit. In an interview with Defective Geeks, he said, "Being a visible minority in this industry still affects me. I can't compete for roles that require me to be Caucasian or African-American, even if those characters really connect with me and intrigue me. The competition may be less, some people would say, but the amount of work to be had is less as well. However, I think the industry is growing more and more and starting to support actors of all cultural backgrounds."
He's also said that he thinks his status as a third-culture kid ultimately helps him, because it gives him "something unique to offer." In an interview with the Hudsucker, he said, "I came from a culturally different household. My parents saw certain things differently than other people. My parents at a very crucial age in life packed up their life and decided to move to a country where they had no family or friends in order to provide a better life for their children. When you do that, you learn a few things along the way. You appreciate things more. You learn how to live with limited resources. You learn how to prioritize. So in that sense, my perspective is shaped based on certain beliefs and values."
Is that the case?
He certainly has a lot of other big projects coming up. He'll appear in the Amazon series Jack Ryan as CIA analyst Tarek Kassar alongside John Krasinski. Plus it was just announced that he'll star in the thriller Strange But True. His time is coming!
All right, let's get down to the real facts: How's his Instagram game?
Well, so far what we've figured out from trolling his Instagram is that he's vegan and he's doing his fair share of body-transformation thirst-trapping.
Plus, his hair can certainly take you on an emotional journey:
Cool. Are the abs for Aladdin?
From what we can tell, the abs started well before that, but lucky for him (us?), his body will likely be in peak shape for his shirtless-vest ensemble.
Is he single?
It's not clear, but our best guess is he's a free agent. He definitely had an ex-girlfriend whose presence he has since wiped off of his Instagram.
Can he sing?
We haven't found any karaoke clips, but he's funny.
Plus, Disney can always go the dubbing route!