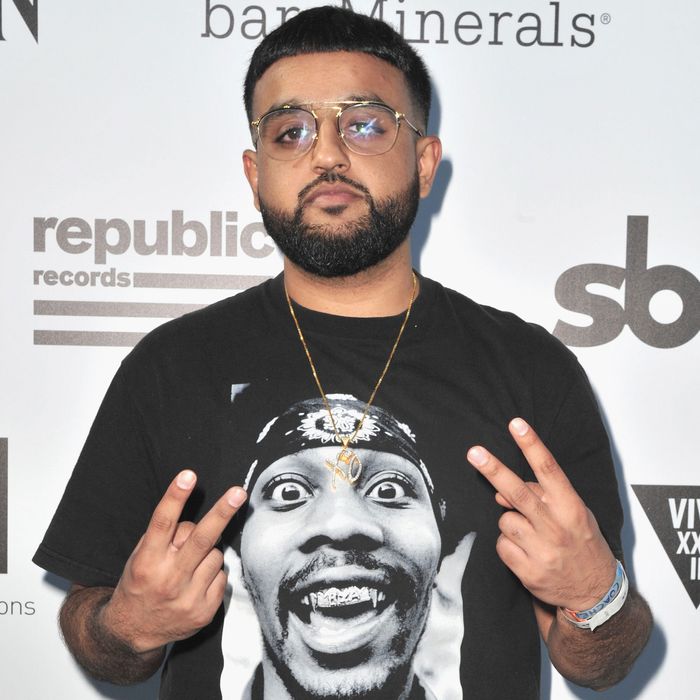 Nav.
Photo: Jerod Harris/Getty Images for Republic Record
Navraj Singh Goraya, the Toronto-area producer-rapper more commonly known as Nav, occupies a curious position in the landscape of contemporary hip-hop. His rise to prominence has been uncommonly steep: Having provided shadowy contributions to Drake's 2015 diss track "Back to Back," he began gathering momentum on SoundCloud shortly afterward with "Take Me Simple" and "The Man," tracks blending the synthetic haze pouring from the Weeknd's House of Balloons with the tropes, and percussion, of the lean-sedated Atlanta trap pioneered by Future.
2016 saw cosigns from Drake's OVO Sound Radio and Kylie Jenner (via her Snapchat), in addition to a well-received guest appearance and production credit on Travis Scott's Birds in the Trap Sing McKnight; 2017 has seen Nav signed to the Weeknd's XO imprint and releasing two mixtapes under its aegis: a self-produced and self-titled mixtape in February, succeeded by Perfect Timing, a collaboration with Future's prime producer Metro Boomin, which dropped last Friday. Metro, who has his own solo project due later in the year, isn't the only one anointing Nav with his presence on the project: Perfect Timing is enlivened by contributions from Southside and Pi'erre Bourne (of "Magnolia" fame) on the production and from Lil Uzi Vert, Offset, Playboi Carti (also of "Magnolia" fame), fellow Torontonian and XO stalwart Belly, 21 Savage, and Gucci Mane. (The best cosign comes from Gucci: When Nav announces that "I'm just a brown boy who made something from nothing," Guwop chimes in: "Me too!")
There's no doubt that Nav is with the cool kids, but there's some confusion about whether Nav himself is cool. His fellow musicians and an ardent following on SoundCloud and Instagram argue that he is; the consensus among music writers and music editors is that he isn't, for a variety of reasons. Unlike Travis Scott, whose reputation and position a few years back was roughly similar to Nav's currently, Nav isn't handsome: Thick-set and bespectacled, he exudes a distinctly nerdy vibe even when he's fitted head-to-toe in designer clothes. He's not black, either: The self-described "brown boy" came under fire for using the N-word on Nav. Nav's taken the criticism to heart: The only N-word heard from him on Perfect Timing is his name. Speaking of which — Nav, in his lyrics, also seems kind of blatantly self-obsessed, which is, when coupled with his other demerits, a definite no-no. Furthermore, he can't sing: Like Travis Scott, his voice on record is always filtered through Auto-Tune.
All in all, it's easy to mistake Nav for a cipher. His tracks can seem like they were procedurally generated by FashionTrapBot 9000, an AI programmed to output endless verses about drug-taking, money (measured in purchases of designer clothes), and status (measured, as is customary, in terms of sexually available women and cuckolding). There's a distinctly digital aspect to Nav's lyrics which accentuates the nerdiness. He routinely throws around numbers and lets them do the talking: 10 pairs of Gucci shoes, 200 for a belt, 15 racks, 20 racks, 30 racks. It's pretty alienating. Though he dutifully notes his transition from broke unknown to rich celebrity, he doesn't seem very happy that his life has changed for the better. He's gone from objectifying women who wouldn't look at him to being objectified by them: "I know she really don't love me, she love who I am." Tolerance for this kind of content will vary according to the listener. Personally, I choose to read the numbness as a product of Nav's environment. The relatively stunted careers of other brown Canadian rappers (there's a reason you haven't heard of anyone besides Nav) suggests that there's no mass audience waiting to hear dispatches about the experience of that particular demographic, whereas status, drugs, sex, and cash comprise a universal, and universally marketable, language. (Not to mention being broke and poor and bereft of strong ties to one's ancestral culture, as Nav seems to be, would be plenty numbing on its own.)
It makes sense, in terms of art and business, to conform to the house style in 2017 (30 percent drugs, 20 percent women/fame, 20 percent fashion, 20 percent money, 10 percent violence, give or take), especially when the production is on point, and it is. The content is pretty much consistent, so the tracks with the best production are the best tracks period: "Perfect Timing," "I Don't Care," "Hit," "Minute," "Both Sides," "Call Me," "Need Some."
Perhaps it's most insightful to imagine Nav, and his music, as a kind of video game, with the emptiness of immigrant experience superimposed on the alienated presence of a gaming avatar. As is typical, Nav seems more aware of his condition than he's given credit for: "Like 2K Player Mode I had to recreate myself" is how he describes himself on Nav's "Good for It." (A recent Complex profile mentions how he bonded with his future cosigners over video games.) If Metro Boomin has mastered the art of production that sounds like a video-game soundtrack, Nav, it seems, is mastering the art of rap that feels like a video game plays. Or like social media operates: With his distant, awkward demeanor, Nav seems reminiscent of Jesse Eisenberg's rendition of Mark Zuckerberg in The Social Network. Like Zuckerberg, Nav has cracked the code of networking, and his success has made him an icon almost in spite of himself. Everything, popularity included, can be reduced to metrics and timing, but he's too acclimated to his unhappiness to change. Dim, lovely sonics aside, the vision in Perfect Timing isn't all that pleasant, but that doesn't mean it isn't true — or that, for all the luxury he cites, the Nav's essential experience isn't familiar. Let the listener who hasn't counted likes and followers cast the first downvote.