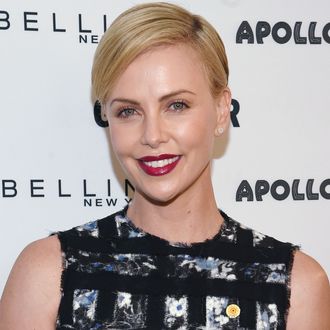 Photo: Dimitrios Kambouris/Getty Images
Charlize Theron doesn't need to be enticed by the prestige-cable business to make her long-awaited return to television. Instead, she's hopping in a spaceship for some intergalactic shenanigans and heading over to Fox. Per Deadline, Theron will be guest-starring for one episode in Seth MacFarlane's new dramedy The Orville, in an unknown role. The sci-fi series follows a crew on a Star Trek–inspired exploration starship, led by a captain played by MacFarlane, as they cause trouble 400 years into the future.
This will be the second time Theron has collaborated with MacFarlane for a silly role — they were co-stars in 2014's A Million Ways to Die in the West, a movie which Reese Witherspoon might've called "the worst script" she's read "in her entire life." Prior to that, Theron charmed Fox viewers in the role of Michael Bluth's short-lived British romantic interest, Rita, on Arrested Development for a few episodes. To this day, the hat-loving Rita is her only significant TV role to date. Wee Britain can do that to a woman.