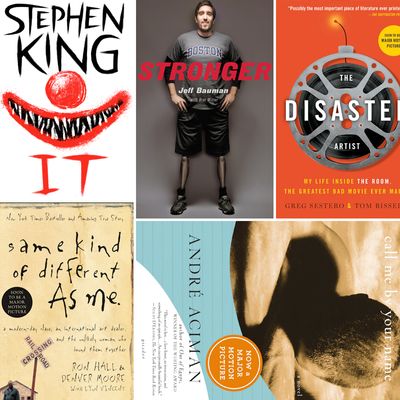 Though cash-grabbing summer blockbusters are quickly waning away with the heat, fall's film calendar promises to bring a bounty of adaptations for our viewing pleasure — literary adaptations, that is. In short, Hollywood executives seemingly spent a day at the Strand to get inspired for their 2017 lineup. Whether you have a preference for big-budget retellings of popular novels (It, Murder on the Orient Express) or more meditative narratives derived from fiction (Call Me by Your Name, Tulip Fever), browse below for the 18 book-to-film outings to expect for the rest of the year.
September 1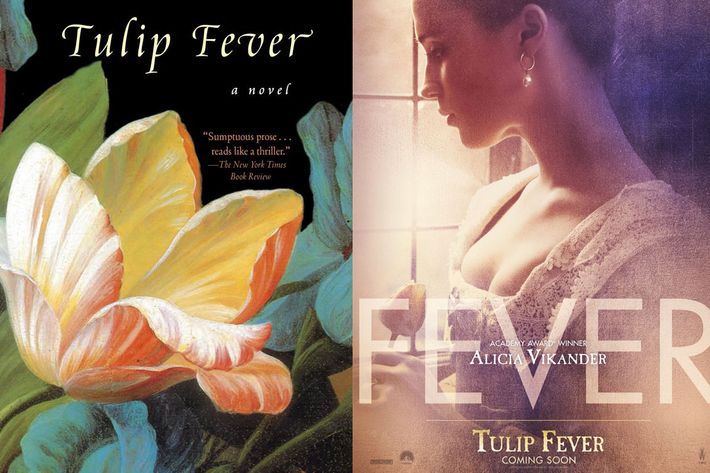 Film: Tulip Fever (directed by Justin Chadwick)
Source: Tulip Fever by Deborah Moggach (1999)
A sexy piece of historical fiction, Tulip Fever is set in 1690s Amsterdam, when "tulipomania" was all the rage. Everyone craved the bulbs, but the focus here is initially on a love triangle between a woman and two men. A talented artist is hired by a wealthy merchant to paint a portrait of his young wife, leading to an affair between the artist and his subject behind the husband's back. Will their tryst lead to something permanent? Will their investment in the tulip market lead to even greater prosperity? Will the film ever come out?
September 8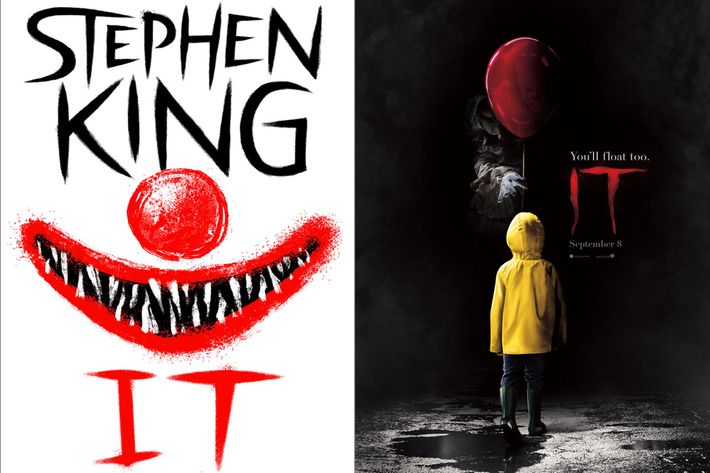 Film: It (directed by Andrés Muschietti)
Source: It by Stephen King (1986)
A terrifying, shape-shifting entity decides to stalk and torture a group of youngsters in a Maine town, as Stephen King's horror classic continues to strike the fear of clowns into the public consciousness decades after its release. Bill Skarsgård has the honor of embodying Pennywise the Clown this time around.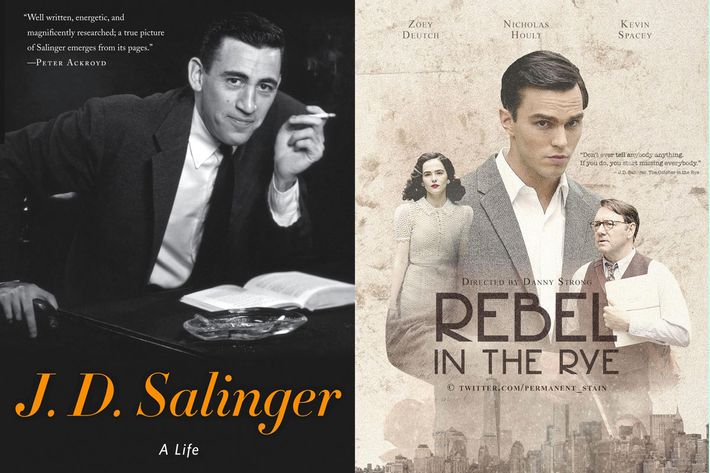 Film: Rebel in the Rye (directed by Danny Strong)
Source: J. D. Salinger: A Life by Kenneth Slawenski (2012)
This biopic shines light on American writer J.D. Salinger, spanning from his privileged early years as an eager student to the release of his breakout 1951 novel The Catcher in the Rye. As Salinger was a notoriously private man, A Life became a national best seller by including new interviews, public records, and correspondences that were never seen by the public before. British actor Nicholas Hoult will be leading the film.
September 15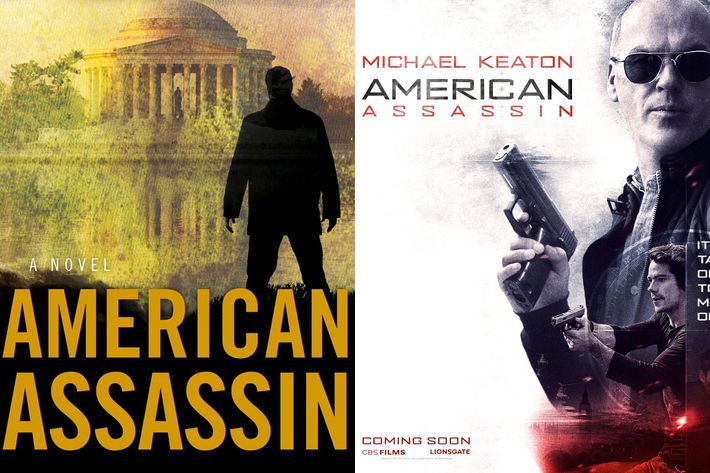 Film: American Assassin (directed by Michael Cuesta)
Source: American Assassin by Vince Flynn (2010)
Before Vince Flynn died in 2013, he wrote more than a dozen best-selling books following protagonist Mitch Rapp (played here by Dylan O'Brien, in what could be a franchise opportunity) who's an undercover CIA counterterrorism agent. American Assassin was the origin story for Mitch, telling us that his motivation for joining the agency was his girlfriend's death in a terrorist attack. Together with other agents who operate "outside the law," Rapp is tasked with preventing what could be a new World War in the Middle East.
September 22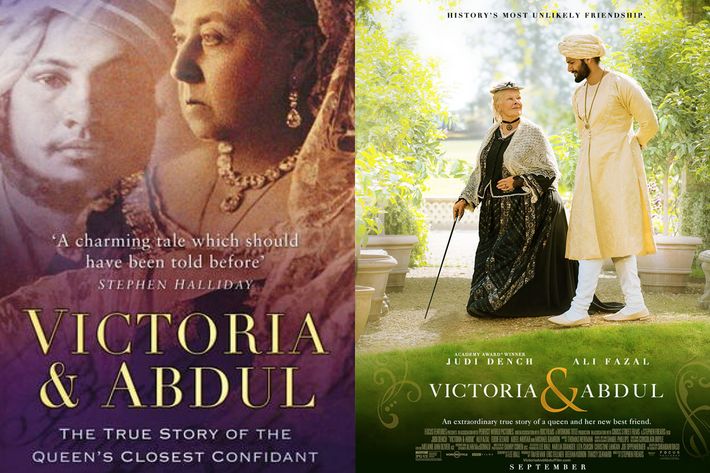 Film: Victoria & Abdul (directed by Stephen Frears)
Source: Victoria & Abdul: The True Story of the Queen's Closest Confidant by Shrabani Basu (2011)
British-period-drama alert. While Queen Victoria's reign has been frequently depicted in film and television over the past few years (most recently in PBS's Victoria), Victoria & Abdul eschews the typical "coming-of-age" narrative in favor of an older Victoria who has developed a close friendship with her Indian attendant, Abdul Karim. The mother-son bond that grows between them ends up being one of the strongest in Victoria's life, although some members of the royal household actively tried to sabotage it due to Abdul's "inferior" background.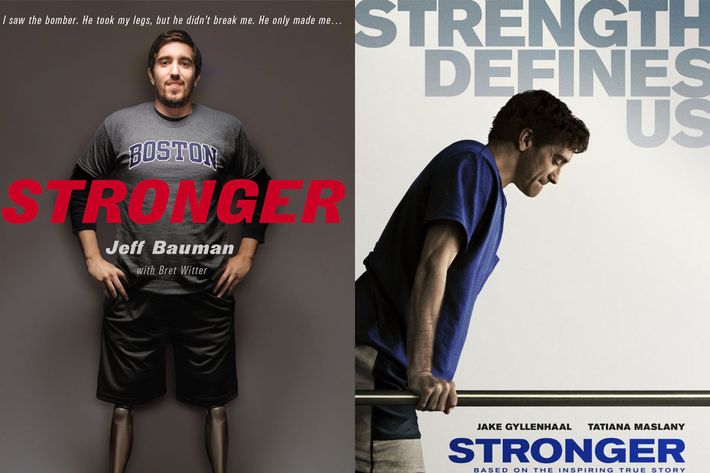 Film: Stronger (directed by David Gordon Green)
Source: Stronger by Jeff Bauman and Bret Witter (2014)
Native Bostonian Jeff Bauman was cheering on his girlfriend at the finish line of the Boston Marathon when the 2013 bombing attacks occurred. He wrote his memoir, Stronger, to recount the aftermath of his devastating ordeal, detailing what he witnessed that afternoon, his emergency double-leg amputation, and assisting the FBI as a key witness in locating Dzhokhar Tsarnaev.
October 6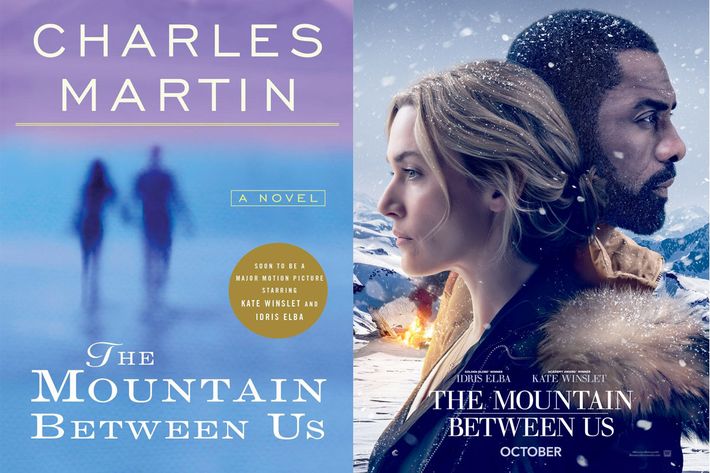 Film: The Mountain Between Us (directed by Hany Abu-Assad)
Source: The Mountain Between Us by Charles Martin (2011)
Bound to cause an uptick in aviophobia, The Mountain Between Us is a more romantic version of Lost — two strangers, played in the film by Kate Winslet and Idris Elba, decide to share a charter plane when their flights are canceled due to inclement weather. But when their pilot suffers a heart attack during the flight, the plane crashes and the duo is forced to stay alive in the vast, secluded, and subzero Utah wilderness, all while dealing with severe injuries and realizing no help will be coming to save them.
October 13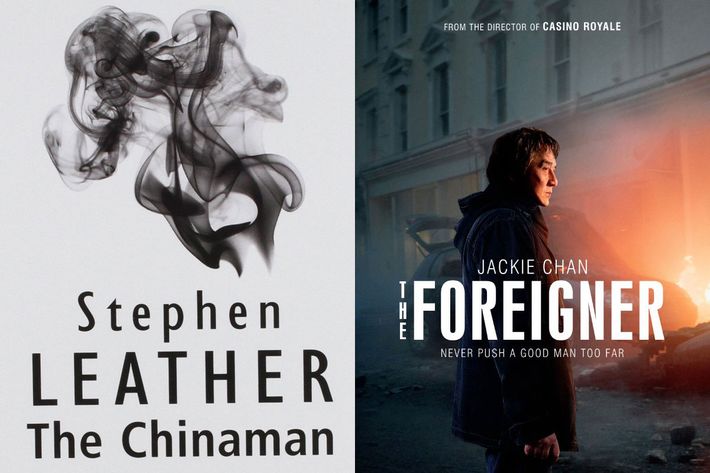 Film: The Foreigner (directed by Martin Campbell)
Source: The Chinaman by Stephen Leather (1992)
Jackie Chan is making his much-anticipated return to Western cinema with this action-thriller, a tale about a modest London shop owner with a buried past of being an assassin. Though when his daughter is murdered in an act of terrorism, he comes out of retirement to avenge her death and wreak havoc on the British government.
October 20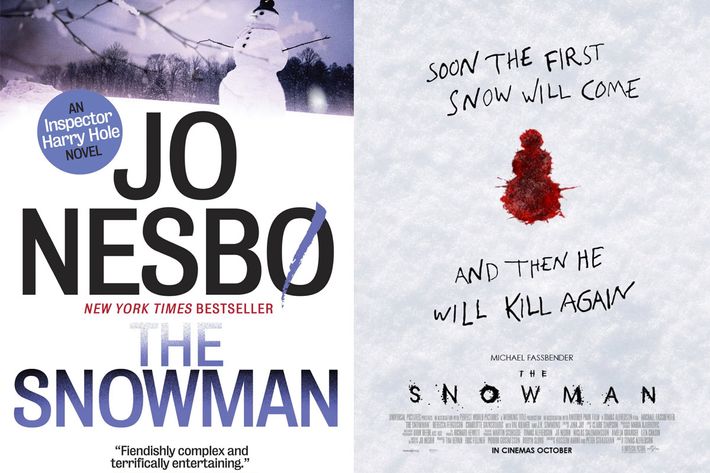 Film: The Snowman (directed by Tomas Alfredson)
Source: The Snowman by Jo Nesbø (2007)
The Snowman is the seventh book in Norwegian crime writer Jo Nesbø's wildly popular Harry Hole series. In the film, Michael Fassbender plays a lead detective who connects the brutal decapitation of a woman to other murders that have occurred on the year's first snowfall over the past decade. This winter-loving serial killer, as it turns out, is one of the most twisted criminals to ever set foot in the Greater Oslo area.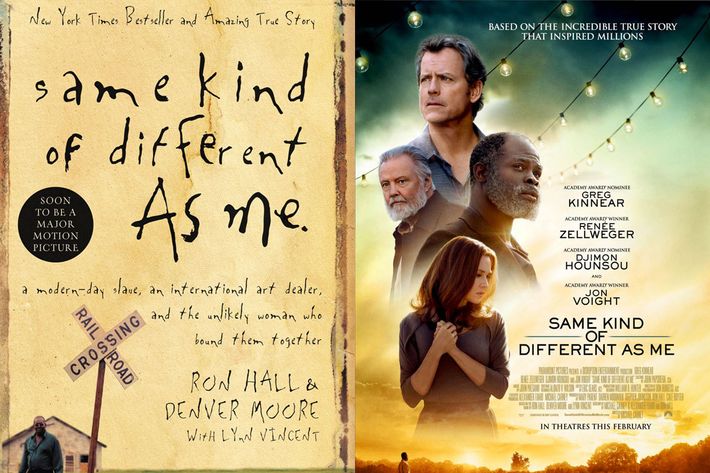 Film: Same Kind of Different as Me (directed by Michael Carney)
Source: Same Kind of Different As Me: A Modern-Day Slave, an International Art Dealer, and the Unlikely Woman Who Bound Them Together by Ron Hall, Denver Moore, and Lynn Vincent (2006)
The true story of how three adults from different walks of life became connected with each other. A rich, unhappily married Southerner has a dream about a "wise man," and when she and her husband volunteer at a soup kitchen shortly thereafter, she realizes that one of the homeless people at the kitchen was the man in her dream. A journey and meditation in faith ensues.
October 27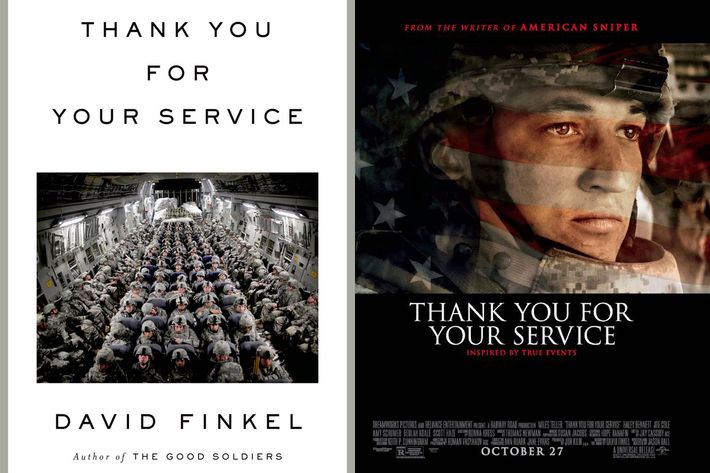 Film: Thank You for Your Service (directed by Jason Hall)
Source: Thank You for Your Service by David Finkel (2013)
The nonfiction account chronicles a group of soldiers who served in the grueling 2-16 Infantry Battalion in Baghdad, as they adjust to being back home following lengthy deployments abroad. But despite being happy to be reunited with their family and friends, PTSD is prevalent in their respective rehabilitations, threatening their mental health, as they can't seem to shake what they left on the battlefield.
November 10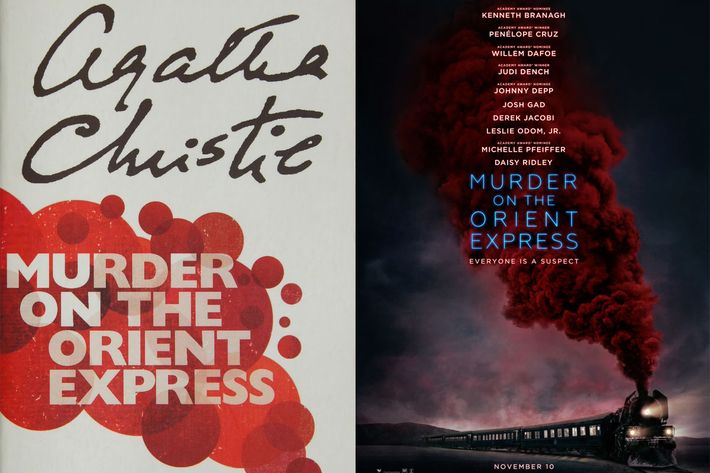 Film: Murder on the Orient Express (directed by Kenneth Branagh)
Source: Murder on the Orient Express by Agatha Christie (1934)
Perhaps the most memorable detective novel of all time, Agatha Christie's classic mystery gathers 13 strangers who find themselves murder suspects when one of their fellow overnight train passengers is suspiciously killed. (Un)lucky for them, the best detective in the world, Hercule Poirot, is on the train and is immediately hired to investigate what transpired, although the case proves to be more complex than assumed.
November 17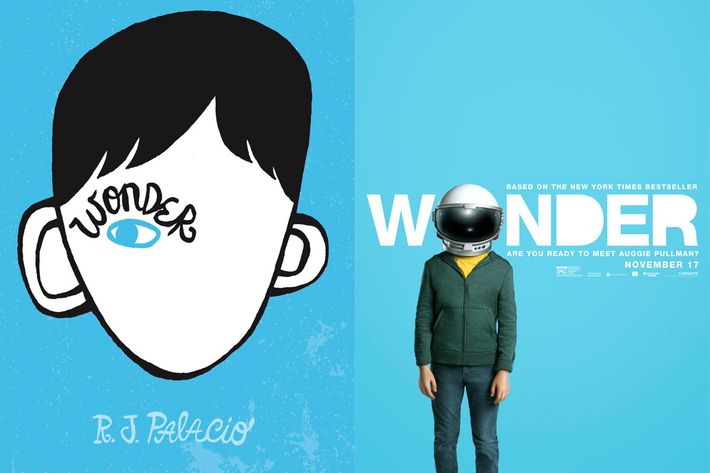 Film: Wonder (directed by Stephen Chbosky)
Source: Wonder by R.J. Palacio (2012)
A boy with a facial deformity is finally given the chance by his protective parents to attend a public school after a lifetime of homeschooling. His adjustment period showcases the very best and worst of how children (and even adults) can react when someone who's "different" gets put into their lives.
November 23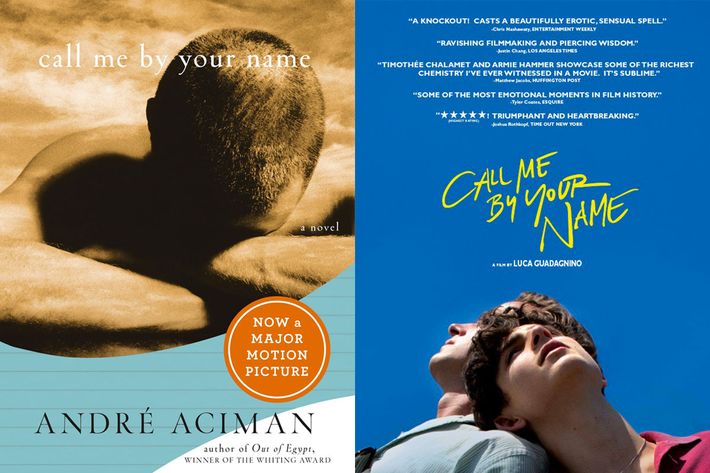 Film: Call Me by Your Name (directed by Luca Guadagnino)
Source: Call Me by Your Name by André Aciman (2007)
Already attracting Oscar buzz, Call Me by Your Name follows a teenage boy living in the 1980s Italian countryside with his Jewish parents who welcome a visiting researcher to their villa every summer. One year's academic happens to be a very dashing 20-something man, and the duo soon embarks on a passionate romance that spans the summer — and the aftermath that follows over two decades.
December 1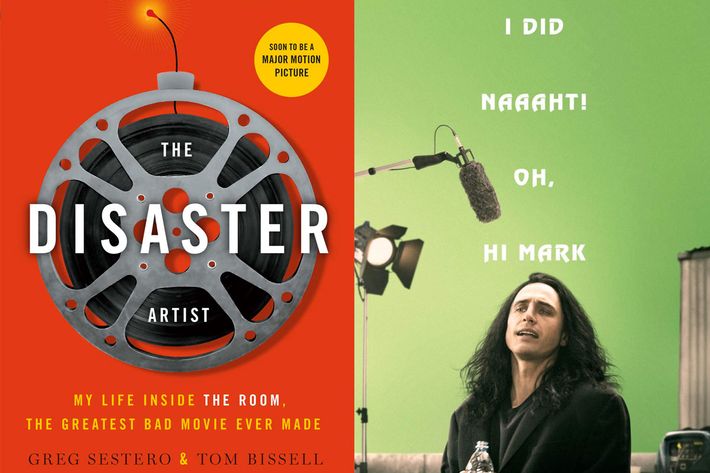 Film: The Disaster Artist (directed by James Franco)
Source: The Disaster Artist by Greg Sestero and Tom Bissell (2013)
File this one under "it's so bad, it's good." Tommy Wiseau's cult 2003 film The Room is often considered one of the worst films ever made. A supporting actor in the romantic-drama, Greg Sestero, co-wrote a memoir about the complete and utter dysfunction of making it, and the bizarre relationship he shared with Wiseau. James Franco as the crazed, shaggy-haired "auteur" just makes sense.
December 15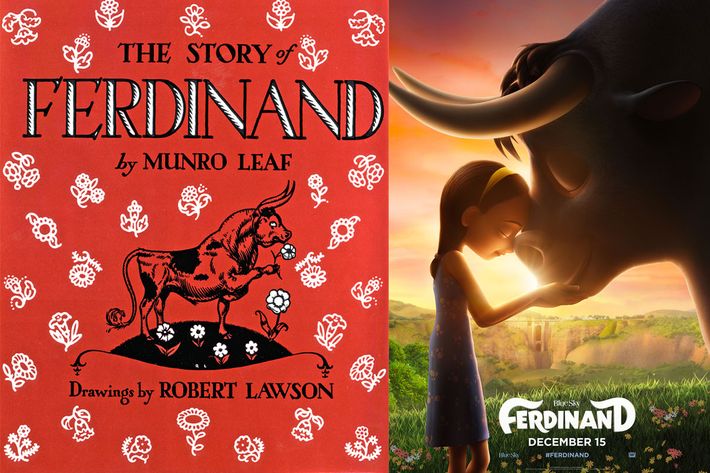 Film: Ferdinand (directed by Carlos Saldanha)
Source: The Story of Ferdinand by Munro Leaf (1936)
This charming children's tale, about a Spanish fighting bull who would rather chill out in pastures than butt heads with matadors, is finally getting the big-screen animation treatment. When Ferdinand is accidentally mistaken for another, tougher bull and captured, he has to do everything in his power to be reunited with his family, even if that means doing the one thing he hates: fighting.
December 20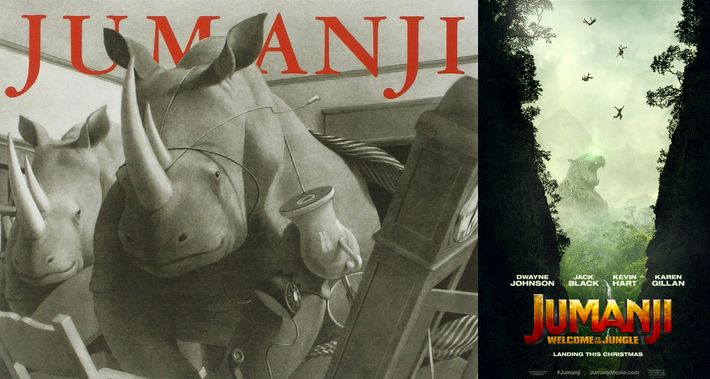 Film: Jumanji: Welcome to the Jungle (directed by Jake Kasdan)
Source: Jumanji by Chris Van Allsburg (1981)
Based on the beloved picture book, Welcome to the Jungle serves as a continuation of the 1995 film. Flash-forwarding 20 years, a group of high schoolers serving detention in a basement unwittingly gets sucked into a video-game version of Jumanji, where they take on very different avatar versions of themselves. (Read: A gangling nerd becomes Dwayne Johnson.) The only way out of the game is to work together, which may prove difficult for these jaded teens. It's like The Breakfast Club for the digital age!