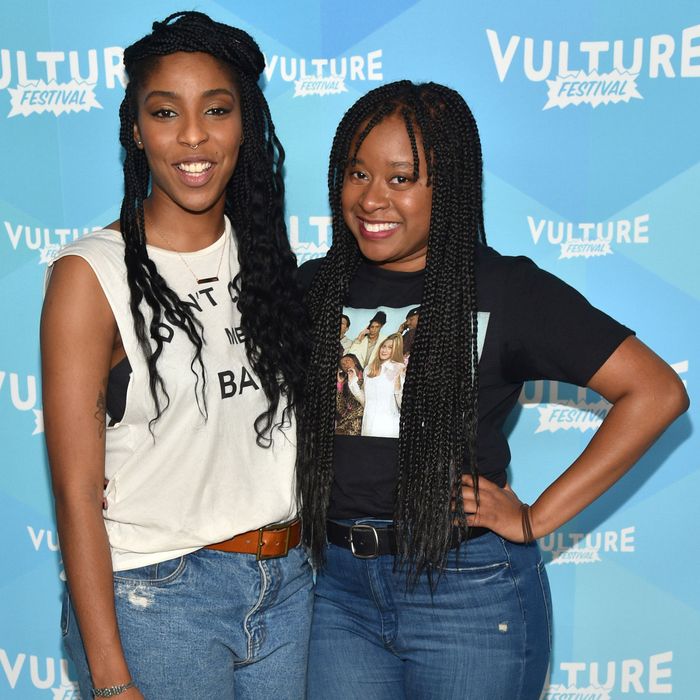 Very dope news for Jessica Williams (left) and Phoebe Robinson.
Photo: Bryan Bedder/Getty Images for Vulture Festival
Not content with merely being dope in your earbuds or onstage, Phoebe Robinson and Jessica Williams are taking their popular 2 Dope Queens podcast to HBO for a series of four hour-long specials, the premium cable network announced today.
Consider this the logical apotheosis of a project that largely serves as a showcase for two very talented individuals whose careers have been on the rip-roaring rise over the past few years; Williams with her four-year stint on The Daily Show along with recent films like The Incredible Jessica James and People Places Things, and Robinson with her book You Can't Touch My Hair: And Other Things I Still Have to Explain along with her appearances across shows like Broad City and I Love Dick.
2 Dope Queens originally began as a live monthly stand-up show in Brooklyn — called Blaria LIVE! — earlier in the decade, eventually being adapted into a comedy and storytelling podcast by WNYC Studios that launched in October 2015. Incidentally, the podcast was one of WNYC Studios' first launches as a stand-alone entity within the storied public radio station, and with this development, 2 Dope Queens now joins an increasingly long line of podcast projects crossing over into television, a cadre that includes talk shows like Throwing Shade (which was once a Maximum Fun podcast, and is now housed in Earwolf) and fiction projects like Gimlet Media's Homecoming, which will star Julia Roberts in the lead role and is executive produced by Mr. Robot's Sam Esmail.
It also caps off what has been a busy week for WNYC Studios. On Monday, the network announced that it will be distributing the upcoming podcast project from Preet Bharara, the prominent former U.S. State Attorney recently fired by President Trump, that's due in the fall.
Interestingly, you could also argue that this marks HBO's second dabbling with podcast-oriented talent in recent years, if you count the Bill Simmons sports and pop culture talk-variety show Any Given Wednesday, which often felt like a straightforward (and more awkward) televised version of the stuff he already does with the Bill Simmons Podcast (and its ESPN predecessor, the B.S. Report). That said, Any Given Wednesday did get canceled after just 17 episodes.
Anyway, here's hoping 2 Dope Queens gets well-served by the four hour-long special treatment. The specials are scheduled to drop sometime next year.