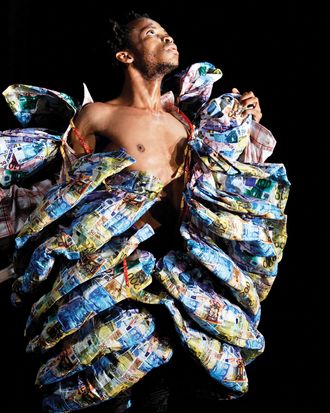 Faustin Linyekula: New Work.
Photo: Agathe Poupeney

SEPTEMBER
9/5
Resonant Bodies Festival
Through 9/7, Roulette
Nine avant-garde vocalists, three each night, perform at this now-annual festival — with highlights that include the world premiere of an opera by Joan La Barbara based on the lives of Virginia Woolf and Joseph Cornell and a work by bass-baritone Davóne Tines honoring black lives lost to police violence.
9/9
Faustin Linyekula: New Work
Through 9/10, Metropolitan Museum of Art
Faustin Linyekula, a Congolese choreographer who's often explored his country's lasting trauma of war and poverty, premieres a work created "in conversation" with the Met's Kingdom of Kongo collection.
9/13
Four Nights of Dream
Through 9/16, Japan Society
Moto Osada's surrealist chamber opera, performed in English, stages its North American premiere to inaugurate the Japan Society's newly renovated theater — complete with a set by Mimi Lien, who won a Tony for Natasha, Pierre & the Great Comet of 1812 and is the only scenic designer with a MacArthur "genius" grant.
9/15
Farewell My Concubine
Through 9/24, Metropolitan Museum of Art
The Shanghai Peking Opera stages a New York premiere featuring Shi Yihong, the "First Lady of Chinese opera," and influenced by the classic opera that also inspired the 1993 film.
Star Wars Film Concert Series
Through 10/7, David Geffen Hall
An event to thrill even the most hesitant classical-music concertgoer: The New York Philharmonic is screening the films and performing John Williams's score live.
9/21
Unwanted
Through 9/22, Baryshnikov Arts Center
The Rwandan choreographer Dorothée Munyaneza's new collaborative work draws on the stories of women survivors of wartime rape to examine their scars, both physical and psychological.
9/28
New York City Ballet
Through 10/15, David H. Koch Theater
The ballet's gala kickoff includes four new works that highlight fashion by Fernando Garcia, Tsumori Chisato, and others. Later, the company will perform Peter Martins's The Chairman Dances; on October 7, Rebecca Krohn will give her final performance, in Balanchine's Stravinsky Violin Concerto, after nearly 20 years.
10/5
Mischa Maisky
92nd Street Y
An evening of performance by one of the greatest living cellists that will include Schubert's lush "Arpeggione" sonata, performed with the Orpheus Chamber Orchestra.
10/15
The Orchestra Now
Frederick P. Rose Hall at Lincoln Center
This glittering evening will include two vivacious Rubinstein piano concertos featuring Ukrainian firebrand Anna Shelest and conclude with Michael Daugherty's contemporary cello concerto based on Hemingway's short stories and performed by Zuill Bailey.
10/18
American Ballet Theatre
Through 10/29, David H. Koch Theater
ABT's audacious fall season kicks off with world premieres from choreographers Jessica Lang, Benjamin Millepied, and Alexei Ratmansky.
10/22
Dolores Claiborne
Through 10/29, New York City Opera, at the 59E59 Theater
Tobias Picker has adapted his work, based on Stephen King's thriller, for chamber opera.
10/25
Bernstein's Philharmonic at the New York Philharmonic
Through 11/14, David Geffen Hall
Marking the centennial of Leonard Bernstein's birth, the Philharmonic will play his entire symphonic repertoire, intermingled with some of the classics composed by others — Don Quixote, Rhapsody in Blue — that he conducted best.
10/26
The Metropolitan Opera Season
Lincoln Center
The fall includes La Bohème, Madama Butterfly, The Magic Flute, and intriguing new works like Thomas Adès's highly anticipated and disconcertingly relevant The Exterminating Angel, based on Luis Buñuel's film in which guests at a dinner party can't escape as the fabric of society rots around them.
Layla and Majnun
Through 10/29, Frederick P. Rose Hall
For this year's White Light Festival, Mark Morris has choreographed an adaptation of the Romeo and Juliet–esque poem from Persian and Arabian folklore. The dancers will be joined onstage by Azerbaijani singers Alim Qasimov and Fargana Qasimova and the Silk Road Ensemble.
10/28
Daniil Trifonov
Carnegie Hall
The vibrant young pianist's first of seven concerts at Carnegie Hall this season is an homage to Chopin. Later performances will include Schumann's "Dichterliebe" and Rachmaninoff.
11/3
Odyssey: A Youth Opera
Through 11/4, Metropolitan Museum of Art
Homer's epic — as an opera performed by prodigious adolescents. It'll feature artifacts and art from the Met's Greek collection.
11/7
American Classical Orchestra
Alice Tully Hall at Lincoln Center
The nation's premier orchestra dedicated to period-instrument performance is staging Mozart's Mass in C minor, featuring sopranos Hélène Brunet and Ellie Dehn. But don't let it overshadow the other program items: Beethoven's mighty, if "little," Eighth Symphony and his contemporary Luigi Cherubini's Démophoon Overture.
11/9
Dominick Argento's 90th Birthday
Carnegie Hall
New York City Opera and the New York City Opera Orchestra celebrate the soon-to-be-nonagenarian's life with performances of two of his one-act operas: "Miss Havisham's Wedding Night" and the comic "A Water Bird Talk," adapted from Chekhov's On the Harmfulness of Tobacco and Audubon's Birds of America.
11/30
Book of Travelers
Through 12/2, BAM Harvey Theater
The day after Donald Trump's election, Gabriel Kahane ditched Brooklyn to cross the country by train and trace the fractures of the nation. The result of his sojourn is a new song cycle, which Kahane performs solo.
12/3
Sandro de Palma
Weill Recital Hall
Italian pianist de Palma returns to New York to perform the U.S. premiere of two works by his countrywoman Silvia Colasanti.
12/6
New York Philharmonic's 175th Birthday
Through 12/9, David Geffen Hall
Alan Gilbert marks the anniversary with Beethoven's Fifth Symphony (you may have heard of it).
12/12
Trisha Brown Dance Company
Through 12/17, the Joyce Theater
Although Brown died in March, her company continues to showcase her work with the sensuousness and precision she brought to it. Here, it'll stage three works from the end of Brown's career: "Geometry of Quiet," "Groove and Countermove," and "L'Amour au Théâtre."
12/14
The Planets
Alice Tully Hall at Lincoln Center
Guest conductor JoAnn Falletta leads the Orchestra Now in a special performance of Gustav Holst's bombastic masterpiece.
12/15
Bangsokol: A Requiem for Cambodia
Through 12/16, BAM Howard Gilman Opera House
Composer Him Sophy and filmmaker Rithy Panh fuse the requiem form with the Cambodian bangsokol funereal ceremony to honor their fellow survivors and victims of the Khmer Rouge.
*This article appears in the August 21, 2017, issue of New York Magazine.