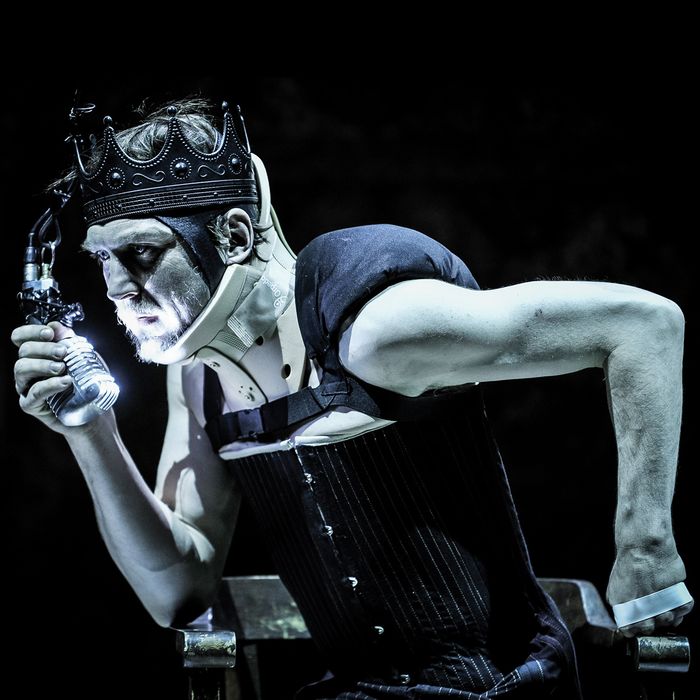 Thomas Ostermeier's
Richard III
at the BAM Next Wave Festival.
Photo: Arno Declair

AUGUST
8/24
Prince of Broadway
Samuel J. Friedman Theatre; in previews August 3
The musical retrospective of director-producer Harold Prince's legendary career (which has included A Little Night Music and Sweeney Todd) will be directed by … Harold Prince.
9/11
The Red Letter Plays
Signature Theatre; in previews August 22
Pulitzer winner Suzan-Lori Parks kicks off the Signature's season with two Nathaniel Hawthorne–inspired plays: Fucking A and In the Blood, starkly different attempts at remixing Hester for the 21st century.
9/12
On the Shore of the Wide World
Atlantic Theater Company; in previews August 23
A lot has changed for the Tony-winning Curious Incident playwright Simon Stephens since 2005, when he wrote this tale of an English family who struggle with communication. A lot has changed for the world, too, yet that particular struggle remains.
9/13
For Peter Pan on Her 70th Birthday
Playwrights Horizons; in previews August 18
Sarah Ruhl explores multiple Neverlands in the Les Waters–directed play about five aging siblings with a dying father, a transfer from Actors Theatre of Louisville.
9/22
KPOP
A.R.T./New York Theatres; in previews September 5
A Korean-pop musical built out into an immersive theater experience, from Ars Nova, Asian-American theater company Ma-Yi and Woodshed Collective.
9/25
Mary Jane
New York Theatre Workshop; in previews September 6
Anne Kauffman directs Amy Herzog's play about a mother caring for her very young, very ill son.
9/26
The Treasurer
Playwrights Horizons; in previews September 6
Up-and-coming playwright Max Posner's play follows an aging mother and her son, and the pitfalls of the former's financial dependence.
9/28
As You Like It
Classic Stage Company; in previews September 13
The Forest of Arden becomes a Jazz Age concrete jungle, with Academy Award winner Ellen Burstyn playing the cynical Jaques.
10/1
The Gospel According to Thomas Jefferson, Charles Dickens, and Count Leo Tolstoy: Discord
Cherry Lane Theatre; in previews September 19
Real Time With Bill Maher writer and executive producer Scott Carter imagines these three men in discussion, directed by Kimberly Senior (Disgraced).
10/2
Tiny Beautiful Things
The Public; in previews September 19
Nia Vardalos stars as an advice columnist in a remount of the one-woman tearjerker adapted from Cheryl Strayed's best seller.
10/10
Measure for Measure
The Public; in previews September 18
Downtown theater legends Elevator Repair Service — best known for their Fitzgerald adaptation Gatz — set their sights on Shakespeare's Viennese comedy.
Time and the Conways
American Airlines Theatre; in previews September 14
Downton Abbey star Elizabeth McGovern heads a rare revival of J. B. Priestley's time-hopping 1937 play, which examines the decline of a wealthy British family between 1919 and 1938.
10/11
Richard III
October 11 through 14, BAM
Forget Julius Caesar. For full-throttle rage-against-the-machine Shakespeare, I'm holding out (and holding my breath) for director Thomas Ostermeier's German-language Richard III, coming to BAM's Next Wave Festival from the Schaubühne Berlin. Ostermeier, who began his career as an actor, became an enfant terrible among German auteurs in the 1990s by bringing the visceral, can't-look-away dramas of British playwrights like Sarah Kane and Mark Ravenhill to his home country. He then turned to the classics, putting canonical behemoths like Hamlet and Ibsen's A Doll's House through the wringer of his grimy, explosive aesthetic (he calls it "new realism" and has described it as a kind of revenge on the stupidity and violence spawned by a merciless capitalist world). Ostermeier's Hamlet was the beautiful and terrifying German actor Lars Eidinger, who now returns as Shakespeare's hunchbacked Man Who WouldB e King. The text is translated and adapted by Marius von Mayenburg, whose play The Ugly One (a hilarious and horrid assault on our obsession with skin-deep beauty) might actually be a perfect appetizer for Richard III. There will be dirt, there will be glitter, there will be blood. —Sara Holdren
10/12
Springsteen on Broadway
Walter Kerr Theater; in previews October 3
The Boss is on Broadway.
10/14
Animal Wisdom
The Bushwick Starr; in previews October 11
A "musical séance" rooted in the blues and built around the structure of a Catholic Requiem Mass (complete with choir), performed by Brooklyn singer-songwriter Heather Christian.
10/18
Mementos Mori
BAM
Chicago company Manuel Cinema uses overhead projectors to live-animate a surreal shadow-puppet "film," with live music and quadraphonic sound.
10/23
Jesus Hopped the 'A' Train
Signature Theatre; in previews October 3
Revival of Pulitzer winner Stephen Adly Guirgis's 2000 play about the friendship between a bicycle messenger and a serial killer, set on Rikers Island.
10/24
Oedipus El Rey
The Public; in previews October 3
Sophocles set in South L.A. Presented with the Sol Project, an initiative to raise the profile of Latino artists in theater.
The Portuguese Kid
Manhattan Theatre Club; in previews September 19
Jason Alexander stars as a bombastic lawyer in a new comedy written and directed by Tony, Pulitzer, and Oscar winner John Patrick Shanley.
10/26
M. Butterfly
Cort Theatre; in previews October 7
David Henry Hwang's Pulitzer-finalist play based on Puccini's opera; Clive Owen stars and Julie Taymor directs, with new music by Oscar winner Elliot Goldenthal.
10/30
Illyria
The Public; in previews October 22
A new play by Richard Nelson tells the history of the New York Shakespeare Festival and Shakespeare in the Park, within the walls of (where else?) the Public Theater.
11/2
Junk
Vivian Beaumont Theater; in previews October 5
Pulitzer winner Ayad Akhtar's new play about an upstart investment firm in the '80s and its leader who says "debt is an asset."
Don't Feed the Indians
La MaMa
A political satire that views the appropriation of indigenous culture and marginalization of indigenous people through the loosely fitted lens of Dante's Divine Comedy.
11/8
Office Hour
The Public; in previews October 17
Julia Cho's drama examines race and identity in a mass-shooting world.
11/9
The Band's Visit
Ethel Barrymore Theatre; in previews October 7
An Egyptian police band en route to an Arab cultural center gets stranded in a small Israeli desert town, a lonely oasis. The musical — based on the 2007 film — moves uptown after a successful stint at Atlantic Theater Company.
11/19
School Girls
MCC Theater; in previews November 2
Fresh from her best-director Tony for Indecent, Rebecca Taichman directs this play about a Miss Universe pageant in Ghana.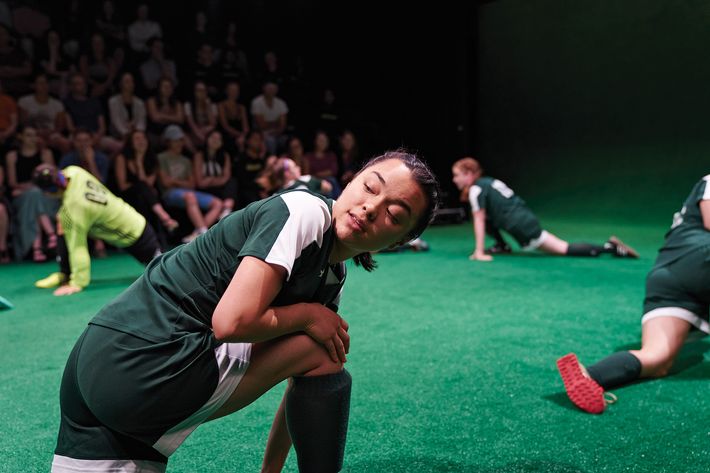 11/20
The Wolves
Mitzi E. Newhouse Theater at Lincoln Center; in previews November 1
Sarah DeLappe's play about a teen-girl soccer team pursues a kind of naturalism through carefully constructed overlapping dialogue.
11/28
The Fountainhead
BAM
Belgian director Ivo van Hove reimagines Ayn Rand's opus in the confines of a co-working space — and over four hours.
11/29
Haruki Murakami's Sleep
BAM
Brooklyn ensemble Ripe Time devise a riff on the Japanese author's 1989 short story about a Japanese housewife who decides to stop sleeping, adapted by playwright Naomi Iizuka.
11/30
The Parisian Woman
Hudson Theatre; in previews November 7
Uma Thurman makes her Broadway debut, in a play about secret deals and sex in D.C., written by House of Cards creator Beau Willimon.
12/3
Once on This Island
Circle in the Square Theatre; in previews November 9
A Michael Arden–directed revival of the 1990 Caribbean folk musical about a young girl and her lover from different sides of the tracks; a tropical Romeo, with less woe.
12/4
SpongeBob SquarePants
Palace Theatre; in previews November 6
A musical adventure with original music from the likes of John Legend, Aerosmith's Steven Tyler and Joe Perry, and Panic! at the Disco. A tourist magnet? Aye-aye, captain.
Hundred Days
New York Theatre Workshop; in previews November 15
A memoiristic indie-folk opera from Sarah Gancher and married duo the Bengsons.
12/5
Describe the Night
Atlantic Theater Company; in previews November 10
Rajiv Joseph's latest weaves three stories set in Russia, with characters ranging from a KGB officer to a fictionalized version of the writer Isaac Babel.
12/12
The Children
Samuel J. Friedman Theatre; in previews November 28
An apocalyptic British import about two retired nuclear engineers' response to a Fukushima-like nuclear catastrophe.
12/14
Twelfth Night
Classic Stage Company; in previews November 29
The actor-centric Fiasco Theater will likely leave little room for excess in their production of Shakespeare's identity-crisis comedy.
12/17
Farinelli and the King
Belasco Theatre; in previews December 5
Mark Rylance returns to the Belasco as King Philip V of Spain, acting opposite two people playing one role: that of the opera singer Farinelli, who will be spoken by Sam Crane and sung by Iestyn Davies.
*This article appears in the August 21, 2017, issue of New York Magazine.