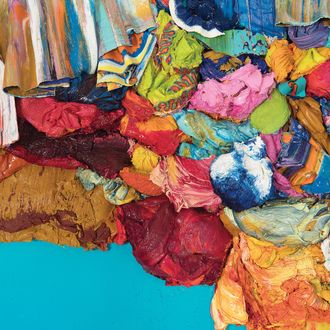 Leslie Wayne,
Blue Lagoon
(detail, 2016).
Photo: Courtesy of the Artist and Jack Shainman Gallery

AUGUST
8/18
"An Incomplete History of Protest: Selections From the Whitney's Collection, 1940–2017"
Whitney Museum of American Art
A compendium of protest art — loosely defined — from the Whitney's collection, including Toyo Miyatake's illicit photographs of the camp where he was interned during the Second World War and work by May Stevens addressing American involvement in Vietnam.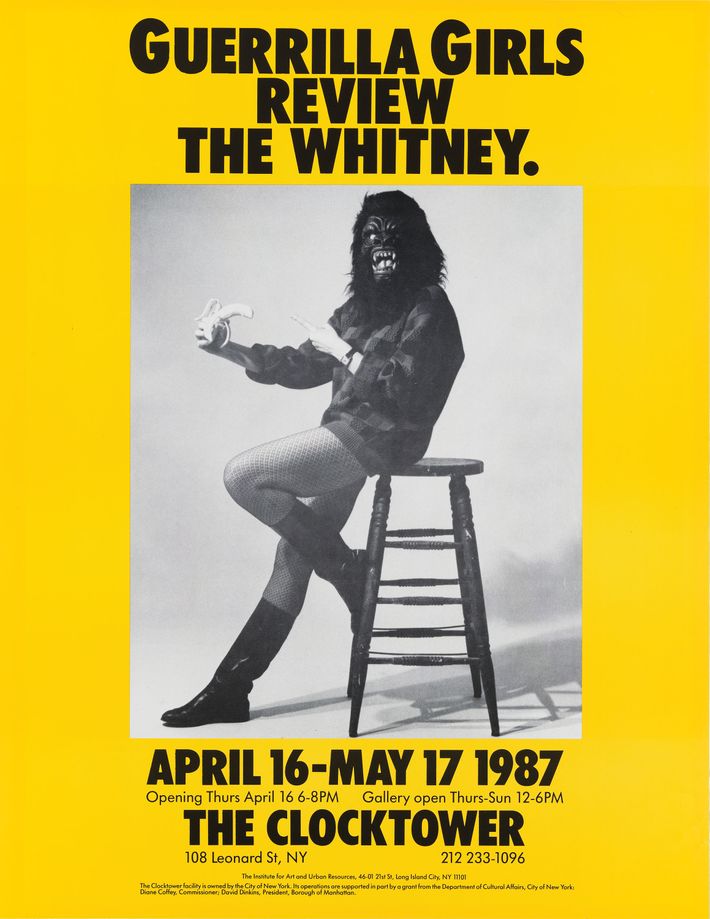 9/6
Keith Edmier: "Mother Mold"
Through 11/4 at Petzel Gallery
A series of plaster face molds form Edmier's "dysfunctional family tree." He displays one mask — of a friend, family member, or public figure — for each of the 50 years of his life.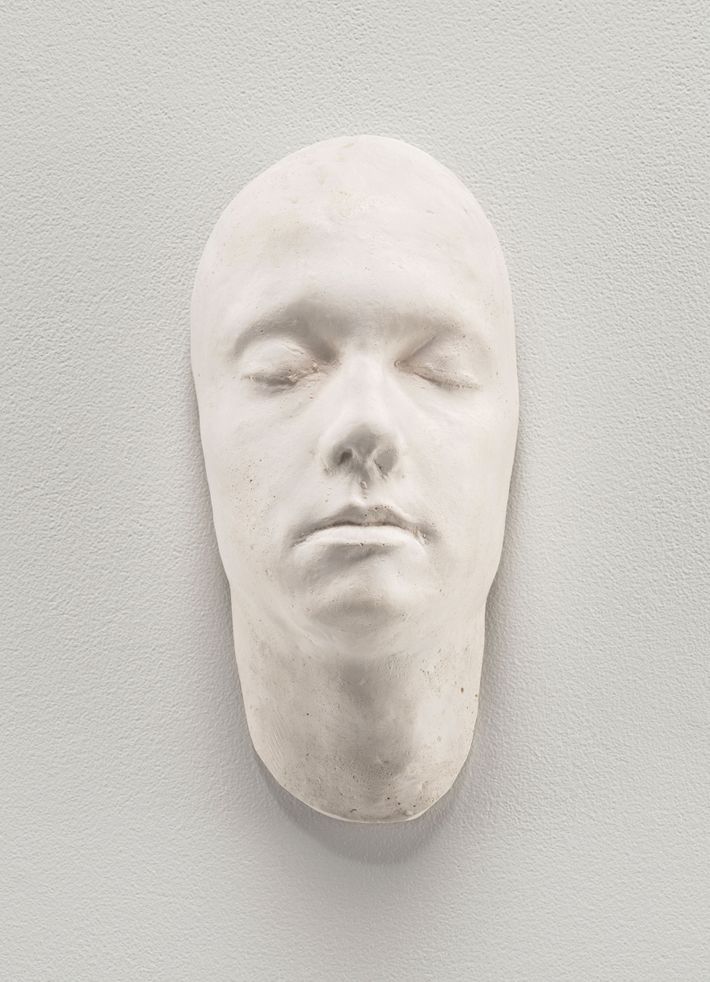 9/7
Kara Walker: "The most Astounding and Important Painting show of the fall Art Show viewing season!"
Through 10/14 at Sikkema Jenkins & Co.
Three years after installing her monumental sphinx in Williamsburg's old Domino Sugar Factory, Walker returns. Details of the exhibit are being kept under wraps.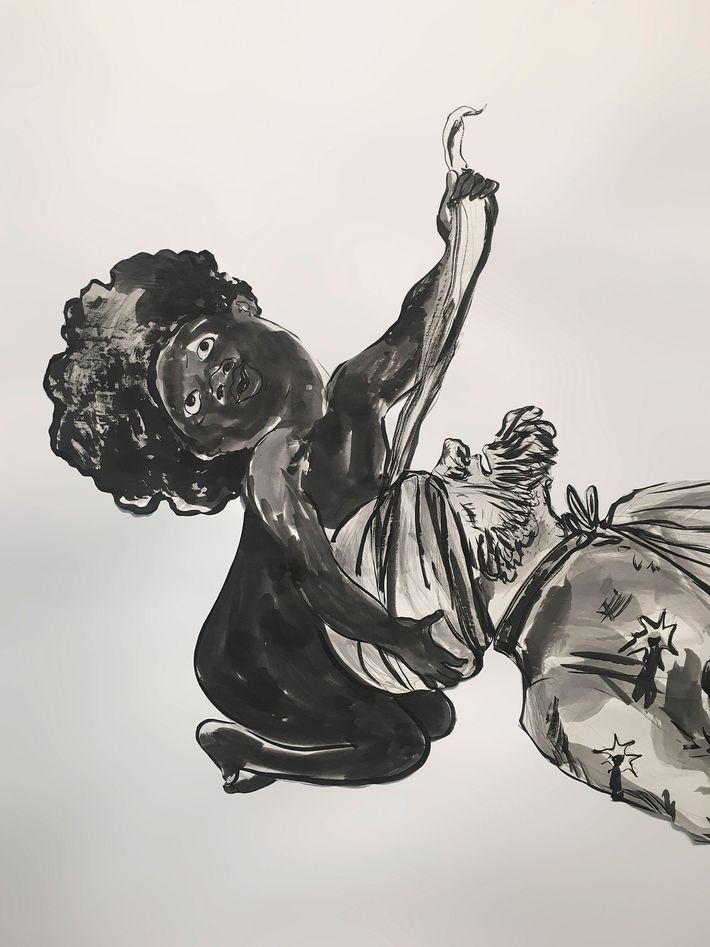 Leslie Wayne
Through 10/21 at Jack Shainman Gallery
From a distance, Wayne's paintings seem like brightly patterned textiles. A closer look reveals that they're actually canvases painted and layered with exuberant streaks of color.
Mira Schendel
Through 10/21 at Hauser & Wirth
Work from the final decade of the late Brazilian painter-sculptor-poet's career, including bold black-and-white pieces from her "Sarrafo" series, which blends painting and sculpture.
Pat Steir: "Kairos"
Through 10/21 at Lévy Gorvy
The conceptual painter, known for the effervescent colors and forms in her "Waterfall" series, returns with more than a dozen new works, including a luminous blue-and-orange canvas dedicated to Agnes Martin.
9/8
Trevor Paglen: "A Study of Invisible Images"
Through 10/21 at Metro Pictures
Paglen, who has photographed classified military bases, intelligence agencies, and other sites relating to government secrecy, turns his focus to artificial intelligence.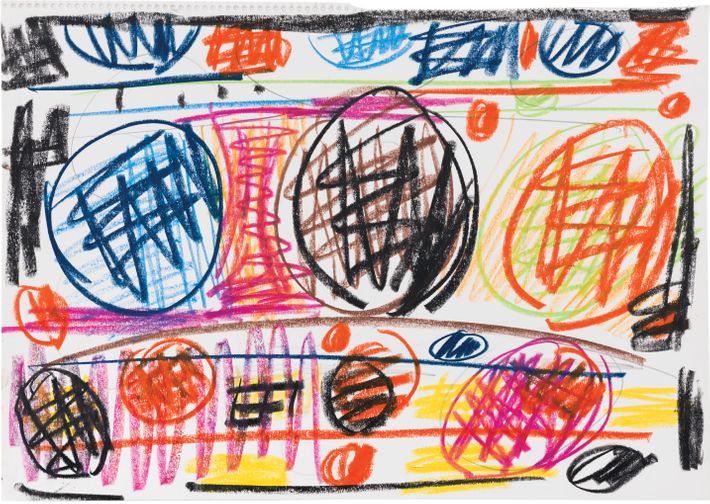 Stanley Whitney
Through 10/21 at Lisson Gallery
Devotees of Whitney's brilliant, abstract explorations of color will appreciate this peek behind the curtain into his process. On view will be the drawings in which he experiments with the same structures and shapes seen in his paintings.
Vaginal Davis & Louise Nevelson: "Cinema Chimera"
Through 10/22 at Invisible-Exports
A series of new paintings, made with watercolors and drugstore cosmetics, by legendary queer performance artist Davis, paired with two sculptures from Nevelson's powerful black series.
9/14
Chris Ofili: "Paradise Lost"
Through 10/21 at David Zwirner
This wunderkind painter's richly detailed works, many of which use unconventional materials, from glitter to elephant dung, feel vital and alive.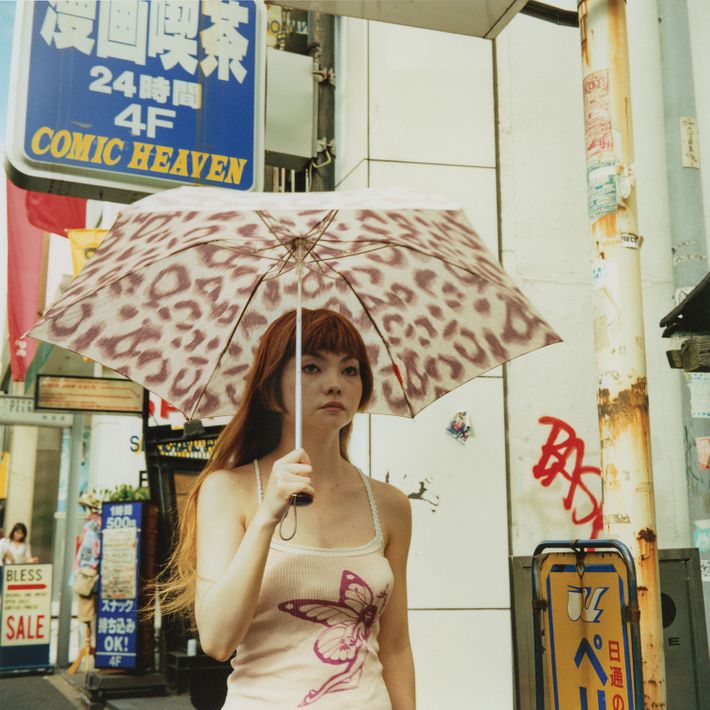 Mikiko Hara: "In the Blink of an Eye, 1996–2009"
Through 10/21 at Miyako Yoshinaga
"All of my photographs were taken by a mere accident," Hara has said — but they look anything but slipshod. The images, taken while Hara wandered the streets and suburbs of Tokyo, feel like finely drawn sketches of her unsuspecting subjects' inner lives.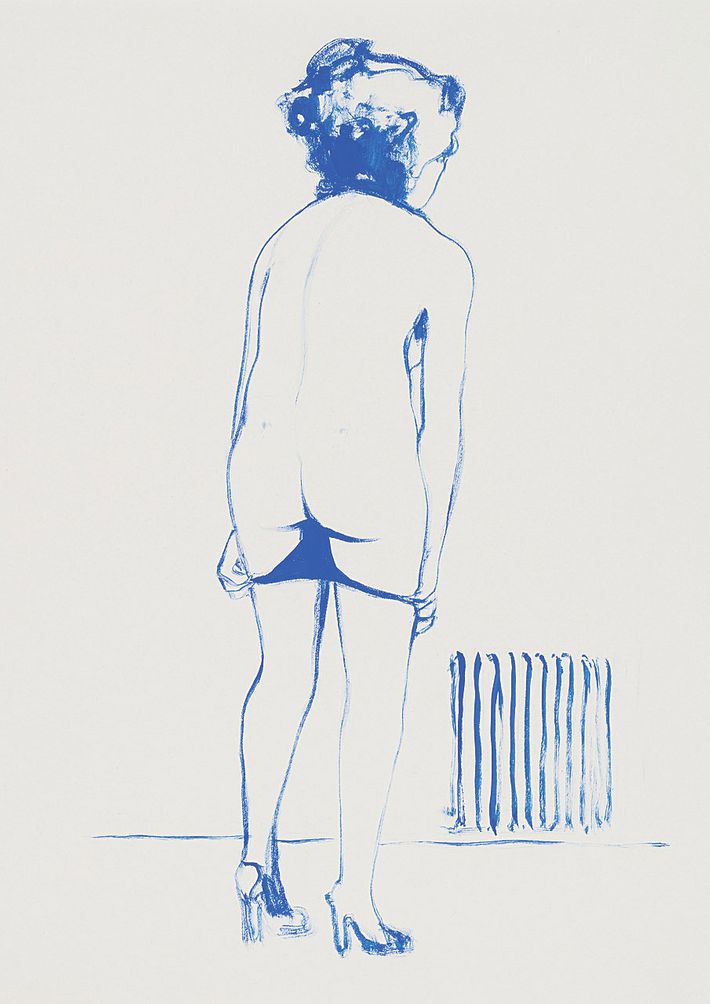 9/16
Lisa Brice
Through 10/28 at Salon 94
Brice wrests female nudity from the grasp of art history's men. The women she paints seem not to know we're looking at them; they're fully at home in their unclothed bodies.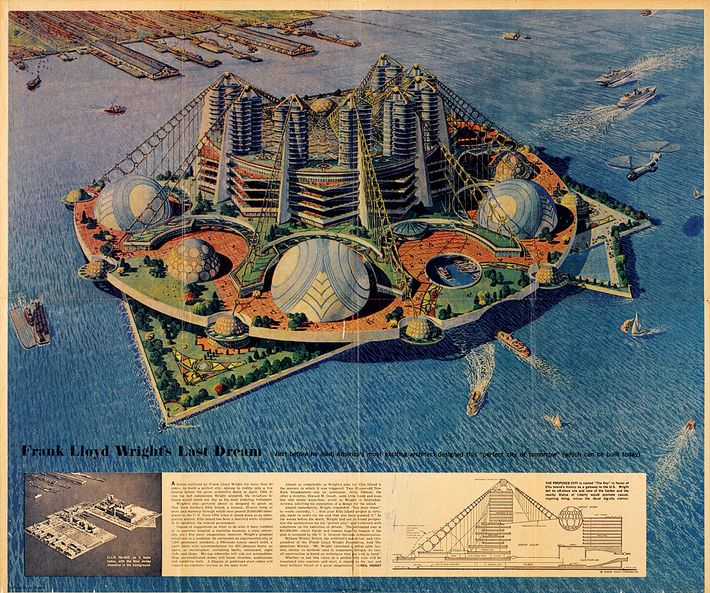 9/17
"Never Built New York"
Through 2/18 at the Queens Museum
For the next few months, when you visit the Queens Museum's magnificent scale model of the city as it was in the 1960s, you'll be able to see this exhibition of the city that might have been: a catalogue of 150 years of the bizarre, misguided, and too-good-to-be-true architectural projects that never quite got done.
9/23
Karina Aguilera Skvirsky: "The Perilous Journey of María Rosa Palacios"
Through 11/5 at Smack Mellon
In 1906, the artist's great-grandmother traveled from her home in the Ecuadoran highlands to the coast to work as a servant for a wealthy family. Here, Skvirsky presents a film documenting her own re-creation, a century later, of her great-grandmother's voyage.
9/24
Louise Bourgeois: "An Unfolding Portrait"
Through 1/28 at MoMA
Bourgeois is known for provoking visceral reactions with sculptures of giant spiders and penises. Her printed work, often focused on bodies, buildings, and nature, has a subtler pull.
9/27
Kahlil Joseph
Through 1/7 at the New Museum
One of the directors of Beyoncé's Lemonade presents his first solo show in New York. Expect films full of lush depictions of daily urban life.
9/29
"Drawn to Greatness: Master Drawings From the Thaw Collection"
Through 1/7 at the Morgan Library & Museum
This formerly private collection features work from the Renaissance to the 20th century, by heavyweights like Rembrandt, Matisse, and Pollock.
10/4
"The Vietnam War: 1945–1975"
Through 4/22 at the New-York Historical Society
This exhibit brings together documents like the Pentagon Papers, art by protesters and veterans, film clips, and artifacts from the war to paint a 360-degree view of American involvement in Vietnam.
10/6
"Art and China After 1989: Theater of the World"
Through 1/7 at the Guggenheim Museum
Contemporary experimental Chinese art is front and center in this show. It features work by more than 70 artists, including the title piece, by Huang Yong Ping, in which hundreds of live reptiles and insects will, over the course of the show, gradually consume one another.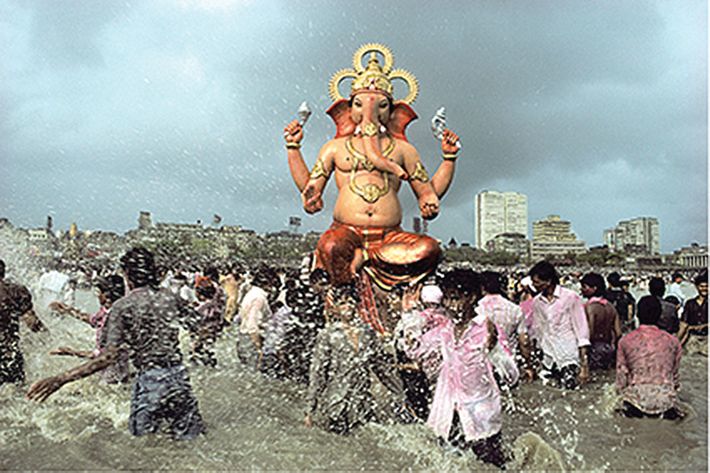 10/11
Raghubir Singh: "Modernism on the Ganges"
Through 1/2 at the Met Breuer
Whether he was photographing wrestlers working out or a family's wedding party, Singh's dynamic, sweeping pictures portray whole worlds within a single frame.
10/13
Michael Wang: "World Trade"
Through 11/12 at Foxy Production
The 25 plates that form the centerpiece of this show are made of metal bought from one of China's largest steel companies, which had purchased metal salvaged from the World Trade Center after 9/11. Wang presents the steel alongside a series of documents that detail its history and how it was subsumed by the global economy.
10/18
Alice Aycock
Through 11/18 at Marlborough Gallery
Aycock is best known for large-scale, architectural sculptures that are often slightly off-kilter.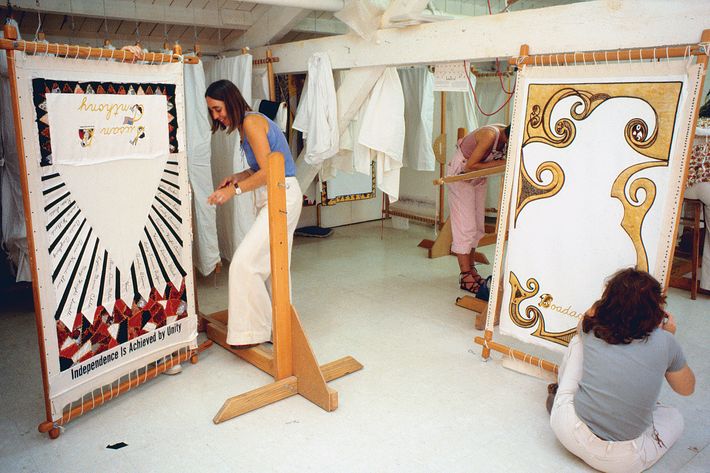 10/20
"Roots of The Dinner Party: History in the Making"
Through 3/4 at the Brooklyn Museum
A deep dive into the research and fabrication that went into Judy Chicago's foundational 1979 work, which presents the highlights of Western women's history through elaborate table settings, including the vaginal dinner plates she's famous for.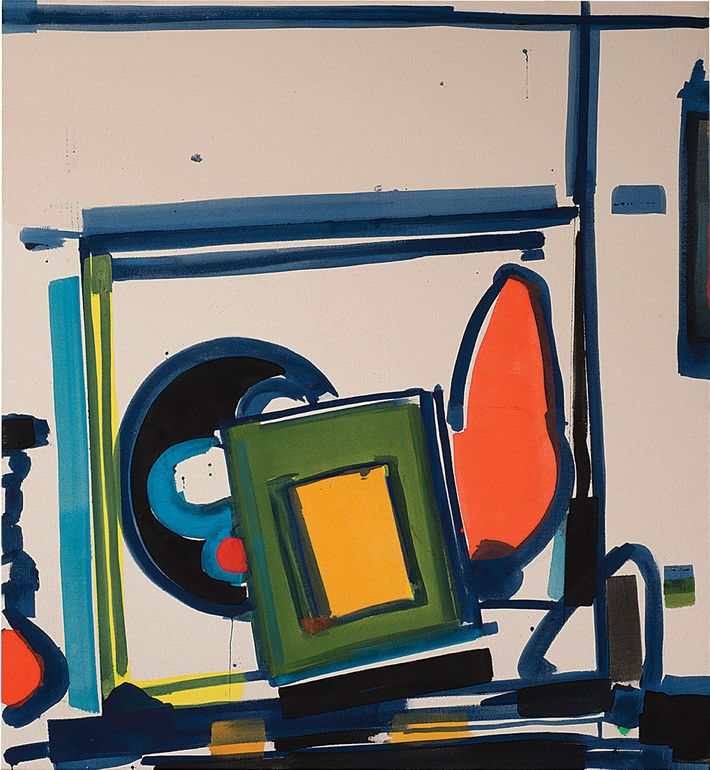 Matt Connors
Through 12/10 at Canada
On first glance, you see bright, geometric shapes Tetris-ed into Connors's canvases; look a little longer and you'll begin to notice subtler details, like his fine, textured brushstrokes.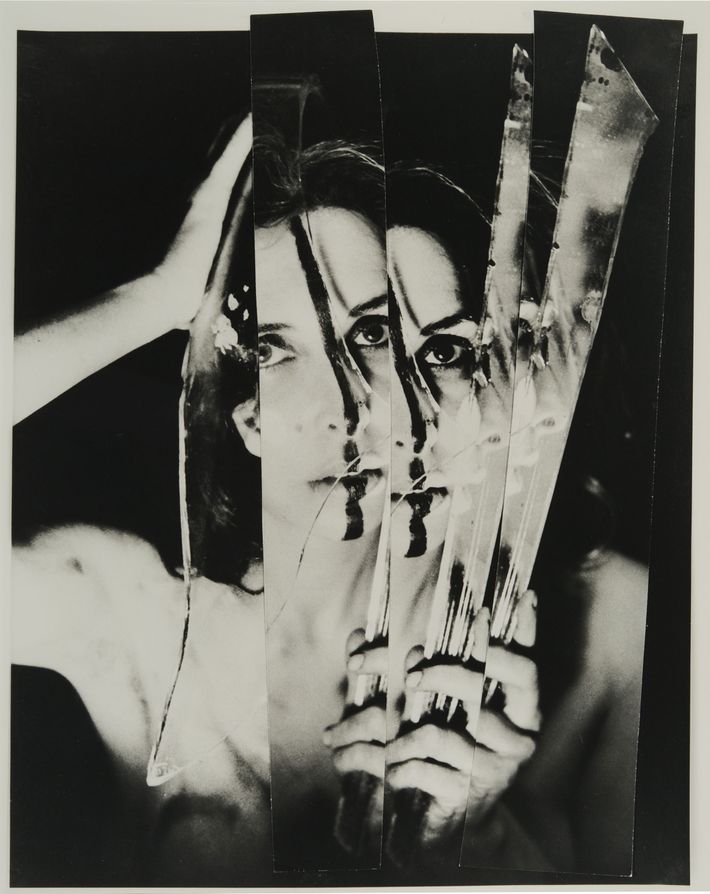 10/22
Carolee Schneemann: "Kinetic Painting"
Through 3/11 at MoMA PS1
Schneemann is generally known as the artist who pulled a scroll out of her vagina in a 1975 performance. But there is far more worth considering in her work, as this major retrospective shows, from her early 1950s paintings to her '70s-era explorations in performance.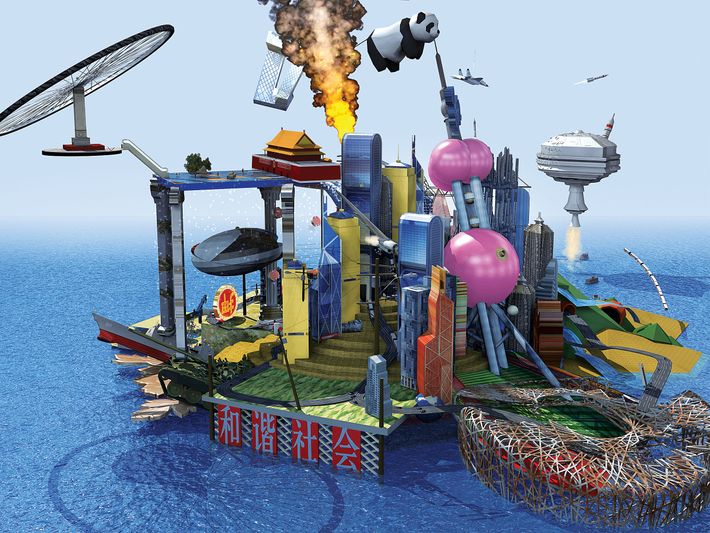 10/24
"Concrete Truth"
Through 2/16 at the International Studio & Curatorial Program
In an era of fake news and easily alterable images, what is real? This group show, featuring work at the boundary of art and documentary, aims to tease out some answers.
10/26
"Wiener Werkstätte, 1903–1932: The Luxury of Beauty"
Through 1/29 at the Neue Galerie
The goal of the early-20th-century design collective known as the Wiener Werkstätte (or Vienna workshops) was to elevate everyday objects into pieces of art. This major retrospective collects more than 400 objects that exemplify its opulent aesthetic, from textiles to graphic design to ceramics.
Valeska Soares: "Neither Here Nor There"
Through 12/16 at Alexander Gray Associates
The Brazilian conceptual artist often works with decades-old objects like mirrors, glasses, and clocks, contrasting them with more fleeting materials like plants and flowers to play with viewers' perceptions of time.
10/27
Duncan Hannah: "Adrift in the 21st Century"
Through 12/10 at Invisible-Exports
Opinions are divided over whether Hannah's Hopper-esque paintings are painfully earnest and stubbornly retro or a breath of fresh air in a sea of abstract experimentation. You be the judge.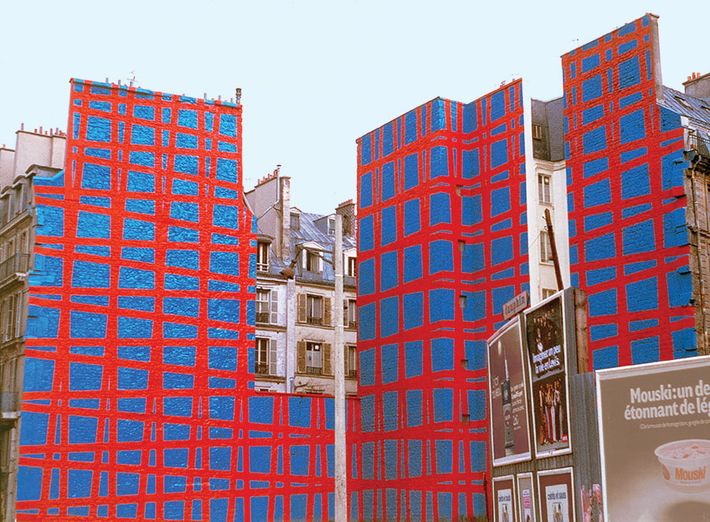 10/28
François Morellet
Through 6/30 at Dia: Chelsea and Dia: Beacon
Throughout the 1960s, the French art collective Groupe de Recherche d'Art Visuel staged perception-altering art installations in the streets of Paris.
Morellet's individual work, continued after the group disbanded in 1968, has flown under the radar in North America. Dia brings a selection of his installations, paintings, and sculpture to its galleries in Chelsea and upstate.
11/1
Performa 17
Through 11/19 at venues throughout the city
The biannual performance-art extravaganza brings together an international group of artists. This year's highlights will include a rare public performance by anthropological artist Wangechi Mutu and new work from genre-defying South African artist Zanele Muholi.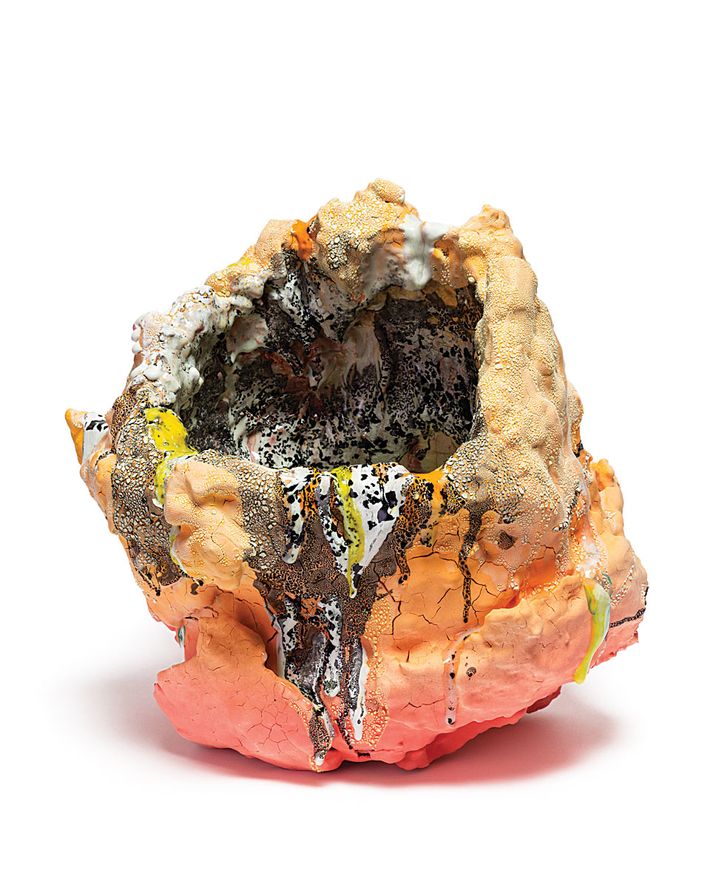 11/3
Brian Rochefort
Through 12/22 at Van Doren Waxter
Rochefort pours layer upon layer of neon glaze onto his ceramics, turning misshapen cups into psychedelic, dripping volcanoes.
Sable Elyse Smith: "Landscapes & Playgrounds"
Through 12/17 at Signal
Smith's work is often concerned with exploring the experiences of those in prison and their families. Here, she considers landscape and playground in that context, from the murals that often cover visiting-room walls to recreation yards to the interior landscapes of incarcerated individuals.
In Vitro
Through 12/10 at Bodega
A historical exploration of the shopwindow as a space where, as Walter Benjamin said, art is "in the service of the salesman."
11/4
Farhad Moshiri: "Snow Forest"
Through 12/23 at Perrotin New York
The artist prints old photos of snowy trees in an Iranian forest onto canvas, then hand-embroiders the work with beads to transform the familiar landscape into something else entirely.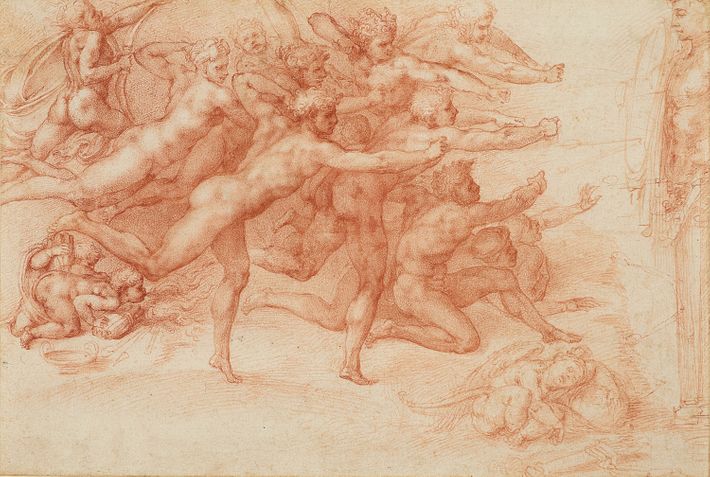 11/13
"Michelangelo: Divine Draftsman and Designer"
Through 2/12 at the Met Fifth Avenue
A huge array of drawings, sculptures, and architectural models — including many pieces that are rarely loaned from abroad — by the Renaissance master.
11/27
David Hockney
Through 2/25 at the Met Fifth Avenue
The only North American stop for this major retrospective on the occasion of Hockney's 80th birthday.
12/1
Raha Raissnia
Through 2/4 at the Drawing Center
Raissnia's dark, psychologically fraught charcoal drawings feel like they would make good illustrations for a book of Edgar Allan Poe stories. This show presents both works on paper and films that the artist will make, using her drawings as source material for the looped, flickering projections.
Through 2/4 at the Drawing Center
*This article appears in the August 21, 2017, issue of New York Magazine.