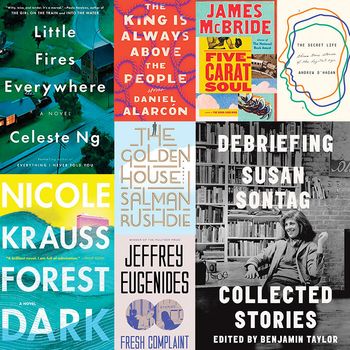 SEPTEMBER
9/5
Fantasyland: How America Went Haywire: A 500-Year History
By Kurt Andersen
Random House
From the counterculture to fake news: how the hell we got here.
A Legacy of Spies
By John le Carré
Viking
In his first George Smiley novel in over 25 years, le Carré revives his retired spies, who argue for the Cold War's — and their own — continued relevance.
Dinner at the Center of the Earth
By Nathan Englander
Knopf
A secret prisoner and his longtime guard anchor this meditation on the Israeli-Palestinian conflict in a political thriller that zooms between Gaza, Berlin, and the Negev Desert, from the onetime Pulitzer-prize finalist.
Draft No. 4: On the Writing Process
By John McPhee
FSG
If you're sifting through the deluge of writing advice, look to McPhee, a veteran New Yorker writer whose essays marry obsessive detail with narrative heft.
The Golden House
By Salman Rushdie
Random House
On the day of Obama's inauguration, a mysterious billionaire and his three adult sons move into a tony cloister of Manhattan and forever change the life of their neighbor, a naïve young filmmaker.
9/12
What Happened
By Hillary Clinton
Simon & Schuster
In what began as a meditation on her favorite quotes, the woman who was almost president offers up a postmortem to end all postmortems.
The Naughty Nineties: The Triumph of the American Libido
By David Friend
Twelve
These days, sex seems to ooze from every nook and cranny of American culture—and Friend, a Vanity Fair editor, traces this trend to the '90s, with its roiling cesspool of cable news and political scandals that spawned Viagra, internet porn, and celebrity culture as we know it.
Forest Dark
By Nicole Krauss
Harper
In her first novel in seven years, Krauss tells a tale of two transformations: that of a high-powered lawyer and a young novelist whose respective journeys lead them both to the Israeli desert.
Solar Bones
By Mike McCormack
Soho Press
Hailed as a masterpiece when it was published in Ireland last year, McCormack's Man Booker Prize–nominated novel takes a basic premise — on All Souls' Day, souls return from the dead — and spins it into a lyrical rumination. Oh, and it's all one sentence.
An Odyssey: A Father, a Son, and an Epic
By Daniel Mendelsohn
Knopf
In a last attempt to better understand both his son and the classics he never read, Mendelsohn's 81-year-old mathematician father enrolls in his son's undergraduate seminar on Homer.
Little Fires Everywhere
By Celeste Ng
Penguin
Ng's taut class drama is calibrated for fireworks: There's the affluent suburb of Shaker Heights and its poster child, Elena Richardson, and the battle that ensues when the Richardsons' friends try to adopt a Chinese-American baby.
9/19
Nomadland: Surviving America in the Twenty-First Century
By Jessica Bruder
W.W. Norton
The many devastations of the Great Recession no longer come as any great surprise, but one of them — the nearly invisible, transient workforce of older Americans unable to subsist on Social Security and retirement savings — might still shock. Bruder reports from the makeshift RV camps of Amazon workers in Texas, the beet fields of North Dakota, and the campgrounds of Northern California.
Making Sense of the Alt-Right
By George Hawley
Columbia University Press
Suddenly, everyone claims to be an expert on the white-nationalist reboot, but Hawley actually is. His deep knowledge makes this the most thorough guide to the movement yet.
The Origin of Others
By Toni Morrison
Harvard University Press
In this collection of her Harvard lectures, the Nobel Prize winner considers the origins of race and its role in American literature.
Sun in Days
Meghan O'Rourke
W.W. Norton
The former New Yorker editor and Guggenheim winner is no stranger to loss (her 2011 memoir, The Long Goodbye, chronicled her grief after her mother's death), and her third collection of poetry, on the slow catastrophe of her autoimmune disease, furthers the exploration.
9/26
Bunny Mellon: The Life of an American Style Legend
By Meryl Gordon
Grand Central Publishing
Mellon was that old species of true American aristocrat, avoiding press coverage during her 103 years on Earth. After her death in 2014, her family granted Gordon access to her extensive diaries and letters for this biography of a very full life.
Five-Carat Soul
By James McBride
Riverhead
An orphan wanders Civil War battlefields looking for his father, Abraham Lincoln; teenage funk musicians fight for survival in a Pittsburgh suburb; and a menagerie of zoo animals talk to each other with "Thought Speak" in McBride's first collection of stories.
10/3
We Were Eight Years in Power: An American Tragedy
By Ta-Nehisi Coates
One World
New and collected essays in which the National Book Award winner considers the promise and struggle of the Obama years.
Manhattan Beach
By Jennifer Egan
Scribner
Anna Kerrigan has become the Brooklyn Navy Yard's first female diver during the Second World War when she again meets Dexter Styles, the only man who might know the secret to her father's disappearance.
Fresh Complaint
By Jeffrey Eugenides
FSG
The acclaimed novelist turns his eye to less-fortunate artists with a collection of stories on aesthetic and romantic failure, from an embezzling poet to a depressed clavichordist.
Her Body and Other Parties
By Carmen Maria Machado
Graywolf
Ever wondered what havoc psychedelics could wreak on a Law & Order: SVU episode? In her debut, Machado crafts fantastical stories that plumb the depths of society's violence against women.
Dunbar
By Edward St. Aubyn
Hogarth
The British author most renowned for his bleak portrait of family life in the Patrick Melrose novels reimagines the Ur–family drama King Lear.
10/10
The Secret Life
By Andrew O'Hagan
FSG
With three thoughtful and reported case studies on Julian Assange, bitcoin, and digital personas, the Scottish writer aims to create the near impossible: an actually insightful book about the internet.
The Apparitionists: A Tale of Phantoms, Fraud, Photography, and the Man Who Captured Lincoln's Ghost
By Peter Manseau
Houghton Mifflin Harcourt
Enabled by mass grief and the rise of photography, post–Civil War fraudsters ensnared desperate mourners, including Abraham Lincoln's widow, with séances and ghost portraits.
10/17
Uncommon Type
By Tom Hanks
Knopf
Yes, that Tom Hanks somehow found the time between shooting Captain Phillips and Sully to whip up some short stories on wholesome bowlers, sad immigrants, and joyless corporate types.
Reckless Daughter: A Portrait of Joni Mitchell
By David Yaffe
Sarah Crichton Books
Given unfettered access to the bohemian queen, Yaffe covers Mitchell's childhood on the Canadian prairie, her early marriage, and her explosion onto the folk scene.
The Letters of Sylvia Plath, Vol. 1: 1940–1956
By Sylvia Plath
Harper
Excitement for Plath's collected correspondence hit a fever pitch after the discovery of letters alleging physical and emotional abuse by her husband, Ted Hughes. But those only looking for clues to the writer's suicide shouldn't expect much: Hughes long ago burned her final diary.
10/24
Sticky Fingers: The Life and Times of Jann Wenner and Rolling Stone Magazine
By Joe Hagan
Knopf
A blow-by-blow account of two intertwined lives: Wenner's and that of the magazine he launched 50 years ago. With appearances by Mick Jagger, John Lennon, Annie Leibovitz, Hunter S. Thompson, and virtually every baby-boom icon you can name.
Vacationland
By John Hodgman
Viking
Comedian Hodgman skews sincere with this collection of essays on middle age, fatherhood, and the natural attractions of New England.
The River of Consciousness
By Oliver Sacks
Knopf
This posthumous collection of essays from the late neurologist ranges from the problem of misheard words to the overlooked importance of Darwin's botany.
10/31
The King Is Always Above the People: Stories
By Daniel Alarcón
Riverhead
Riding high on the success of his 2013 novel, At Night We Walk in Circles, Alarcón returns with stories of life-or-death struggles, losses, and redemption.
11/1
Houses of Ravicka
By Renee Gladman
Dorothy, a Publishing Project
The fourth volume in a series set in Ravicka, an imaginary city-state with its own laws of physics and language, from a writer who has won praise from Eileen Myles and Lyn Hejinian.
11/7
Keeping On Keeping On
By Alan Bennett
FSG
The erudite playwright and screenwriter best known in the U.S. for The History Boys and The Madness of King George may have a reputation for reticence and shyness, but this collection of essays, screenplays, and ten years of diaries is far from cautious.
The Wine Lover's Daughter
By Anne Fadiman
FSG
If "in wine there is truth," the award-winning reporter and essayist will surely find it in this portrait of her late father, a critic, radio host, and lifelong vino appreciator.
Kids These Days: Human Capital and the Making of Millennials
By Malcolm Harris
Little, Brown
From crippling student debt to increasingly precarious employment, millennials face a stark economic reality.
Radio Free Vermont
By Bill McKibben
Blue Rider Press
In this debut comic novel about a gaggle of Vermont hippies and guerrilla environmentalists, McKibben wonders what it might take for Vermont to secede from the United States.
Heather, the Totality
By Matthew Weiner
Little, Brown
The creator of Mad Men goes literary with this slim, brutal thriller about a threatening construction worker, a wealthy teen girl, and the lengths her parents will go to protect her.
11/14
Future Home of the Living God
By Louise Erdrich
Harper
The National Book Award winner puts her own spin on the reproductive dystopia novel in this story about Cedar Hawk Songmaker, a pregnant young woman who must find her Ojibwe birth mother before society collapses around her.
Mean
By Myriam Gurba
Coffee House Press
Gurba's memoir on growing up mixed-race and queer addresses subjects like homophobia and sexual assault while maintaining a light, funny tone.
Breaking Free: How I Escaped Polygamy, the FLDS Cult, and My Father, Warren Jeffs
By Rachel Jeffs
Harper
In her harrowing memoir, Jeffs recounts escaping the polygamous sect of Mormonism led by her father, Warren Jeffs, who is currently serving a life sentence for child sexual assault.
Debriefing: Collected Stories
By Susan Sontag
FSG
A collection of autobiographical and idea-driven stories for fans of the towering intellectual and essayist who nonetheless wanted to be known for her fiction.
11/28
Mrs. Caliban
By Rachel Ingalls
New Directions
A lonely housewife named Dorothy falls in love with a monster on the loose from a government research facility in this Lynchian spin on King Kong first published in 1982.
12/5
The Vanishing Princess
By Jenny Diski
Ecco
The late British novelist and essayist may be best known in the U.S. for the cancer diaries that chronicled her last years. Expect tales of domestic strife, institutionalization, and fairy-tale allegories in her only story collection.
No Time to Spare: Thinking About What Matters
By Ursula K. Le Guin
Houghton Mifflin Harcourt
The science-fiction master shifts focus from imaginary worlds to all-too-real ones with this collection of wisdom on literature, aging, and our national consciousness in the age of Trump.
*This article appears in the August 21, 2017, issue of New York Magazine.