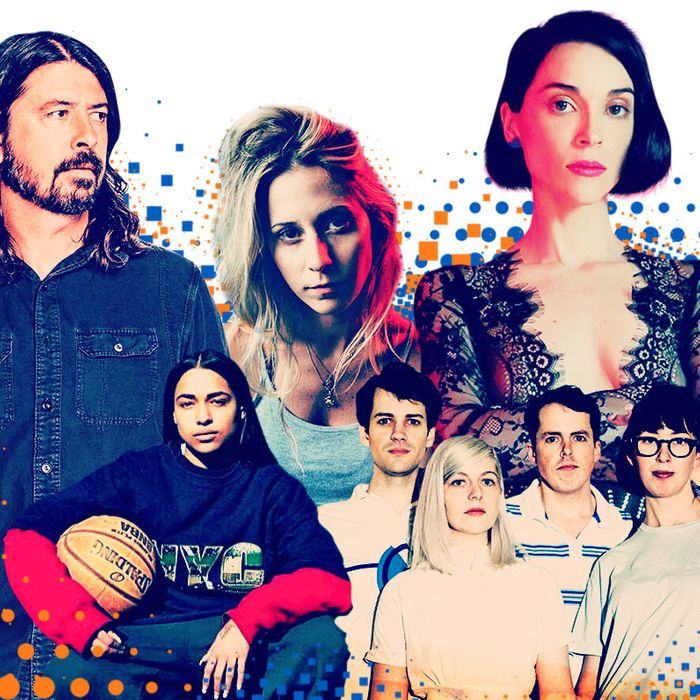 SEPTEMBER
Macklemore, TBA
The woke rapper has scored previous success with producer Ryan Lewis, who's sitting this round out. On his own, Macklemore's empowerment gospel continues on "Glorious," as does his Hot 100 streak. The release date is still TBA.
9/1
Hercules & Love Affair, Omnion
Andy Butler's survey of house and disco has always found its energy in its guest stars, which this time around include Sharon Van Etten and Faris Badwan of the Horrors.
LCD Soundsystem, American Dream
See our James Murphy profile.
Mogwai, Every Country's Sun
This Scottish post-rock quartet has spent the past 22 years expertly synthesizing shoegaze, trip-hop, and gloom.
9/8
Alvvays, Antisocialites
Shellacking a tight pop number in feedback is a worn recipe for success, but in the hands of Molly Rankin, Alvvays's noisy rock is an unexpected gift.
Death From Above, Outrage! Is Now
The Canadian duo's third record could open a chasm between new styles and old fans—advance single "Freeze Me" is more pop-punk, less blown out, and even flirts with a piano line.
The National, Sleep Well Beast
This seventh record from the aughts' indie superstars promises a feast of grandiose rock.
Neil Young, Hitchhiker
A 1976 acoustic session recorded just after Young's classic Zuma.
Tony Allen, The Source
The Fela Kuti collaborator still has a few tricks on his full-length Blue Note debut, including a collaboration with Damon Albarn.
Tori Amos, Native Invader
If you liked the Earth Mother ballads on Amos's other 14 albums, don't worry about curveballs on her 15th, which she says was inspired by "nature and how, through resilience, she heals herself."
Zola Jesus, Okovi
Her career march has been toward stadium lights, but gothic-pop singer Nika Roza Danilova, who fronts Zola Jesus, hasn't lost the dark edge that defines her.
9/15
Rostam, Half-Light
The former Vampire Weekend keyboardist unleashes his first solo album, which is good news for anyone who's ever wished his old band's music were slower, sadder, and had more synthesizers.
Ariel Pink, Dedicated to Bobby Jameson
The man in the title is '60s cult hero Bobby Jameson, whose psychedelic pop should be on the playlists of any Zappa acolyte.
Fall Out Boy, M A N I A
The Midwesterners' anthemic talents have helped them score three No. 1 albums and hang around for 16 years—well past the life span of the average pop-punk band.
Wyclef Jean, Carnival III: The Fall and Rise of a Refugee
The subtitle hints that — amid the wannabe Top 40 dance cuts — we might get some insight on Wyclef's failure-to-launch presidential bid in Haiti or his fund-raising scandal following the 2010 earthquake.
Foo Fighters, Concrete and Gold
The Foos team with producer Greg Kurstin (Adele's "Hello") for what Dave Grohl calls "Motörhead's version of Sgt. Pepper."
Prophets of Rage
Chuck D, B-Real, and Tom Morello all lashed out against politicians in their respective heydays. The Trump administration has surely given this supergroup something to talk about on their self-titled collaboration.
Ringo Starr, Give More Love
Stars of yore collide for Ringo — Joe Walsh, Peter Frampton, and even Paul are in the house, the first studio meeting of the living Beatles since 2010.
The Pains of Being Pure at Heart, The Echo of Pleasure
Twee endures on this New York band's fourth jangly record, in all its earnest joy.
Open Mike Eagle, Brick Body Kids Still Daydream
The Los Angeles rapper has a singsong flow that blends humor with light nostalgia. His new album, built on warm horns and blown-out drums, is his most accomplished yet.
9/22
Chelsea Wolfe, Hiss Spun
Wolfe can bridge the worlds of folk and metal without bastardizing either.
Hiss Golden Messenger, Hallelujah Anyhow
Front man M.C. Taylor writes laconic folk that's heavy on spiritual richness and existential angst. This time, he takes stock of the world around him and says "this music is for hope."
Moses Sumney, Aromanticism
There's plenty of pretty instrumentation, but it's Sumney's croon that anchors these meticulously crafted folk-soul songs.
The Killers, Wonderful Wonderful
Working with the producer of Taylor Swift's Red, singer Brandon Flowers has called this fifth album the "closest thing we've done to Sam's Town," the platinum pop-rock record that featured "When You Were Young."
METZ, Strange Peace
This Ottawa noise-rock trio is so loud and mean that they sound like a campaign to rid their homeland of the Canada-is-nice trope.
9/29
Kamasi Washington, Harmony of Difference
Hip-hop is currently saturated with jazz influence, and this 36-year-old saxophonist is largely to thank. His 2015 triple album The Epic injected jazz into Coachella; Harmony of Difference, which debuted at the Whitney Biennial, is on the same grand scale.
Protomartyr, Relatives in Descent
The late-blooming Detroit post-punk band finds success in the clangor of guitar and images of abandonment.
Miley Cyrus, Younger Now
Details are scarce at press time, but if the Dylan-referencing title and folky first single "Malibu" are anything to go by, expect something twerk-proof and back-to-basics.
Shania Twain, Now
Since Twain's last record in 2002, Taylor Swift has swiped Twain's abdicated title as the queen of countrified pop. Gleaming with positivity and shiny production, "Life's About to Get Good" makes Twain's case to take it back.
Torres, Three Futures
Brooklyn's Mackenzie Scott bends her voice like melted plastic and leaves room in her dusky instrumentation for it to shine.
Beck, Colors
His long-awaited (it was actually touted in this space last year, then delayed) follow-up to 2014's Grammy-winning Morning Phase is still date TBA.
10/2
Benjamin Clementine, I Tell a Fly
The Mercury Prize–winning singer and pianist's concept record about a friendship between two flies.
10/6
Antwon, Sunnyvale
The Bay Area native has one of rap's most authoritative voices and his sights set on the little details of city life.
Blue Hawaii, Tenderness
The Montreal electric-pop duo trades soft textures and introversion for smart four-on-the-floors and the promise of love on their second release.
Deradoorian, Eternal Recurrence 
Angel Deradoorian's 2015 solo debut The Expanding Flower Planet was arguably the best spinoff album to emerge from the split of the classic Dirty Projectors lineup. Anticipate more vocal brilliance and hypnotizing loops on her follow-up.
Kaitlyn Aurelia Smith, The Kid
This Pacific Northwest producer-singer uses a rare Buchla synthesizer and acoustic instruments to create experimental, interstellar pop.
Liam Gallagher, As You Were
Leave it to the brothers of pop's greatest fraternal feud to release highly anticipated efforts within a month of each other. Liam strikes first with his solo debut, the kind of tried-and-true rock record you'd expect from a man who makes fun of his sibling for reading books.
Mark Kozelek With Ben Boye and Jim White
The prolific sad boy teams up with Ty Segall's keyboardist and a folk-rock drummer for a plugged-in take on Kozelek's vivid oversharing.
Wolf Parade, Cry Cry Cry
Wolf Parade's Apologies to the Queen Mary stands as a pillar of Canadian rock, and their first album in seven years will have a seismic impact on audiences longing for the indie heyday of 2005.
10/13
A. Savage, Thawing Dawn
Andrew Savage is the better songwriting half of Parquet Courts, punk's smartest band since the Minutemen.
Tusks, Dissolve
U.K. producer and singer Emily Underhill turns the reverb up past 11, all the better to replicate the grand, cinematic feeling of her debut.
10/20
Lindstrøm, It's Alright Between Us As It Is
More long and futuristic cuts from the Norwegian producer who can make Daft Punk and Terry Riley fans dance into the afters.
Bully, Losing
Alicia Bognanno has the loveliest snarl this side of Nirvana's Live at Reading. That it's in a pop-punk setting, with lyrics reckoning with adulthood, only strengthens its power.
Destroyer, Ken
A dozen albums in, Dan Bejar still manages the impossible, making plastic-wrapped soft rock and places like "Times Square" sound utterly, eternally cool.
Jackie Shane, Any Other Way
Jackie Shane is a transgender, saxes-lined-up soul singer who released a handful of funky, treasured seven-inches, apparently turned down a gig in Funkadelic, and fell off the map. This gatefold reissue is the first official compilation of the septuagenarian's output and yet another reason to trust the crate-digging Numero Group label.
10/27
John Maus, TBA
This is outsider synth pop at its weirdo best from a musician-academic with a theatrical baritone and an uncanny sense of melody.
Curtis Harding, Face Your Fear
Lead single "On and On" doesn't sound much different from his 2014 Burger Records debut, but that's a good thing for a soul revivalist. With a scorching voice like his, the funk is eternal.
11/9
Noel Gallagher, TBA
The older, more levelheaded Gallagher continues with the High Flying Birds, a band that shares a majority of its DNA with Oasis but rips just a little bit harder.
*This article appears in the August 21, 2017, issue of New York Magazine.