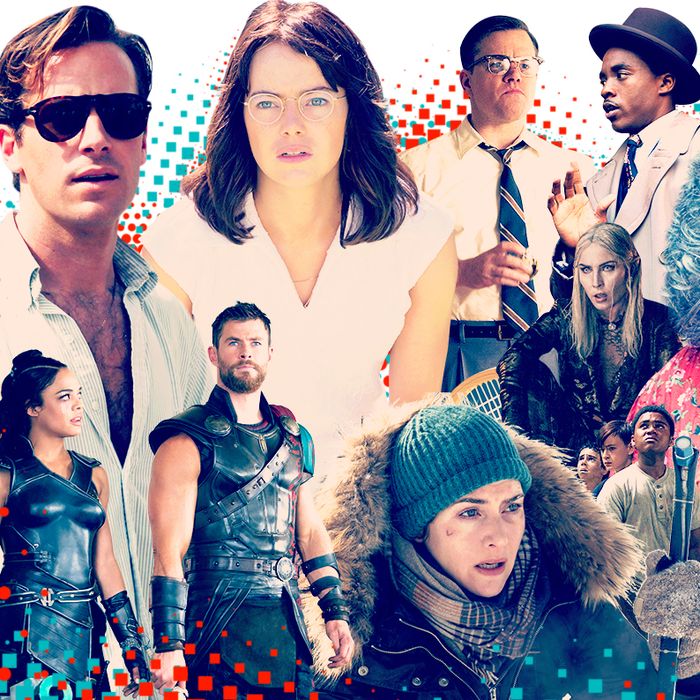 Photo-Illustration: Vulture

SEPTEMBER
9/8
It
This adaptation of the Stephen King classic covers only the first half of the novel, which follows a group of nerdy middle-schoolers battling a child-eating demon that lives in the sewers.
Home Again
Following in the rom-com footsteps of mother Nancy Meyers, screenwriter Hallie Meyers-Shyer's directorial debut stars Reese Witherspoon as a 40-year-old divorcée who shacks up with a trio of millennial aspiring filmmakers.
A look at the life of the famously elusive novelist, starring Nicholas Hoult as J. D. Salinger.
9/15
Mother!
Jennifer Lawrence and Javier Bardem are a married couple living in a creepy house.
American Assassin
Take a bit of Bond, a bunch of Bourne, and a dash of John Rambo and you get best-selling writer Vince Flynn's counterterrorism operative Mitch Rapp (Dylan O'Brien). In this first film adaptation, Michael Keaton plays his grizzled mentor, Taylor Kitsch his snarling nemesis.
Brad's Status
Enlightened co-creator Mike White returns to the silver screen with this bittersweet ode to aging and ambition, starring a seemingly ageless Ben Stiller.
9/22
Kingsman: The Golden Circle
After you've blown up some major world leaders, what do you do for an encore? For these well-dressed British spies, a sequel means teaming up with their American counterparts, the Statesmen (Jeff Bridges, Channing Tatum, and Pedro Pascal), to take down Julianne Moore's chipper drug lord.
Battle of the Sexes
Emma Stone and Steve Carell square off in a comedic retelling of the 1973 tennis match between Billie Jean King and Bobby Riggs that has absolutely no real-world resonance today.
Stronger
Jeff Bauman lost both legs in the 2013 Boston Marathon bombing but helped police track down the killers while learning, excruciatingly, to walk again. Jake Gyllenhaal plays Bauman, with Orphan Black's Tatiana Maslany as his girlfriend.
Victoria & Abdul
Judi Dench reprises her role as Queen Victoria, this time in the true story of the queen's unlikely, eye-opening friendship with her Indian footman (played by Bollywood star Ali Fazal).
The Lego Ninjago Movie
The relentlessly inventive, all-ages Lego franchise gets even bigger with this wry send-up of Godzilla and kung fu movies.
Woodshock
The Rodarte sisters, Kate and Laura Mulleavy, revolutionized American fashion in the mid-aughts. Now comes their first feature film, a haunted psychodrama starring Kirsten Dunst.
9/29
American Made
Forget the misstep of The Mummy. This gonzo true-life tale of Barry Seal, a TWA pilot turned drug smuggler turned DEA asset, will hopefully be a welcome reminder of Tom Cruise's comedic chops.
Mark Felt: The Man Who Brought Down the White House
With Watergate's relevance ever more pressing, what better time for a biopic about the man who was Deep Throat? Liam Neeson stars, with Pretty Little Liars' Julian Morris as Bob Woodward.
Flatliners
A creepy reboot of the 1990 Joel Schumacher cult classic, with Ellen Page and Diego Luna playing the med students experimenting with near-death experiences (original star Kiefer Sutherland cameos).
10/6
Blade Runner 2049
Denis Villeneuve directs this sci-fi sequel, which stars Ryan Gosling as a detective trying to find Harrison Ford's Deckard, who's been missing since the events of the first film. Jared Leto plays an android, appropriately.
The Florida Project
Sean Baker's follow-up to Tangerine is the story of the itinerant inhabitants of a low-cost motel just down the road from Disney World. With the exception of Willem Dafoe's good-hearted motel manager, they're mostly played by nonprofessional actors; 7-year-old newcomer Brooklynn Prince in particular is earning raves.
My Little Pony
An animated musical, based on the TV show, in which Twilight Sparkle and her compadres fend off the invasion of Equestria by the evil Storm King (voiced by Liev Schreiber).
The Mountain Between Us
Thrown together when their charter plane crashes in a remote mountain range, two strangers (Idris Elba and Kate Winslet) battle the elements and each other in this harrowing tale of survival.
10/13
The Foreigner
Jackie Chan plays a London restaurateur hunting down the terrorists who murdered his daughter — and the government official (Pierce Brosnan) who may be protecting them. Even nearing retirement age, Chan's fists of fire have not cooled.
The Meyerowitz Stories (New and Selected)
Noah Baumbach heads to Netflix for this tale of three children (Ben Stiller, Adam Sandler, and Elizabeth Marvel) and their difficult father (Dustin Hoffman), a sculptor who's struggling with his legacy. Critics are hailing Sandler's most sensitive performance since Punch-Drunk Love.
Goodbye Christopher Robin
The true story behind the creation of A. A. Milne's beloved Winnie-the-Pooh and the subsequent supernova fame of Milne's titular son. With the ubiquitous Domhnall Gleeson as Milne.
Breathe
With his directorial debut, Andy "Gollum" Serkis tells the heart-wrenching, romantic true story of polio survivor and activist Robin Cavendish (Andrew Garfield) and his wife, Diana (Claire Foy).
Marshall
Captain America: Civil War's Black Panther Chadwick Boseman plays a different kind of superhero here — Thurgood Marshall, the Supreme Court's first African-American justice, in this account of his life as a young NAACP lawyer.
10/20
The Snowman
Michael Fassbender brings Jo Nesbø's infamous detective Harry Hole to life in this wintry serial-killer thriller directed by Let the Right One In's Tomas Alfredson.
Wonderstruck
Todd Haynes's latest is an intercut tale of two children's pilgrimages to two very different New York Citys: In 1977, a young boy hops a bus to Times Square to find his missing father, while in 1927, a deaf girl seeks her favorite silent-film star.
Only the Brave
Josh Brolin plays the leader and Miles Teller the fresh-faced new recruit of a real-life team of elite firefighters battling a wildfire near Prescott, Arizona.
Boo 2! A Madea Halloween
The tenth film in the beloved Madea franchise, and a trick or treat depending on your affection (or tolerance) for Tyler Perry's over-the-top comic creation.
The War With Grandpa
Robert Kimmel Smith's beloved YA novel, about a wily boy forced to give up his room to his grandfather, gets the big-screen treatment, with Robert De Niro as the titular patriarch.
Geostorm
As if climate change weren't enough to worry about, Dean Devlin's latest disaster film imagines a future where satellites control global weather and then start to attack. Gerard Butler stars.
10/27
Suburbicon
Working from an old script by the Coen brothers, George Clooney returns to the director's chair for this crime caper set in postwar suburbia. Clooney's prank pal Matt Damon stars alongside Julianne Moore and Oscar Isaac.
The Killing of a Sacred Deer
The Beguiled's Colin Farrell and Nicole Kidman reunite in equally spooky circumstances, playing a husband and wife whose family is cursed after an encounter with a strange young man (Dunkirk's Barry Keoghan). It's chilly, arty horror from The Lobster's Yorgos Lanthimos.
Thank You for Your Service
American Sniper screenwriter Jason Hall returns to the battlefield (and beyond) in this sensitive look at a group of soldiers returning from Iraq and their struggles to reintegrate into everyday life.
Novitiate
Margaret Qualley plays a 1960's nun-in-training battling second thoughts, in this drama written and directed by Margaret Betts.
Jigsaw
2010's Saw 3D was seemingly the end of the wildly lucrative torture-porn franchise, with the original Jigsaw killer, John Kramer, long dead. But what this reboot proposes is: What if he isn't?
Professor Marston and the Wonder Women
Gal Gadot's version of Wonder Woman wowed audiences earlier this year, and this timely bio­pic about the original character's creator — a kinky ­Harvard-trained psychologist, whose creation was inspired by his wife and his ­mistress — tells the salacious back story.
11/3
Thor: Ragnarok
Finally, the Marvel cinematic universe is letting its hair down and getting weird. Chris Hemsworth's Thor teams up with the Hulk (Mark Ruffalo) and Loki (Tom Hiddleston) in Taika Waititi's intergalactic adventure, which appears to have been visually inspired by the side of a spray-painted van.
A Bad Moms Christmas
The original trio of underappreciated mothers gets hit with a whole different set of problems when their own moms (Susan Sarandon, Cheryl Hines, and Christine Baranski) show up for the holidays.
Roman Israel, Esq.
Director Dan Gilroy's follow-up to Nightcrawler stars Denzel Washington as an idealistic L.A. defense attorney who's recruited by Colin Farrell to join a cutthroat law firm.
11/10
Lady Bird
Greta Gerwig climbs into the director's chair with this valentine to her hometown of Sacramento, California, and a year in the life of a young girl (Saoirse Ronan).
Daddy's Home 2
Think the Bad Moms have it bad? Brad and Dusty (Will Ferrell and Mark Wahlberg, reprising their original roles) have to spend Christmas with their respective dads (cuddly John Lithgow and cooler-than-thou Mel Gibson).
The Star
From the studio behind Cloudy With a Chance of Meatballs, this animated film tells the story of the Nativity from the POV of a donkey named Bo. Oprah Winfrey, Tracy Morgan, and Tyler Perry voice the Wise Men's camels.
Murder on the Orient Express
Just like in the classic 1974 version, Kenneth Branagh has assembled a cast of famous names for his mystery adaptation: Penélope Cruz, Willem Dafoe, Judi Dench, and Michelle Pfeiffer are among the suspects; Johnny Depp is the victim; and Branagh has once again cast himself as the hero. (Playing Hercule Poirot requires as much ego as playing Hamlet.) You've never seen Agatha Christie done with quite this much CGI.
Three Billboards Outside Ebbing, Missouri
The people who have to put the titles up on theater marquees are going to hate the latest film from U.K. gorehound Martin McDonagh (In Bruges). It stars Frances McDormand as a grief-stricken mother who throws a small town into chaos when she erects the titular billboards. Whatever you do, don't take the kids.
11/17
Justice League
Joss Whedon took over this DC superhero team-up after Zack Snyder left the project to deal with a family tragedy. The Buffy creator is reportedly adding his own spin to the movie, though t's probably too late to retitle it Wonder Woman and Friends.
Mudbound
Dee Rees earned "next great director" raves at Sundance for this story of two families – one white, one black – whose fortunes intersect in 1940s Mississippi. But the film's acquisition by Netflix may complicate its Oscar hopes. Can it succeed where Beasts of No Nation failed?
Wonder
Room's breakout star Jacob Tremblay plays a fifth-grader struggling with facial deformity in this adaptation of the best-selling novel. With Julia Roberts and Owen Wilson as his parents.
11/22
Darkest Hour
Gary Oldman has already played Sid Vicious, Dracula, and George Smiley.
Now he's undergoing his greatest transformation yet, strapping on half his body weight in prosthetics to play Winston Churchill. Start engraving the Best Makeup Oscar now.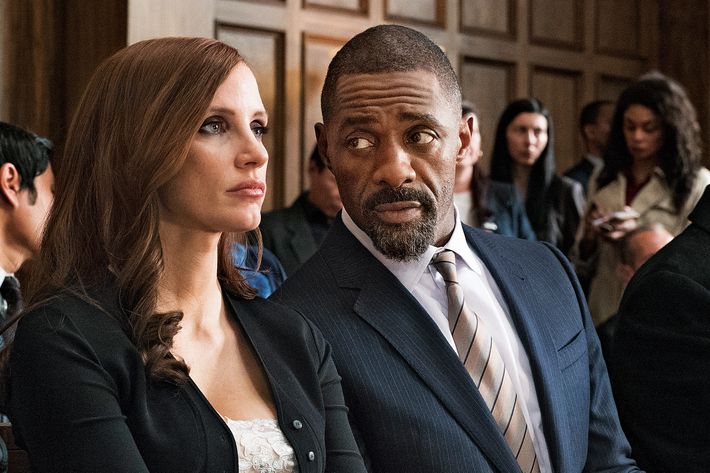 Molly's Game
Jessica Chastain and Aaron Sorkin team up for the true-life story of the woman who ran Hollywood's hottest underground poker ring. If you liked the Topher Grace scenes in Ocean's 11, you'll love this.
Coco
The latest Pixar fantasia follows a 12-year-old aspiring musician named Miguel who journeys into the Land of the Dead, a place far more magical and inspiring than frightening.
11/24
Call Me By Your Name
The buzz for this coming-of-age romance between Timothée Chalamet and Armie Hammer started back in January at Sundance and hasn't shown any signs of subsiding. There's gorgeous Italian scenery, plenty of lingering glances, and one soon-to-be-famous scene involving a peach.
Mary Magdalene
Rooney Mara is Mary Magdalene. Joaquin Phoenix is Jesus. Your reaction to those two sentences probably tells you all you need to know about whether you should see this movie.
12/1
The Disaster Artist
The story behind The Room, the terrible vanity project that became a cult classic, finally gets the big-screen treatment thanks to James Franco, who both directs and stars as the enigmatic auteur Tommy Wiseau. In a fittingly meta touch, Franco occasionally directed while in character.
Wonder Wheel
Woody Allen's newest film takes place in 1950s Coney Island and stars Kate Winslet and Justin Timberlake. For their sakes, let's hope they've been well media-trained.
12/8
All the Money in the World
Ridley Scott directs this true story about the 1973 kidnapping of J. Paul Getty's grandson, with Kevin Spacey as Getty the elder, Michelle Williams as the boy's mother, and Mark Wahlberg as the ex–CIA agent tasked with saving him.
The Shape of Water
Guillermo del Toro's latest is a Cold War fairy tale about a strange humanoid creature held in a secret lab and the mute cleaning woman (Sally Hawkins) who loves him. Michael Shannon brings the menace.
12/15
Star Wars: The Last Jedi
J. J. Abrams's The Force Awakens made $2 billion by remixing the plot of A New Hope; now fans are optimistic that new director Rian Johnson (Looper) can take the rebooted franchise in a more original direction. May the Force be with him.
The Ballad of Lefty Brown
This homage to Western sidekicks like Gabby Hayes and Walter Brennan stars Bill Pullman as the faithful compadre of Wild West legend turned U.S. senator Eddie Johnson (Peter Fonda).
Ferdinand
The much-loved kids' classic, about a gentle bull (John Cena) mistaken for a dangerous beast, gets the animated treatment from Rio co-creator Carlos Saldanha.
12/20
Jumanji: Welcome to the Jungle
It's not a remake of the 1995 family film but a sequel: This time, Jumanji is a magical video game, with the stars — Dwayne Johnson, Jack Black, Kevin Hart, and Karen Gillan — playing the avatars of the children trapped inside.
12/22
Happy End
Director Michael Haneke reunites with his Amour stars Isabelle Huppert and Jean-Louis Trintignant in this very black comedy about family dysfunction and the refugee crisis.
Downsizing
Another darkly comic satire from Alexander Payne, which looks like Black Mirror meets Honey, I Shrunk the Kids: What if people could save money by shrinking themselves down to five inches tall? A brief clip, featuring Neil Patrick Harris as a pint-size salesman, was among the biggest hits of March's CinemaCon.
The Papers
Steven Spielberg's Pentagon Papers drama was fast-tracked into production after news events made it unexpectedly timely. Still, he managed an A-list cast, with Meryl Streep playing Washington Post publisher Katharine Graham and Tom Hanks as editor Ben Bradlee. Think of it as an unofficial prequel to All the President's Men.
Bright
Will Smith is a human and Joel Edgerton is an Orc — and yet they're both LAPD cops in this fantasy crime thriller (and Netflix exclusive) in which mythical creatures and homo sapiens solve crimes together.
The Current War
Benedict Cumberbatch and Michael Shannon try to out-intense each other in this story of the real-life rivalry between electricity visionaries Thomas Edison and George Westinghouse.
Bastards
In this road-trip comedy from The Hangover's cinematographer Lawrence Sher, two mismatched brothers (Owen Wilson and Ed Helms) set out on the road to find their true father.
Pitch Perfect 3
The lovable, lip-syncing, wisecracking Bellas reunite again for a USO show in Europe. Anna Kendrick, Rebel Wilson, Elizabeth Banks, and the gang return for the ride.
12/25
The Greatest Showman
Hot off his acclaimed turn as an aging Wolverine, Hugh Jackman dusts off his song-and-dance talents in this musical about P. T. Barnum and the birth of the modern circus.
Untitled P.T.A. Fashion Movie
As usual, it's hush-hush around Paul Thomas Anderson's latest. But do you really need to know more than that it's Daniel Day-Lewis's last film before retirement, and that he's probably playing the legendary fashion designer Charles James?
*This article appears in the August 21, 2017, issue of New York Magazine.