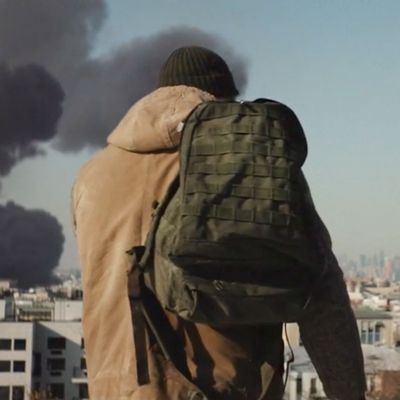 Bushwick
.
Photo: RLJ Entertainment
Bushwick imagines its titular Brooklyn neighborhood as the setting for a civil war. It's eerily timely: Southern forces take aim at college grads and grandmas as our protagonists Lucy (Brittany Snow) and ex-Marine Stupe (Dave Bautista) crisscross the neighborhood to escape the snipers and assassins that now swarm Bushwick's streets. Even when it doesn't stick the landing, Bushwick premise is engaging: a neighborhood-specific thriller set in Brooklyn. But what would Bushwick's plot be if it were set in Williamsburg or Park Slope? Vulture has a few ideas:
Williamsburg
After taking the L train's last journey through the Canarsie Tunnel, three friends from Manhattan — a personal essayist, a vegan chef, and an underground DJ — stalk the streets in search of a super-exclusive warehouse party. They're picked off one by one by a disgruntled ex–Bedford Cheese Shop salesman.
Clinton Hill
It's finals week at Pratt. Suddenly, multiple students come down with a mysterious illness that's leaving everyone bedridden with fuzzy vision. Is it the denim, or is there something in the hair dye? Art students investigate.
Dumbo
A citywide blackout. The power is out at Etsy's Dumbo headquarters. The staff is forced to rely on small, quirky handmade products to survive.
Greenpoint
Unimaginable horror awaits those who try to commute on the G train. This is a documentary.
Gowanus
In a U.S. adaptation of The Host, a hideous monster terrorizes the neighborhood after it turns out the Whole Foods has secretly been dumping chemicals into the canal. At first, the local Brooklynites live in fear as new Whole Foods owner Amazon conducts a propaganda campaign against the monster, but everything turns out for the best once they realize the monster really just wants to submit a spec script for The Americans.
Park Slope
When the brownstone housing market suddenly collapses, Park Slope residents resort to Mad Max–style warfare conducted entirely in tricked-out strollers. In Fury Road, water was the limited resource; here, it is almond milk.