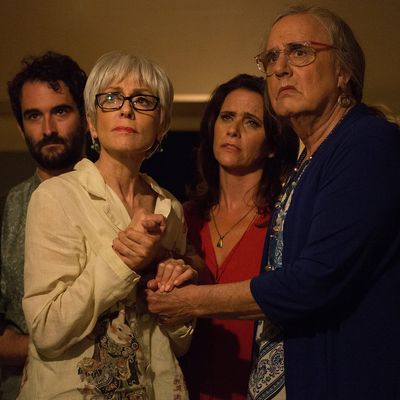 Transparent
.
Photo: Amazon
One of Amazon Prime Video's trademark marketing hooks — its semi-annual pilot-season showcase for new projects — may be in danger of expiring soon. Roy Price, who runs the streamer in his role as vice-president of Amazon Studios, says the increasingly fierce battle to land top-tier talent means Amazon will increasingly opt to go straight to series when developing new fare. "The reality of the marketplace is it is competitive, and often you have to go to series," Price said Friday during an appearance at the Edinburgh TV Festival. "We have a few pilots in the works now, but … pilots are going to have to play probably less of a role going forward."
To be sure, Price didn't announce the end of pilot season or rule out audience feedback as a tool for picking up projects. But it seems obvious that the biggest, most ambitious projects at Amazon Prime — including the just-announced Orlando Bloom fantasy series Carnival Row — will now be shipped to viewers with expedited delivery. It's a development that's been coming for years, and probably won't make all that much of a difference to Amazon's overall slate.
First, it's worth noting that Price's pronouncement Friday is simply an extension of similar comments his TV development chief, Joe Lewis, made to Vulture last fall. "My guess is in the future we'll probably do more straight-to-series," Lewis told us, noting that some of Amazon's biggest comedies to date — Catastrophe and Fleabag, which just got a second season — didn't go through pilot season. This isn't because Amazon has suddenly soured on the idea of making pilots; quite the opposite. Lewis and Price have both stressed in recent months that they still like the idea of filming pilots when possible, since they often result in better series by allowing creators (and Amazon) to identify potential weaknesses in a show's concept or casting, and correct them before the show gets too far along in the production process. "There is no doubt in my mind that making a pilot helps a series be better," Lewis said last fall. "It might only be 2 percent. You might learn one thing. But in a world of Peak TV, 2 percent could be the difference between a show that's good and excellent."
And yet, Amazon execs have also long been clear-eyed about the realities of making shows in the age of Peak TV. Much the same way a big star like Tom Hanks usually doesn't have to audition for a role, A-list series creators whose ideas are in demand generally don't want to put their ideas through an extended pilot process — particularly not one as public as Amazon's pilot season. As Lewis noted in our interview last October, "There was no version with Woody [Allen] where we could've piloted [Crisis in Six Scenes]. You look at Woody Allen and his body of work and you go, 'I'm pretty sure he can pull off the writing. I'm pretty sure he can pull off the directing and the casting.' How much are we going to learn from the pilot? And he's not going to do a pilot."
Indeed, as the streaming arms race has heated up in the past two years, with Netflix doubling and tripling its output even as new players such as Facebook, YouTube, and Apple jump in, Amazon knows it's in no position to tell top-tier showrunners they'll have to "audition" for a spot on the streamer by going through pilot season. Mad Men creator Matt Weiner could have sold his new anthology series to a half-dozen other outlets; he wasn't about to let his new baby be picked to death by online reviewers before moving forward to series. Likewise, skipping the pilot process means Amazon can get a show to audiences up to six months sooner than would be the case otherwise. With Netflix unleashing new shows or movies nearly every week now, Amazon can't afford to take its time beefing up its roster.
The other big reason pilot season may not be long for this world — or, at the very least, promises to be less of a big deal in Amazon's development process — is that the streamer is in a very different place as a business than it was when it first started crowdsourcing ideas four years ago. Back then, consumers simply didn't think of Amazon as a place for TV shows. As I wrote back in 2013, Amazon's development process was a super smart way to market its entrance into the TV marketplace: "Putting all of its pilots online at once, and inviting user feedback, generated enormous buzz in both tech and entertainment media, even if none of the individual pilots themselves greatly impressed. Instead of a network dictating what viewers should watch, Amazon came off as a Hollywood disrupter, blowing up pilot season in favor of crowdsourcing." Now, thanks to series such as Transparent and Man in the High Castle, audiences know that quality TV is part of the Amazon Prime promise. Pilot season can still help some Amazon projects build early buzz: Critical raves for the first episode of Amy Sherman-Palladino's The Marvelous Mrs. Maisel helped convince the streamer to give the show a two-season pickup less than a month after its pilot debuted. But Amazon has built enough audience goodwill to launch shows without the marketing gimmick aspect of pilot season.
What's more, while Amazon remains a data-driven company at all levels, the information it gets from pilot season is probably less vital than it was just a few years ago. Before Amazon had built a rich content library of its own, pilot season was the best way for Amazon execs see how subscribers engaged with original content: Who clicked on a show? Did they watch the whole episode, did they watch again, did they take the time to write a review? Now the service boasts dozens of originals, with hundreds of hours of content — all of which can be studied to determine what Amazon audiences want. This doesn't mean pilot season data is irrelevant: If Amazon is unsure of an idea, testing it out with consumers beforehand probably doesn't hurt. As Price told his Edinburgh audience, "It's always helpful to get feedback." But Amazon now has a much better handle on its audience, and far more detailed research on which to help make decisions. Pilot season might not go away entirely, but its days as one of Amazon Prime Video's defining characteristics are probably over.