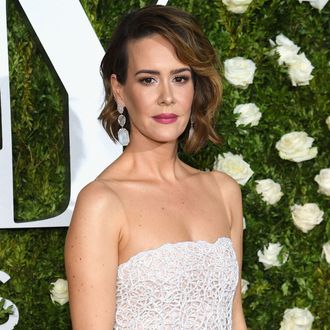 Sarah Paulson, always ready.
Photo: Dimitrios Kambouris/Getty Images for Tony Awards
Your dreams of Annette Bening getting an Emmy are going to have to wait. After months of delays, and the claim from a producer that the season may not even happen, American Crime Story: Katrina is completely changing course. The season, originally based on Douglas Brinkley's book on Hurricane Katrina, The Great Deluge, is switching to different source material and losing most of its original cast. The big names attached to appear in Katrina, including Annette Bening, Matthew Broderick, Dennis Quaid, and Cuba Gooding Jr., are all out of the project, which was hampered by scheduling issues, according to The Hollywood Reporter. Sarah Paulson, the one constant in the Ryan Murphy universe, will stay on and star in the rebooted season.
The new, more-focused version of Katrina will be based on Sheri Fink's book Five Days at Memorial, which is set in the aftermath of the hurricane at New Orleans Memorial Medical Center. Paulson will play Dr. Anna Pou, one of the members of the hospital staff who decided to euthanize critically ill patients while trapped in the hospital without power, and who was later arrested, but not indicted, for that decision. Katrina was original going to air before Versace: American Crime Story, which will now air in 2018. According to THR, Katrina is currently looking for a writer and showrunner and is slated to begin production in the spring of 2019.