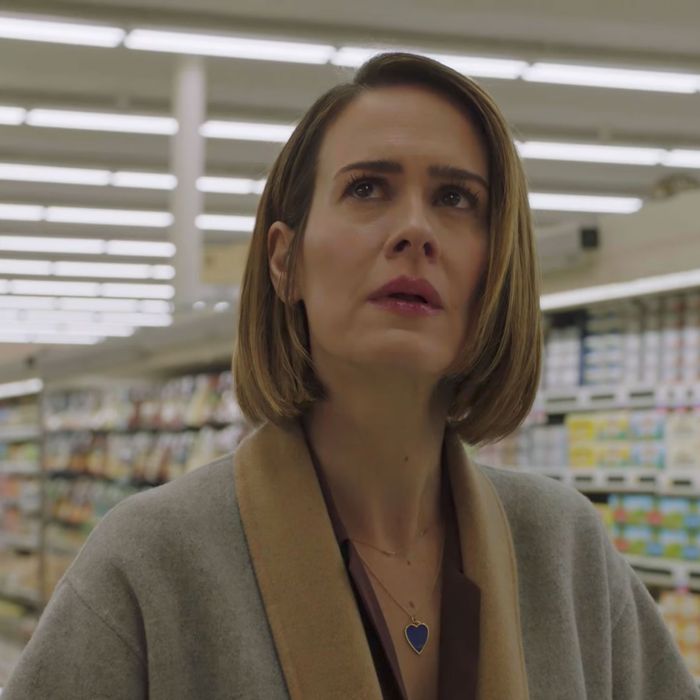 Sarah Paulson in
AHS:Cult
.
Photo: FX Networks/YouTube
Here are several true facts: The seventh season of American Horror Story is about cults. The seventh season of American Horror Story is about clowns. The seventh season of American Horror Story is about bees. The seventh season of American Horror Story is about the 2016 U.S. presidential election. It's not clear at the moment how, or if, all of those aspects will come together into the latest installment of FX's anthology series, but as we near its September 5 premiere date, we've compiled everything we know about the 11-episode season.
It's about the election, sort of.
Back in February, creator Ryan Murphy said that the seventh season of AHS would be about the election. Later, he clarified that he did not mean that literally, and that the season would involve the election thematically. Since then, the show's creative team has been cagey about how much of a role the election will play in the plot, but the season's first full trailer makes some elements pretty clear: Sarah Paulson plays a Michigan lesbian who freaks out when Trump's elected, while Evan Peters is a blue-haired, possibly alt-right cult figure who's thrilled by the news. The trailer suggests that the season will bring some Hillary and Trump face masks into play, though it likely won't deal with the political figures directly.
The bees are a metaphor. The bees are also real.
Much of Cult's marketing has depicted bees and honeycombs as a way to invoke ideas about the hive mind (and trigger trypophobia). The bees, however, will also be part of the show's plot. Billy Eichner, who plays Paulson's neighbor, is a beekeeper. He also seems to enjoy hiding behind hedges. Topical!
Send in the creepy clowns.
Cult's advertising includes swarms of clowns as well as bees, and the creepy clowns will also be in the show. In the trailer, Paulson's character confesses her fear of clowns to a therapist (played by Cheyenne Jackson), and admits that, since the election, she sees clowns everywhere. In one shot, she holds a graphic novel that depicts AHS: Freak Show's Twisty the Clown, though it's unclear whether Twisty will reappear in the flesh.
Cult will include actual cults.
Evan Peters's mysterious blue-haired Kai builds a cult of personality around himself and recruits a character played by Billie Lourd, who is afraid of children, to do his evil bidding as Paulson's babysitter. In addition to this miniature cult, the series will incorporate material about real-life cults. Murphy said the season stemmed in part from an idea about Charles Manson and the Manson murders, and to that end, the series will have Evan Peters also play Manson, as well as the historical figures Jim Jones, David Koresh, and Andy Warhol.
Lena Dunham has a role.
Speaking of historical figures, the Girls star has a small role as Valerie Solanas, who attempted to assassinate Andy Warhol and authored the infamous SCUM Manifesto. Emma Roberts will also appear in a small role as Serina Belinda, a newscaster who gets a promotion over Adina Porter's character because she's "more superficial." Finally, Popular star Leslie Grossman has joined the show, though her role hasn't been announced.
There won't be supernatural elements.
In comparison to previous seasons of AHS, Murphy promised that Cult "will be more grounded, with a muted color palette and a relatively normal setting in suburban Michigan. It will also be the first American Horror Story saga without any supernatural elements." Real life is scary enough.
It's a love story.
Paulson's Ally Mayfair-Richards is married to a character named Ivy, who is played by Allison Pill and seems to be a chef or butcher of some sort. Despite that marriage, Murphy promised on Instagram that Ally and Kai have "a love story for the ages," which of course he could mean sarcastically. (Perhaps a folie à deux sort of shared psychosis?)
In addition to Ally and Kai, Murphy has also teased drawings of Billie Lourd and Colton Haynes's characters Winter Anderson and Detective Samuels together, perhaps indicating a love story between them. In addition to all that twisted/romantic love, the season will also deal with twisted/familial love, as Murphy also shared a photo of Lourd, Peters, Pill, Paulson, and Paulson and Pill's kid together with the caption "family." Ohana, indeed.