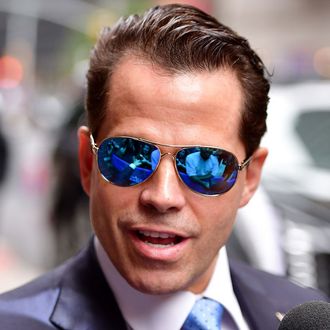 A face made for Hollywood.
Photo: James Devaney/GC Images
Anthony Scaramucci is looking to cash in on his newfound celebrity. The former White House communications director has signed with heavyweight Hollywood publicist Howard Bragman, founder of the Fifteen Minutes PR agency, according to a new Politico report. Scaramucci has been a media magnet ever since New Yorker writer Ryan Lizza first transcribed and published their profanity-laced, now-infamous conversation, after which the Mooch was promptly fired by President Trump. He then drew eyeballs this past week when he made an anticipated return to the spotlight, completing interviews with Stephen Colbert and George Stephanopoulos. Hollywood-adjacent as the Mooch has long been, however, his hiring of Bragman still represents a significant step forward: The publicist specializes in crisis communications, and he's represented everyone from Monica Lewinsky to Flip or Flop co-host Tarek El Moussa to "the JetBlue flight attendant who took two beers and jumped down an exit chute slide," per Politico. Scaramucci was already interested in boosting his media profile, and now, it appears that he's set to keep transforming those ten bizarre days in the White House into pure entertainment gold. Is the Mooch destined for an SNL cameo? It might only be fair.