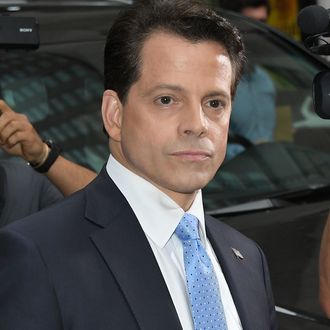 The Mooch strikes again.
Photo: Mike Coppola/Getty Images
On last night's season finale of Game of Thrones, Jon Snow gave a stirring speech about how incessant lying would lead to a — paraphrasing here — post-truth society. While previously such parallels to politics in culture were seemingly out of happenstance, it appears we have reached the point where even art as divorced from reality as GOT is unavoidably intertwined with Donald Trump's presidency. Liam Cunningham, who portrays the beloved Onion Knight Ser Davos, tells Variety that Snow's remarks were made with 45 specifically in mind, as it was filmed directly after his election:
That speech that Jon Snow gave about the nature of lies and what's been said, and what happens if we don't stick to our word — we filmed that on exactly the day that a certain POTUS was elected and it had incredible resonance while we were filming it.




So the Trump election had just happened?

The results had just been announced the morning we filmed that particular scene — that particular day of that scene with Mr. Kit Harington. We may have been rehearsing that scene. But that was the first time that Kit Harington had said those words on that platform in that scene. So it had a certain resonance, I'm sure you'll understand.
And it appears a specific former member of Trump's administration — whose time in the limelight is rapidly waning — got the hint last night:
If only the Mooch had displayed such astute critical thinking during his brief tenure as White House communications director.