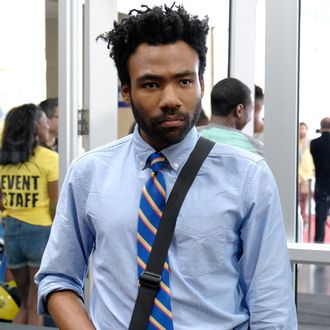 Though the replacement of directors Phil Lord and Chris Miller at the eleventh hour on the Han Solo prequel panicked Donald Glover fans that it might inadvertently cause further delays in Atlanta's second season, it appears the show is sticking to its new schedule. FX had previously announced that the show wouldn't return until 2018 to accommodate Glover's swamped schedule — he's starring as Lando Calrissian in the aforementioned prequel — and now The Hollywood Reporter says the show is set to go into production next month. Details are of course nonexistent, though THR notes that Glover becoming a father in his personal life might factor into the show, in which Glover also plays a young father, because he's "now better able to relate to his character."
Glover also says he wants to avoid the show becoming formulaic: "I don't want to go into season two [with the mindset of] 'Enough people liked it so just keep those people,' because then you begin to give your audience a methadone drip of bullshit that keeps them happy as opposed to, 'We did something controversial and more people were interested.'" And he's apparently been bingeing Planet Earth and "whatever animal attacks the internet has to offer," of all things, for inspiration on telling stories about the harsh realities of survival.
In a separate interview with BBC Radio 1 this week, Glover announced that his all-black writers room was nearing completion on the script for the second season, hinting, "I feel like if you rush it, you'll start to get something you don't want and then you start to question why you even liked it. I'm not gonna make anything until it's ready. But to be completely honest, it's almost ready." In both interviews, he reiterates what he told Vulture last year, that season two will be a "classic" and "better" than the first. Given the show's debut earned multiple Emmy nominations, you have our full attention, Donald.