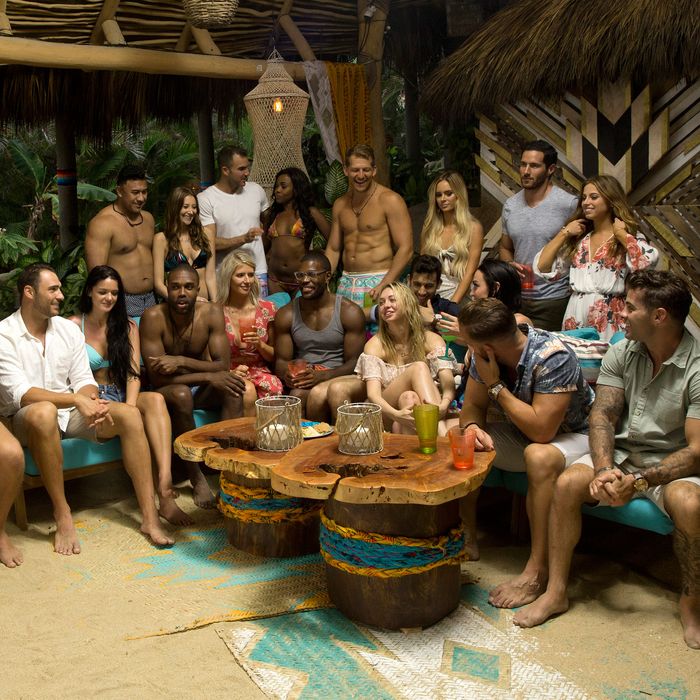 "I think it's going to be a fun, interesting time," Corinne Olympios says during one of her first toasts on Bachelor in Paradise. And so began the first episode of the controversial, long-awaited fourth season of Paradise, which was marred by an avalanche of conflicting and often disturbing reports that detailed the alleged sexual "misconduct" between Olympios and fellow contestant DeMario Jackson that caused a temporary shutdown of production in June. (Both Warner Bros.'s internal investigation and Olympios's lawyer's investigation have since closed, with Warner Bros. claiming it found no wrongdoing on Jackson's part, and Olympios saying it had been "completed to [her] satisfaction").
Last week, host Chris Harrison detailed to The Hollywood Reporter how the show would address the shutdown and subsequent restart of production, saying that viewers would see what led up to the incident and what happened immediately after, though actual footage of the incident between Jackson and Olympios would not be shown. That's apparently what we got tonight. The season premiere opened with host Chris Harrison addressing the controversy head-on: "Yes, this was the season that almost didn't happen," Harrison said, before going on to explain that the episode would first show the two-and-a-half days of filming that were banked before production was shut down.
What followed was mostly business as usual in Paradise, with contestants arriving and beginning to form sometimes-intoxicated connections. But to anyone who had been following the news that trickled out earlier this summer about the alleged misconduct on set, nearly every line coming from Jackson and Olympios felt excruciatingly prescient. It was easy to forget Jackson entered Paradise already a persona non grata — he was booted from Rachel's season of the Bachelorette after he was confronted by a woman who claimed they had been dating while he appeared on the show — but his introduction to Paradise leaned heavily on that fact. "I want them to see a different side of me because I'm a good guy," Jackson says with over-the-top confidence.
Olympios, meanwhile, arrived in Sayulita, Mexico, with a Champagne glass in hand, saying that although it "took [her] a while to bounce back after Nick's season," she's ready to play the field, and won't "jump on the first guy that shows [her] attention." Just knowing what was coming in a few days' time for them both made it difficult to watch.
And then, of course, there were shots. There were toasts. We saw DeMario carry Corinne away to the pool, where both of them, heavily intoxicated, giggled and flirted. At one point, another contestant was giving an interview in front of the pool when Corinne drunkenly interrupted, and she and DeMario continued to canoodle in the background of the shot. "It is approximately 4:30 in the afternoon right now, and Corinne and DeMario are already attached at the hip," contestant Alex Woytkiw said.
By the time the sun set, however, the focus was on other contestants, some of whom were also very intoxicated, as they had their own trysts in the hot tub and by the beach. It wasn't until later the next day, as the contestants prepared for the show's first rose ceremony, that producers pulled Olympios aside and slowly began shutting down production on the show. Cue the blurry shots of cameras turning away from the action and toward the ground, producers walking around the set yelling "cut it," and the drapes of empty beach cabanas ominously rippling in the wind. "A chill fell over Paradise," contestant Danielle Maltby said. "We were just looking at each other like, what the fuck is happening?"
And with that, Bachelor in Paradise turned the incident that some said could have derailed the series and threatened the entire franchise's future into a cliffhanger. If those first two hours didn't turn you off, ABC was at the ready to serve you with a teaser for tomorrow's episode, which promises to fully address the shutdown through interviews and discussions with the cast about alcohol and consent.