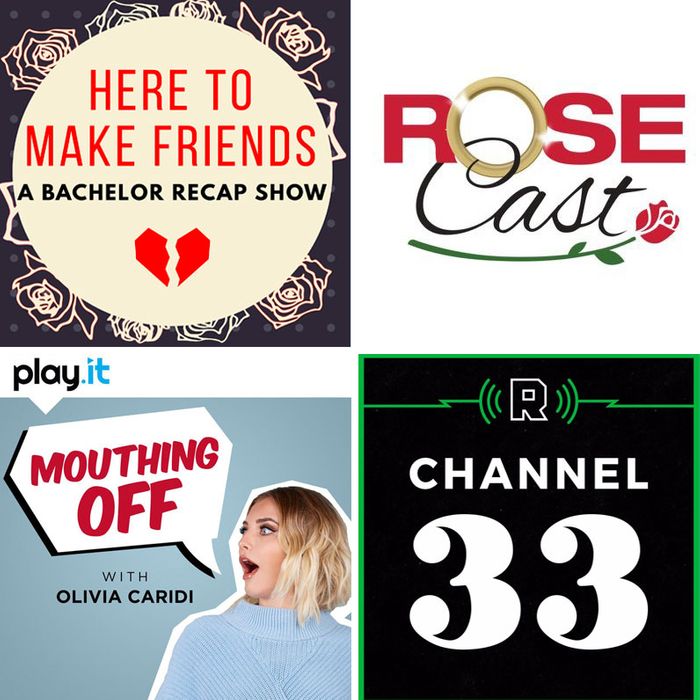 Are you among people like me who turn off a two-hour episode of The Bachelor or The Bachelorette and still need to know more? Do you have trouble waiting a whole night to read Ali Barthwell's heroic recaps? Are you already panicking and about to postgame Rachel's finale? You're not alone.
Lucky for us, this year marks a peak podcast era for Bachelor Nation, as longtime stalwarts compete for your listening time with new chat fests from former contestants and superfans, including former bachelor Ben Higgins, former villain Olivia Caridi, and indomitable series-spoiler Reality Steve. Sometimes they recap the previous night's episode; sometimes they just talk about Bachelor-y stuff — but, hey, a fix is a fix, right? I've listened to a ton of them, and have compiled a list of the greatest, the boring-est, and the annoying-est, with a special shout-out to an amazing vlog you cannot miss. (All are listed in order of preference within their category.) If you know of any others, send 'em on in, because I have no shame. I will definitely be downloading that ish.
Note: You will probably notice a dearth of podcasts hosted by persons of color. This is a franchise that has taken 36 seasons to cast a black lead, the fab current bachelorette Rachel Lindsay. It's going to take a while for the fan base and podcaster base to catch up.
Here to Make Friends (The Huffington Post)
Scour the digital airwaves if you must, but there is simply no more authoritative, or entertaining, podcast in all of Bachelor land. Full disclosure, I've been a guest on it twice, but mostly they bring on celebrity superfans like Allison Williams and Crazy Ex-Girlfriend's Vella Lovell, or big-name former contestants like Nick Viall, Andi Dorfman, and Kaitlyn Bristowe. This season, they had a number of women-of-color commentators, too, including Vulture's Ali Barthwell and the Cut's Allison P. Davis. Hosts Claire Fallon and Emma Gray have a sardonic humor as they tear apart all the ways in which the show degrades its contestants, while never losing the conflicted relationship of fans who just can't stop watching, no matter how bad it gets. Sometimes they're a bit dour and PC for me, but they were the only podcast to bring in academic experts to talk about issues of consent and racism during the Bachelor in Paradise scandal. Plus, they always end by ranking all the ways in which the show and its contestants have failed feminism. (Example: How people worried Dean was too young for bachelorette Rachel, when most bachelors pick women seven years younger than they are.)
Bachelor Party (The Ringer)
If the HTMF ladies are exasperated cynics, the Ringer's Juliet Litman is the enthusiastic superfan who cannot hide how much she freaking loves this entire enterprise. Litman is a veritable font of (sometimes inaccurate) trivia, plus she manages to snag great, news-making interviews that go deep into the inner workings of the show, such as the several she's done with Rob Mills, the ABC executive who runs the franchise. Her chats with her crush, Ben Higgins, are the only times the former bachelor has revealed a personality (including on his own podcast with Ashley Iaconetti), and the recent one she did with Nick Viall sent whispers through the Bachelor Twitter-verse about how much he sounded like a dick. The only time I get exasperated is when she gets so into minor details that she loses the thread, like not asking Nick to talk about Corinne (who he took to his final four) regarding the BIP scandal, or following up with him on some shade he threw toward Kristina (the Russian woman with a heartbreaking orphanage backstory from his season who he said wasn't as she'd appeared to be). Still, an essential and very fun listen.
AfterBuzz TV's Bachelor/Bachelorette After Show
I don't quite understand how this show works, but it's the fastest to post and is the fix that'll tide you over until you get a better one. The rotating cast of hosts — Danny Hoyt, Kristina Zias, Sterling Cates, Christine Alexis, and Renee Ariel — are lively, even if there are way too many of them to tell who is saying what. (Watching the YouTube commentary right after the episode helps, but it's the same as the podcast they release the next morning.) They do, however, seem to have a real insider's sense of how the show and the industry in general works, and personally know or have met a lot of the show's participants — including former Bachelorette contestant Brooks Forester (Desiree's season), who often joins in as a host. They're also great at summarizing gossip and doing deep dives into contestants' social media, so you don't have to. This is the only podcast I found that had either a Latina host (Zias) or a black female host, Christine Alexis, to help sort through Rachel's experience. Christine's sister Dominique (Nick's season) is going to be on Bachelor in Paradise, so fingers crossed that she'll have all the good gossip.
Rose Buddies (Maximum Fun)
My first favorite Bach podcast, this might be the most endearing one of them all. It's so refreshing to hear a husband-and-wife team who seem to adore each other recapping a show that is, supposedly, about love. Rachel and Griffin McElroy live in Austin and have no connection to the franchise other than a lot of liberal guilt over their continued watching of it. (When rage-monster villain Chad was on the show, they insisted on calling him "Rod" and donating money to a local women's charity every time they slipped up and said his real name. They're also not recapping Bachelor in Paradise out of principal after the handling of the Corinne-DeMario incident.) What they lack in Bachelor Nation podcast guests they make up for in the warm fuzzies you'll get from Rachel's constant amusement at Griffin's jokes. It never gets old. Plus, now I'm really invested in hearing what's going on with the baby they just had.
P.S.: I like this one way better than The Bachelor Pod, hosted by two real-life couples comprised of three comedians and one TV megafan.
The Ben and Ashley Almost Famous Podcast (iHeartRadio)
I really go back and forth on this one. Ben Higgins, the most milquetoast bachelor in recent memory who almost ran as a GOP candidate after exiting the show, has an amazing talent for saying nothing while acting like he's just spilled the world. Former Bachelor and BIP contestant Ashley Iaconetti, known for lots of crying and being a virgin at 28, loves dishing about everything and anything. Although I like the dynamic of how uncomfortable Ben gets when Ashley tries to pry interesting-ness out of him, it feels like his recalcitrance has ultimately kept her from blossoming. I'm also mixed on the part where listeners call in live, often to fawn all over the hosts. (The listeners are almost always in their early teens.) Still, Ben and Ashley are very tapped into Bachelor Nation, which leads to great guest appearances, among them a surprisingly funny Becca Tilley, former bachelorette JoJo Fletcher (who's a rare get for one of these podcasts), and current heartthrob Dean Unglert, who Ashley got to admit he doesn't believe in using soap.
Fresh Batch With Michelle Collins (Forever Dog Podcast Network)
Here's where we start hitting podcasts that talk about too much other stuff before they start talking about the Bachelor/ette. Collins used to host the Bachelor in Paradise aftershow on ABC, and this takes a similar format with funny guests riffing off what they've seen. I like Collins as a personality — she's an ace tweeter — and really appreciate the slate of gay men and comedians she has in her roster, because they're the only people I want to hear discussing male contestants' abs and sexual potential. I just wish that if she's going to discuss her experience at the Holocaust museum (super interesting!) it would come after the subject that the podcast is ostensibly about.
Will You Accept This Rose? (Nerdist)
Okay, I love the enthusiasm. The Barry White–style theme song is amazing. And I was really touched by the latest episode, which co-host *Arden Myrin recorded from her family's house in Rhode Island after her father's death, about how he gave her a love of pop culture. On the other hand, one recent 102-minute episode had a cacophony of guest podcasters who spent a whole 18 minutes at the top talking about how they know each other. A Bachelor addict only has so many hours in her day.
Rosecast (Eight Screens)
Hosts: Tim Kennedy, a.k.a. Rim, and Alex Bradford, a.k.a. AB
It's well-known among Bachelor-ati that the way to get guys into the show is to prove that it's like watching sports. Still, that doesn't mean I enjoy listening to hours of dude bros' dispassionate commentary on these decidedly female-skewing shows as if they actually are sports. Of the many dude-hosted Bachelor podcasts out there, Tim Kennedy (a.k.a. Rim) and Alex Bradford (a.k.a. AB) make the only one I actively like. The two are longtime best friends, have a cute dynamic, and seem to enjoy the show — which means they talk about it in a way that isn't patronizing to anyone else who might enjoy it, or to women in general. (A rarity, believe me.) AB is black, which made for a lot of interesting insights about the show's racial dynamics this season. I also loved hearing their takes on which guys were tools (Bryan) or awesome dudes they wanted to hang out with (Eric and Anthony, or "Big Ant," as AB called him), as well as their distinctly male-perspective interpretation of what was happening in romantic interactions (such as when you could tell that Peter was just dialing it in). Best of all, though, is the lively storytelling of their recaps, in which Rim plays transitional music from Saved by the Bell every time they say the words, "Meanwhile, back at the house …"
The E&G Podcast (Bachelor Nation's Favorite Podcast)
First of all, the claim of "Bachelor Nation's Favorite Podcast," as plastered all over every bit of their social and internet presence, seems fairly specious and unsubstantiated. Second, from their photos, hosts Geoff Keith and Ian Gulbransen (one's a comedian, the other appears to work at a tech start-up) both seem to have the same fade haircut — business on the sides, party on top — as every indistinguishable guy on JoJo's season. Third, I have no idea why they're called The E&G Podcast if their names are Ian and Geoff. I came upon this one late in the game, and I can't tell if they're rated high in iTunes because they're popular or because they do like four Bachelor-related podcasts a week. Still, of all the dude-hosted podcasts, I'd place them a solid second. And they get decent guests, such as Luke Pell from JoJo's season or Iggy Rodriguez from Rachel's season.
Another Bachelor Podcast (Sesh Network)
I think of myself as pretty open to un-PC humor, but I have rarely experienced more frequent bouts of rage than when listening to Adam Carolla acolytes Dylan Wrenn, Nick Davis, and Patrick Hickey offer proudly offensive analysis of the first black bachelorette's season. Given that the vast majority of Bachelor-franchise viewers are women, there's a definite value added of getting a male perspective on the proceedings. I actually loved their comparison of Lee's apologies on the Men Tell All episode to the script all guys say when caught doing something irredeemable: "I'm so sorry. This will never happen again. I'm learning from this experience." As for the rest … the episode titles include "Rachel, You're Being Shitty" and "Bryan, You're Disgusting." They described a family member on hometowns as "the ugly, fat white woman" and called Rachel "this bitch." The next episode, they called out a black contestant for saying "ax" instead of "ask," and then posited that it was overblown to call Lee's tweets racist. ("Poor Lee" was a phrase used several times.) The precious minutes they spend reading reviews of their own podcast on their podcast is another winning segment. I'll probably keep listening, though: They're kind of funny, and I need an excuse to break household objects in my life.
Broses Before Roses
Like Another Bachelor Podcast, but not as funny. Los Angeles comedian Landon Lee Kirksey and his white guy friends (judging from the pic that accompanies the podcast) intimate multiple times that black contestant Eric "may be retarded." Nope.
Mouthing Off With Olivia Caridi
Olivia is best known for the memes of her gaping-mouthed reactions to announcements like "We're going to Mexico!" on Ben Higgins's season of The Bachelor — and for getting left on an island in a hurricane on a two-on-one date. For better or worse, that's her brand and she's making the most of it: As her podcast intro goes, "Now I'm using my huge mouth to talk really smart things" (one of many unfortunate turns of phrase she said on the show). Before she was an internet punching bag, though, she had a job as a newscaster, and of all the former contestants who've started up podcasts, she's by far the most natural and entertaining as a host. Don't come here looking for recaps, but do check out her Twitter for that. Girl is funny! Also, the journalist in me really appreciates the way she grilled villainous Chad about lunch meats, and kept trying to trip up Reality Steve so he'd reveal his sources. That episode is a must-download, by the way.
Off the Vine With Kaitlyn Bristowe (PodcastOne)
Kaitlyn was known as the "fun" bachelorette, and that reputation has not died in her first foray into podcasting. She is my Katniss Everdeen forever and ever. As a host, she's a mess, but in a great way. The wine is free-flowing and she often starts talking long before she introduces her guest. But because the stuff she's chatting about is her life, and because I've been invested in her life through two seasons of this show, I'm into it. She's also just an extraordinarily fun person to spend an hour with. She spills stuff she probably shouldn't about the show — such as how she wishes ABC would ask to film her wedding — and her interviews with Carly and Evan and her fiancé Shawn B. are the absolute, dishy best.
Reality Steve Podcast
Steve Carbone (a.k.a. Reality Steve) is best known for having released spoilers about who wins each season, every season, since 2009 and bragging about it a lot. I'm surprised as anyone that he turns out to be a great interviewer and a charming podcast host. Rather than recap the show, he invites on old cast members and grills them about the entirety of their experience on the franchise, from casting to the bitter end. Even the interviews with also-rans you don't remember are interesting. But the deep dives with former bachelorette DeAnna Pappas and former bachelor Ben Flajnik, plus the both-sides-of-a-breakup talks with Kiptyn Locke and Tenley Molzahn — who'd both been in the top three of their seasons, then met on Bachelor Pad (RIP) and dated for five years — have been vulnerable, fascinating windows into a recent past that feels both relevant and a lifetime ago.
I Don't Get It (Wave Podcast Network)
Yes, the indomitable Ashley Iaconetti has not one, but two podcasts. Every time I listen to this podcast, I am reminded of how young she is and how even younger the listeners who call in are. The basic concept is Ashley, her sister Lauren, and reality TV producer Naz Perez talking about issues affecting millennials. As a 28-year-old virgin, Ashley doesn't necessarily seem to be the best authority at handing out love advice (similar to how, as someone who only made it to a two-on-one date on her season of The Bachelor, she's not exactly qualified to talk authoritatively about how finding love works on the show), but her charm is in speaking her mind anyway. I highly recommend the two "Ghostbusters" episodes they've done, where they interview a listener who doesn't know why a guy ghosted her, and then call up that guy and get him to explain himself. They're phenomenal.
Demetria Lucas D'Oyley's Bachelorette Recaps
I happened upon this amazing vlog thanks to a Twitter mention from none other than the bachelorette herself, Rachel Lindsay. Demetria is a first-time viewer who holds a coffee cup that she never sips from as she lays out truth, like how fabulous Rachel's sister Constance is: "This woman is eight months pregnant … her baby hair is laid, her curls are poppin', throughout the episode, she is giving you one maternity moment after the other." It's refreshing to hear a black woman's perspective on Rachel's experience, and to have her calling out some questionable comments made by the guys. (Even Peter!) Also, she's a font of observations about the things she's seeing for the first time, like fantasy suites: "She's gonna go on a fantasy suite with each of these dudes? Over the course of a week? Far be it from me to police anybody else's chocha, but momma, that's a lot of use on that thing, with different people, in a week." I want to listen to her forever and ever.
*Correction: A previous version of this article referred to Arden Myrin by her co-host's name Erin Foley.