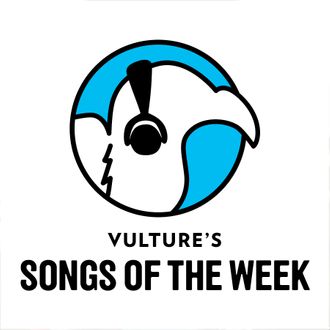 Every week Vulture highlights the best new music. If the song is worthy of your ears and attention, you will find it here. Read our picks below, share yours in the comments, and subscribe to the Vulture Playlist for a comprehensive guide to the year's best music.
Thomas Rhett, "Grave"
Country music is built for crying. Yes, obvious weepies like "Don't Take the Girl" are explicitly meant to leave you sobbing into your cup of tea, but what country music really cuts you apart with are the songs of sad celebration, like "Grave." The combination of Rhett's Tennessee drawl with a few major chords and the mournful, ecstatic way he sings about taking nothing to the grave with him but his eternal love for his partner is basically a wrecking ball of emotions packed so tightly, it forms an object with the density of iron. Then it comes swinging straight into your heart. And your tear ducts. And because it's a country song, obviously the video has eagles skimming over open water. So vicious. —Jordan Crucchiola (@jorcru)
Julien Baker, "Appointments"
That the first single from Memphis singer-songwriter Julien Baker's upcoming sophomore record sounds profound should be no surprise. Baker's sparseness has never sacrificed richness, and her songs often seem, in some unconscious way, haunted. This one, with its dramatic, spare guitar and piano, could easily be read as being about depression: "Suggest that I talk to somebody again / That knows how to help me get better." But meaning is not absolute here, least of all when it comes to faith: "Maybe it's all gonna turn out alright / And I know that it's not but I have to believe that it is." Showing optimism as something that one has to cling to hints at what I read as the song's core message: that another way of realizing you're in trouble is to identify the point when faith and optimism are no longer choices, but lifelines. Or maybe it's just recognizing that you've been missing too many appointments. —Gabe Cohn (@gabescohn)
Brand New, Science Fiction
I'm supposed to recommend one song from Brand New's surprise album. I can't. Not really. Science Fiction, the band's fifth and possibly final album, was long thought not to exist, only to then arrive like a crack of thunder with no storm. It's an opus that does more work of world-building and closure to an era of rock than even die-hard fans of the New York small-time legends will admit they thought the band was capable of synthesizing into a full body of music. I don't know how Brand New will be remembered, if they're remembered at all. Sometimes I reflect on their history and anti-relationship to the genre they never really gelled with, but were canonized by anyway, and it looks like barely a blip. Did Brand New register with you?
But mostly I think of Brand New either never at all or all at once, all the time. Science Fiction envelops the heart, while also begging our inner critic to do a character reevaluation of the band. (I, for one, didn't think Radiohead were as much of an influence on Brand New to inspire an impression on "Lit Me Up.") There are enough kinks and quirks on this album to spend years dissecting it ("Same Logic/Teeth," wow), but for the uninitiated (or people put off by their last album Daisy), and sake of this column, I'd say begin the journey with the gentle crush of "Could Never Be Heaven." —Dee Lockett (@Dee_Lockett)
Echosmith, "Future Me"
Echosmith made a savvy decision to release their song about talking to your future self and staying true to who you are the same week hordes of teens will be setting out for their first day of college. Lyrics like, "There's some things you might regret, like giving up on love too fast, chasing shadows from your past," lead into a chorus that just keeps enforcing "Right now!" Come on, this should basically be included with all new textbooks and dorm-room keys. I see your shrewd play for sentiment, Echosmith, and I accept. —JC
Lizzo, "Water Me"
Funny of Lizzo to make a song about self-nourishment when I've always considered her music fertilizer to grow the soul. She's a singer-rapper who makes songs about black people, especially black women, taking care of themselves, about cleansing the spirit to make room for good juju only. What these songs usually do for their listener, I hear happening for Lizzo on "Water Me." It's a buoyant tribute to keeping herself fulfilled — though unafraid to occasionally pass off the responsibility to whomever earns it — that contains what should be your new daily affirmation: "I don't get dehydrated, I moisturize it daily / I am my inspiration." —DL
Gizmo Varillas, "Hold On"
There's something about this brand of indie rock that sounds like wind. All the gentle strumming and half-whispered vocals sound like they traveled in on gentle breeze in the dappled sunlight. What's not to love about that? —JC
Syd, "Bad Dream/No Looking Back"
The instructions for this song were to listen to it during the eclipse, presumably so you could achieve total cosmic ecstasy. Well, it's a few days after that event, and I can confirm that exposure to this song is even more dangerous than staring directly at the eclipse was supposed to have been. Could the eclipse get you pregnant on sight? Did the eclipse make you irrationally horny? Was the eclipse NSFW? I rest my case. —DL