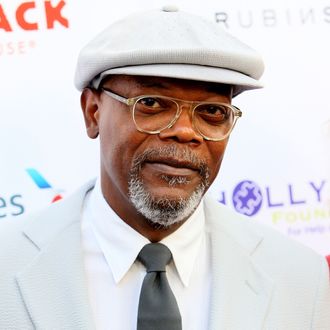 Jackson, covering his Tinsel hair.
Photo: David Livingston/Getty Images
As if you needed more proof that Beyoncé's cultural influence is transcendental, inescapable by all those living or dead, Brie Larson dropped a nugget of info on how Queen Bey left a mark on her upcoming directorial debut Unicorn Store, which will premiere at the TIFF next month. In an interview with Variety, Larson described not only how her Kong co-star Samuel L. Jackson got to be in her film but also how he looked to Beyoncé for inspiration with his appearance:
What was it like directing your "Kong" co-star Samuel L. Jackson?

Sam was incredible! He found out I was directing and on the "Kong" set started begging for the job. Which is a very surreal experience and I have it on film to prove I'm not making this up. There's a reason he's one of the greatest and most successful actors of our time; he's incredibly hardworking and creative and collaborative. He designed this character, everything down to the tinsel in his hair.




Tinsel?

I think he went to a Beyoncé concert and she had tinsel in her hair and he came back and said, "I need that." It's incredible.
This, of course, is not the first time Beyoncé has caught Jackson's eye.