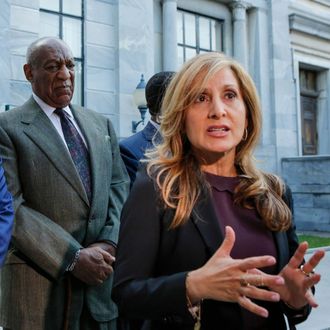 Cosby and Agrusa.
Photo: Kena Betancur/AFP/Getty Images
Less than three months out from a retrial, it appears Bill Cosby has lost all principal legal representation. Just weeks after his lead attorney Brian J. McMonagle requested to quit the case, his second attorney Angela Agrusa filed a similar motion on Tuesday with Montgomery County Judge Steven T. O'Neill also asking to be removed from the case. A hearing was originally scheduled for August 22 to hear both motions and settle the location of new jury selection, however Agrusa has requested that the hearing be moved to September 11 so Cosby can have more time to look for new representation.
District Attorney Kevin Steele is urging the judge to deny that request, arguing it will "delay justice," though Agrusa's motion did not ask to change the November 6 start date for the retrial. (It's also unclear if Agrusa will continue to represent Cosby in separate defamation civil lawsuits filed by multiple accusers.) If the judge approves both motions, Cosby's new defense will have less than two months to prepare for the retrial, which Agrusa had previously cast doubt would even happen. Cosby is being retried for the 2004 alleged sexual assault and drugging of Andrea Constand after the original June trial ended in a hung jury.