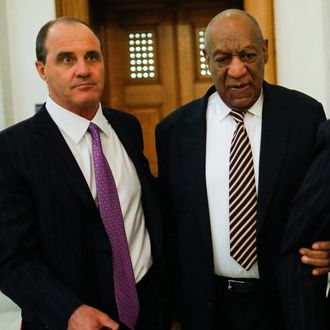 McMonagle and Cosby.
Photo: Getty Images
With Bill Cosby's sexual-assault retrial just three months away, the first rumblings of trouble in Cosby's camp have begun. On Tuesday, Cosby's head defense attorney Brian J. McMonagle filed a motion with Montgomery County judge Steven T. O'Neill to quit the case and stop representing Cosby. According to his motion, Cosby's team hasn't hired his replacement yet and is requesting until August 21 to make a decision; Cosby's spokesperson, Andrew Wyatt, said in a statement that he's in the process of "vetting lawyers on my short list." McMonagle led Cosby's defense team at trial and delivered both the opening and closing statements. Judge O'Neill has scheduled a hearing for August 22 to discuss McMonagle's motion, as well as to make a ruling on where the new jury will be selected from. (The original jury members were from Pittsburgh.)
Cosby already went through three other lawyers ahead of the first trial: Marty Singer and Christopher Tayback (both of whom Cosby fired), and Monique Pressley (who quit). According to reports, McMonagle was displeased with Cosby's spokesperson making statements to the press during the trial — which ended with a deadlocked jury in June, after 52 hours of deliberation — without consulting Cosby's counsel first. Cosby's other attorney, Angela Agrusa, will remain on the case for the retrial, which is scheduled to begin November 6.