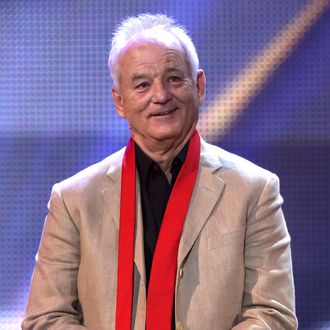 The original Phil Connors.
Photo: Sean Gallup/Getty Images for GQ
We wouldn't mind getting stuck in a time loop, repeating the same day over and over again, if it meant we were in the August Wilson Theatre with Bill Murray as he saw Groundhog Day on Broadway for the first time. New York Times reporter Sopan Deb was there with Murray as he relived Groundhog Day. According to Deb, Murray, who starred in the critically lauded 1993 movie, spent most of the musical openly expressing all of his feelings, from the beginning, when he "immediately started bobbing his head to the music," to the end, when he "was visibly sobbing." At points in the middle he could also be seen (and heard) guffawing, pumping his fists, and yelling "Wow!"
Audience members who were not in proximity to his amazing reactions still won out in the lobby during intermission, with selfies, one-liners, and even, for two young boys, Junior Mints straight from his pocket. The cast was rewarded after the show with a speech from the actor.
Murray attended the show with Danny Rubin, who co-wrote the screenplay and the book for the musical, and his brother, Brian Doyle-Murray, who played Buster in the film. Murray explained after the performance that the show made him weep because of its message. He said, "The idea that we just have to try again. We just have to try again. It's such a beautiful, powerful idea."