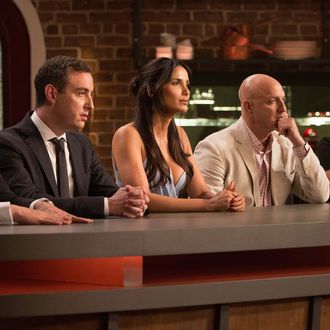 Photo: Brianna Stello/Bravo
The four Boston Teamsters accused of attempting to extort Top Chef by threatening violence if they weren't hired for no-show jobs have been acquitted. A Boston jury of nine women and three men deliberated for 19 hours, according to Deadline. The men — Local 25 Teamsters John Fidler, Daniel Redmond, Robert Cafarelli, and Michael Ross — were found not guilty after their attorney argued that their picket-line demonstration was part of a labor dispute.
In June 2014, Top Chef was filming in the Boston suburb of Milton, when the men set up a picket line. When Top Chef host Padma Lakshmi arrived to film, one man threatened to "smash her pretty face in," and Lakshmi said she was "paralyzed by fear" because of the encounter. Milton's Deputy Police Chief also told Deadline that a group of men slashed the tires on 14 cars owned by crew members. While those four men were found not guilty, a fifth Teamster named Mark Harrington pleaded guilty to the same charges last December. He was sentenced to six months of home confinement.