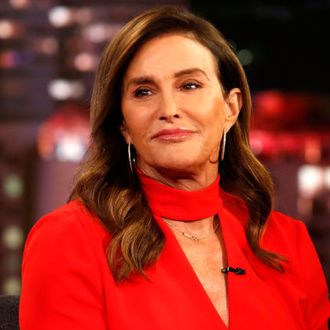 Caitlyn Jenner.
Photo: Randy Holmes/ABC via Getty Images
Caitlyn Jenner stoked plenty of controversy on Thursday after rocking a Make America Great Again hat while driving around the streets of Los Angeles in a spiffy sporty convertible. It appeared to be yet another political betrayal from the public figure, as she'd ostensibly withdrawn support of Donald Trump just days earlier, lambasting the president's tweeted decision to ban transgender individuals from serving in the military.
In a statement to TMZ on Saturday, Jenner stressed that she hasn't hopped back on the Trump Train in any respect, and tried to explain what went down on that all-too-sunny Thursday afternoon. As Jenner tells it, she was worried about protecting her hair with only a golf visor, hastily grabbed a hat from her home as she got into her car, drove for an hour, hit a few golf balls at a country club in Thousand Oaks, and only upon returning to her retro vehicle "realized what she had done." So distraught was she by inadvertently demonstrating support for a blatantly transphobic administration, Jenner then decided to put the MAGA hat back on so she wouldn't "screw up her 'do" while driving home, briefly replaced it with her golf visor after making a pit stop at a Starbucks, and finally — yet again — put the hat back on for the rest of the way. In other words, Jenner evidently has MAGA hats scattered around her home and still doesn't seem particularly distressed by the idea of wearing one — so long as she's mistaken for some anonymous, proud Trump supporter. Progress?
"I apologize to all of the trans community," Jenner said to TMZ. "I made a mistake. I will never do it again and I'm getting rid of the hat." Jenner is reportedly considering signing the MAGA hat, auctioning it off, and donating the proceeds to transgender causes.