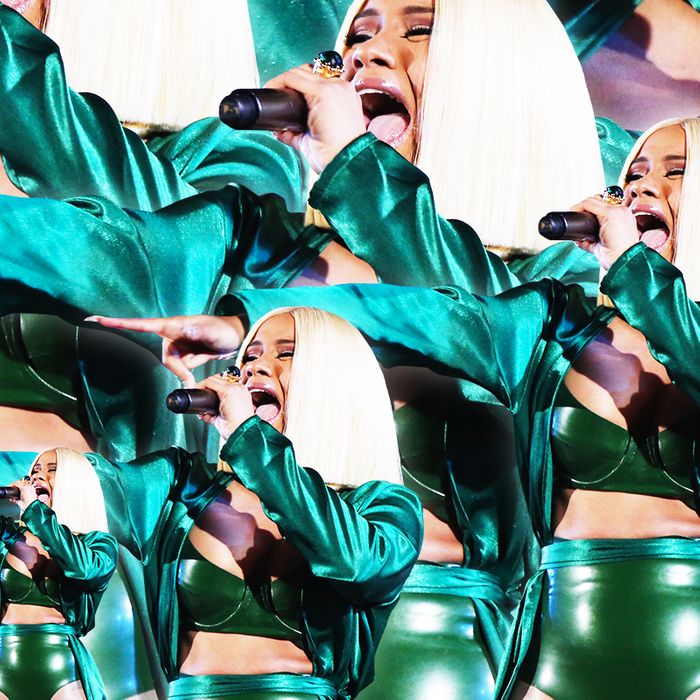 It's not just your imagination: Cardi B is everywhere.
Photo-Illustration: Vulture
Debating this year's Song of the Summer is futile: It's "Despacito," "Despacito" — the teeniest bit "Wild Thoughts" — and "Despacito." The predominately Spanish-language Luis Fonsi and Daddy Yankee smash, with the small contribution of Justin Bieber on its remix, is poised to become the Song of the Decade, breaking records at a pace contradictory to its title. But even as that song continues its record-breaking rise, another artist is having a very big summer: Cardi B, the 24-year-old Bronx rapper whose star power refused to be confined to Love & Hip-Hop.
She's been rapping professionally for less than two years and with her debut single, "Bodak Yellow," she's already scored a Top 10 hit, and has become the first woman since Nicki Minaj in 2014 to get a solo rap song in that coveted slot. Her entry into the Top 10 this week at No. 8 caps off one of the fastest, most controversial rap ascents in recent memory. The former stripper turned reality star turned Instagram comedian turned whatever the hell she wants to be now has a legion of fans convinced her rap career is more than a fluke. We're calling it: Cardi B is the Artist of the Summer, even if "Bodak Yellow" isn't the Song of the Summer.
Cardi B's hood fairy tale began with a meme, a catchphrase, and a mixtape. She initially spun a career out of a cheeky 2014 viral Instagram moment where she confidently declared, "a hoe never gets cold." This moment was a launchpad for hundreds of profanity-laced, smart-mouthed adages that would follow over the next couple years.
While on Love & Hip-Hop New York, which she outgrew after two seasons, she turned her threat "If a girl have beef with me, she gon' have beef with me forever" into the genesis for "Foreva," the breakout hit from her 2016 debut mixtape Gangsta Bitch Music, Vol. 1. Just this January, she followed it up with Vol. 2. Both tapes displayed a frank attitude about her sexual appetite — the debut tape's cover art features Cardi getting head from a guy in the backseat of a car while sipping a Corona — and millennial-savvy ability to rake in "schmoney" (the Bobby Shmurda term she's repurposed) by branding her Instagram one-liners through songs.
In the music industry, attempting to convert such quick work into quicker reward burns out too many up-and-comers before they ever take off, which makes Cardi's fast-track from local phenomenon to national obsession in a matter of months one of the biggest music stories of the summer. In May, Cardi's vitality to the new guard of rap was validated in a BET Award nomination for Best Female Hip-Hop Artist — alongside winner Remy Ma and Nicki Minaj — proof her popularity had already exceeded a spot on XXL's coveted Freshman Class (which snubbed her two years in a row.)
Cardi had signed a major-label deal with Atlantic Records off the buzz from her mixtapes and magnetic persona, banking on the hit potential of "Lick," featuring Migos' Offset (a.k.a. "this boy she's dating"). From there, Cardi's stardom has followed a trajectory foreshadowed in her independent-woman ethos: In mid-June, Remy Ma had Cardi B perform the classic women-only anthem "U.N.I.T.Y." alongside Queen Latifah, Lil Kim, MC Lyte, Lady of Rage and fellow New York newcomer Young M.A. at Hot 97's Summer Jam, giving Cardi her blessing to be initiated into rap's next generation, effective immediately. The very next week, Cardi dropped "Bodak Yellow."
It's the kind of hit typically designed to work for men like Drake, a serial culture vulture, or New York rap guys like A$AP Rocky who've closed regional gaps with their Southern influence: The song lifts Florida rapper Kodak Black's flow (credited in its title) and beat from his song "No Flockin," and fires off quotables staking out her territory — "Said, 'Lil bitch, you can't fuck with me even if you wanted to'" — with barely a breath wasted in between. Its video, released shortly after, places Cardi in Dubai — when she's not riding camels in the desert, she's sitting on a throne.
What started out as a No. 78 sleeper on the charts has since jumped 70 spots in less than two months, largely credited to a deftly executed media blitz. Just a week after "Bodak Yellow," Cardi snagged The Fader cover and spent all of July keeping up appearances at clubs (all shenanigans chronicled on her infamous Instagram). Then, in early August, with "Bodak Yellow" clogging New York radio airwaves and spreading, Drake affirmed her international reach by bringing her out to perform the song at his annual OVO Fest in Toronto to pandemonium — just about his highest stamp of approval; Migos also let Cardi take over their stage at a separate Toronto festival around the same time.
But overnight success invites efforts to squash it. Shortly after performing with Drake, internet sleuths dug up old tweets where Cardi used a transphobic slur, and accused her use of the term "roach" as colorism toward darker black women. But half of Cardi's infectious pull is her sincere transparency – she quickly thwarted the controversy with candor, reminding folks she had previously apologized for her transphobic comments, claiming she was uneducated at the time about the word. Cardi, who is Afro-Latina (born Belcalis Almanzar), also noted examples of calling herself a "roach," and that the insult is common in the Bronx, regardless of color. When her male peers tried to discredit her popularity as the result of reality-star fame or her past as a stripper, rather than skill, Cardi hit back in May, saying, "Just because I used to be a stripper does not mean that I'm not fucking talented, my nigga. I sit down, I write my shit and I take my time in the studio, and everything I rap about is real life shit." (More recently, Cardi has also been adamant that she won't be baited into beefing with Nicki Minaj.) She's ultimately come off each potential blemish unscathed.
Just two days before "Bodak Yellow" hit the Top 10, Cardi returned to New York to play MoMA PS1's Warm Up series in Queens and perform the song for the first time in front of her hometown. If there was any doubt of "Bodak's" total cultural penetration, thousands spilling out of the space screaming the opening lyrics should have silenced it. But the beauty in having a young multilingual artist with mass appeal engaging underserved fans — much like Fonsi and Daddy Yankee — means that just the next day, Cardi catered to a different side of her fan base, causing a frenzy at the Dominican Day Parade on her own float with the debut of a Spanish-language version of "Bodak Yellow." This week, Cardi purchased a Bentley she can't even use because she doesn't know how to drive, but told the New York Times (the Times!) she felt all rappers worth anything should own one. Seeing any artist show off such a luxury might otherwise be off-putting, but Cardi's commitment to a humble relatability (when she's not rapping), coupled with her genuine joyous reaction, makes it hard to hate.
All hype is cyclical; eventually, Cardi's will deflate — though maybe not before "Bodak" reaches No. 1, or she has the same song charting simultaneously in two different languages. For now, though, the summer of 2017 belongs to a "regula degula schmegula" woman nicknamed Cardi.