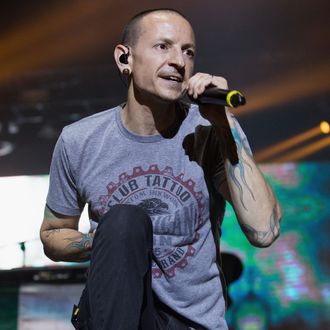 Bennington.
Photo: Victor Chavez/WireImage
Though Chester Bennington's suicide last month occurred on his close friend Chris Cornell's birthday and just two months after Cornell's own suicide, the Linkin Park front man's collaborators say the similarity between their deaths was a coincidence. Bennington's former bandmates and friends tell Rolling Stone that he'd been battling personal demons that predate Cornell's death. "It could be a part of it, but it's a small part of it. I think that it's just another horrible event that gets put in your subconscious. It's kindling, but the fire was already burning," his friend Ryan Shuck, who spoke to Bennington extensively the month of his death, says. According to Shuck and other friends, Bennington had suffered a serious three-day relapse of his alcohol addiction in August 2016 and was still drinking by last October. The month prior to his death, Bennington told his friends he was six months sober.
However, Shuck believes Bennington relapsed again shortly before his death and "had a couple of drinks." (Police told TMZ a "partially empty bottle of alcohol" was found in the room where Bennington died.) Shuck recalls texts from Bennington that he says align with Bennington's decades-long struggle with sobriety: "He was describing an hour-by-hour battle with addiction. When I look at it now, it's horrifying. He was telling me, down to the detail, what he would do in the first hour he wanted to drink." Still, other collaborators say Bennington had been optimistic about his future right up until his death. Members of his former band Grey Daze say Bennington had been planning for them to reunite in September, and just the day before his suicide, ex–Guns N' Roses drummer Matt Sorum says he received an email from Bennington wishing to reunite their covers band Kings of Chaos.