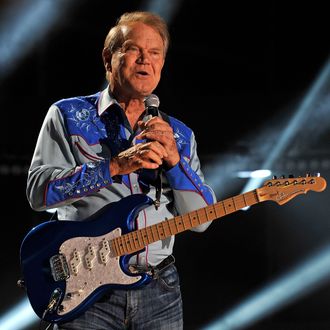 Campbell.
Photo: Frederick Breedon IV/WireImage
Legendary country singer-songwriter, actor, and TV host Glen Campbell has died at 81 after a six-year battle with Alzheimer's disease, his reps have confirmed to Rolling Stone. "It is with the heaviest of hearts that we announce the passing of our beloved husband, father, grandfather, and legendary singer and guitarist, Glen Travis Campbell, at the age of 81, following his long and courageous battle with Alzheimer's disease," his family said in a statement.
Campbell, known for his hits "Rhinestone Cowboy," "Wichita Lineman," and "Southern Nights," announced his diagnosis in 2011; last March, his wife, Kim, shared that the disease had progressed to its final stages. In 2014, Glen Campbell: I'll Be Me, a powerful documentary about his life, legacy, and final tour, was released, earning Campbell an Oscar nomination and Grammy win for the film's resilient theme song, "I'm Not Gonna Miss You." Over the course of his decades-long career, Campbell won ten Grammys and was inducted into the Country Music Hall of Fame in 2005. Just this June, Campbell released his 64th and final album, Adíos, a farewell met with widespread acclaim.
Campbell was born in 1936 in Billstown, Arkansas, and, at 14, dropped out of high school to move to Wyoming and play guitar with his uncle at local bars. By the early '60s, he had moved to Los Angeles to become a session musician, playing on tracks for Elvis Presley, Frank Sinatra, Merle Haggard, and others. His big break came in 1964 when he filled in for Brian Wilson on bass and harmonies on tour with the Beach Boys. A few years later, Campbell had his first solo success with "By the Time I Get to Phoenix." More hits quickly followed and, by 1967, his unmistakable tenor achieved the kind of rare crossover appeal that made history with Grammy wins in both the country and pop categories.
Meanwhile, Campbell's charm and looks led to him hosting his own weekly TV show, The Glen Campbell Goodtime Hour, from 1969 to 1972. He appeared in several films, including the original Western True Grit (handpicked by John Wayne himself for the part, to boot). Speaking to Rolling Stone in a 2011 profile about the near-impossible task of recording his final album and heading on one last tour, he said, "I don't even look at anything anymore, except what's going on right now. I just thank God he's given me a second chance."