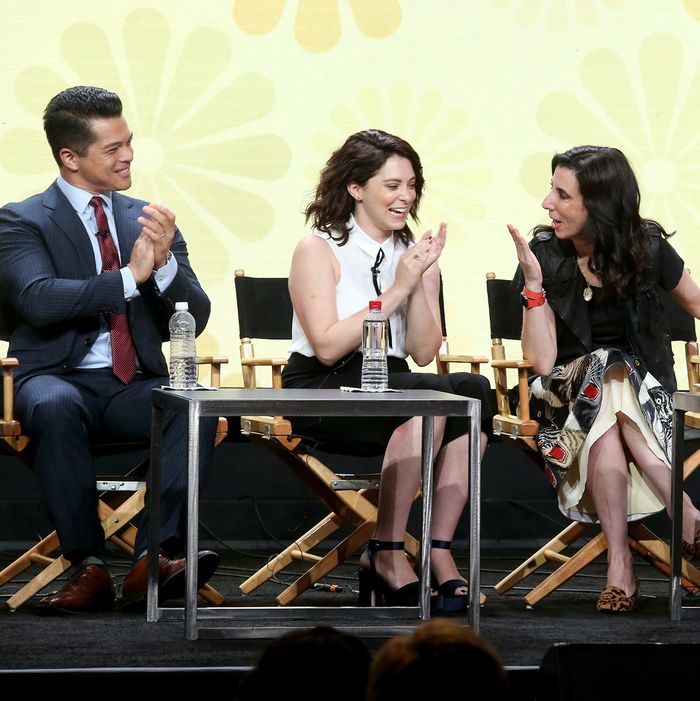 The cast and creators of
Crazy Ex-Girlfriend
at TCA Wednesday.
Photo: Getty Images
In the season-two finale of Crazy Ex-Girlfriend, Rachel Bloom's hyperactively imaginative heroine, Rebecca Bunch, was jilted at the altar. The third season will pick up from there with a "funny Fatal Attraction" vibe, the star and co-creator of the CW series told Television Critics Association audiences Wednesday. However — because this is a musical comedy after all — Crazy Ex-Girlfriend co-creator and showrunner Aline Brosh McKenna added that Rebecca's "not very good at trying to be the femme fatale that she would like to believe herself to be."
Below are more highlights that were gleaned at the show's press day.
There will be a new opening number, and Josh won't be in it.*
Bloom says the new opening song, which went through multiple drafts before reaching what finally will make it to air, includes almost everyone but Vincent Rodriguez III's character, Josh. That's what he gets for breaking Rebecca's heart.
Joseph Kahn directed the opening number.
Kahn, who is known for directing music videos for the likes of Britney Spears, Katy Perry, and Eminem — and most importantly, Sisqo's "Thong Song" — is also directing the fourth episode of Crazy Ex-Girlfriend's third season.
Brosh McKenna says this is "a story told in four chapters."
"Whether that's four seasons [or not]," says Brosh McKenna. "We knew the last sentence of every chapter [when] we pitched it. One of the things that everybody on the show likes is that we do know where the story's going."
The fourth chapter will be very different from the upcoming one.
"It would spoil it [if we told you], but it's a very distinct chapter from season three," Bloom says. "We are telling a finite story about a point in a woman's life."
Does last season's finale mean that Rodriguez's role will be diminished this season?
"Josh is going to hit a crossroads, because how long does he ever stick with anything?" Rodriguez says. "Also, where does Josh see himself with his future? That's something he's going to have to face head-on. What's weird is that Rebecca's going to help facilitate that, given her revenge-seeking bullet."
You'll get more of a glimpse into Paula's backstory this year.
We'll get to meet Paula's parents and see what her life was like growing up in Buffalo. "You get more information about who Paula is and who Rebecca is, which just fills in the colors more as to why we do what we do," Donna Lynne Champlin, who plays Paula, adds.
Brosh McKenna says "it's not at all off the table" for Santino Fontana's Greg to come back to the show.
Just how or when the actor, who departed the show midway through the second season, would return "remains to be seen," she says, adding that "we're really proud of the character." Bloom adds that Greg "was a massively important character" and that "his presence is still incredibly important. We have not forgotten about that character and are [not] pretending that it never happened or he never existed."
*An earlier version of this post stated that the opening theme song of Crazy Ex-Girlfriend's third season will be Disney-themed. The opening number of episode one will be Disney-themed, not the whole season's.