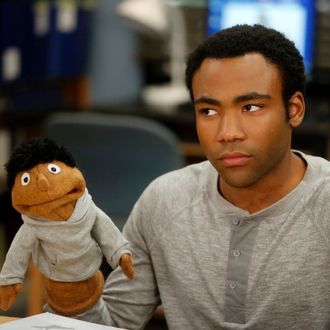 Farewell, Childish Tycoon.
Photo: NBC/NBCU Photo Bank via Getty Images
Two years, six seasons, and no movie later, Dan Harmon is finally ready to admit the truth: The final nail in the Community coffin occurred when its star pupil Donald Glover left the show in the middle of season five. "I needed to convince myself that Donald leaving wasn't the death of the show," Harmon says in a THR profile of Glover. "But now that it's all over, I think we can agree that it was." Arguably, Community's slow death began well before that. The beloved, high-concept high-hijinks NBC show had a rocky relationship with the network: NBC replaced Harmon as the showrunner in the fourth season with many of the writers, producers, and star Chevy Chase leaving as well by the end of the season.
By the time Harmon returned for the fifth season, Glover was ready to go, but Harmon convinced Glover to stay as a guest actor so that they could give his character Troy a proper send-off in "Geothermal Escapism." Abed really wasn't the same after that.