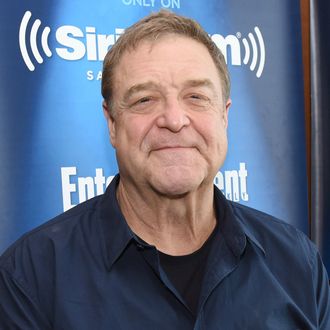 Photo: Vivian Killilea/Getty Images for SiriusXM
Sounds like Roseanne could be headed in the same direction as NBC's Will and Grace revival. No, Roseanne and Dan haven't been rewritten as a gay-straight bestie pair, a show you would 100 percent watch and enjoy. Instead, in an even more impressive feat, Dan Conner will have escaped the clutches of the grave. In the series' final episode "Into That Good Night, Part 2," Roseanne viewers discovered that Roseanne's husband, Dan, portrayed by the illimitable John Goodman, had died of a heart attack, the most significant of several character and plot reveals. The reality of the series, Roseanne explains, was actually the contents of a book about her life, written by the show's titular lead herself and edited to keep her beloved spouse alive. So as you can imagine, fan interest was piqued by the question: How will the eight-episode Roseanne revival explain Goodman's presence, seeing as the actor is set to return as the classic sitcom dad?
Turns out, maybe Roseanne isn't the most reliable narrator after all. "I don't want to talk too specifically, but I wouldn't say we'll ignore the events of the finale," ABC Entertainment president Channing Dungey said at the Television Critics Association press tour on Sunday, reports Entertainment Weekly. Confirmed Dungey, "Dan is definitely still alive." Whether an acknowledgement of the show's original ending will come in the form of a winky nod or a complete retcon, of course, remains to be seen. Meanwhile, Johnny Galecki is reportedly in talks to return as David. Of course, if he can't make it, they can always give Roseanne a pen and she'll give his entire series arc to Jackie in 15 minutes flat.