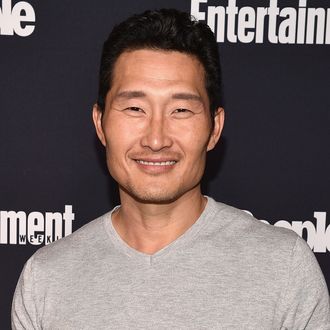 "All good things come to an end," says Kim.
Photo: Bryan Bedder/Getty Images for Entertainment W
A month after Daniel Dae Kim confirmed his exit from the popular CBS series Hawaii Five-0 over a salary dispute — alongside the show's other Asian-American actor, Grace Park — Kim has expounded on his thoughts a little more while appearing at this weekend's TCA press tour. "[Hawaii Five-0] was a really important part of my life for seven years," Kim said, according to Variety. "I'm really grateful to CBS and everyone involved in the show for the opportunity … That said, it's possible to be grateful for the opportunity and have respect for your colleagues and still maintain a steadfast sense of your self-worth. And all good things come to an end."
After seven seasons of starring on Hawaii Five-0, Kim and Park tried this summer to reach pay parity with the show's two leads, Alex O'Loughlin and Scott Caan. When the network offered a "large and significant," although not equal, pay raise for the duo, they proceeded to leave the series — the deal was reportedly 10 percent lower than what O'Loughlin and Caan were making, although all four of the actors are credited with the same number of episodes.
"As an Asian-American actor, I know first-hand how difficult it is to find opportunities at all, let alone play a well-developed, three-dimensional character like Chin Ho," Kim said at the time. "I'll end by saying that though transitions can be difficult, I encourage us all to look beyond the disappointment of this moment to the bigger picture. The path to equality is rarely easy. But I hope you can be excited for the future. I am." Park has yet to publicly comment on her departure.