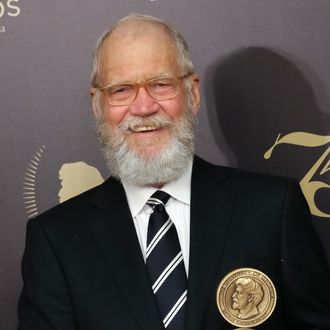 David Letterman.
Photo: Brent N. Clarke/FilmMagic
Netflix has won the battle to bring David Letterman out of retirement. The late-night legend will return to series television as the star of an untitled hour-long program that combines a long-form interview with a well-known public figure and, per a Netflix press release, "in-the-field segments expressing [Letterman's] curiosity and humor." The first season of the show will consist of six episodes and is scheduled to debut next year. "Here's what I have learned: If you retire to spend more time with your family, check with your family first," Letterman said in a release announcing the deal. "Thanks for watching, drive safely."
Rumors of a Letterman TV return have circulated around Hollywood for months now, and in an interview earlier this year with Vulture, Letterman himself hinted he might be interested in a series comeback — as long as it wasn't what he did for three decades on NBC and CBS. "My interest has shifted," the comic told our David Marchese. "When I'm talking about things to do now, it's not like, God-dang, let's get right back into comedy. Let's call the Butterball hotline on Thanksgiving. But bring in Donald Trump or Mike Pence or somebody, and let me smother them with my ignorance."
The Netflix project appears to fit right into that category, since each of the planned six episodes will feature Letterman in conversation "with extraordinary people," as the Netflix release puts it. It's likely those six slots will be filled by guests the caliber of Hillary Clinton or Oprah Winfrey. "I can't wait to see [Letterman] out in the wild, out from behind the desk and interviewing the people he finds most interesting," Netflix chief content officer Ted Sarandon said in the release. "We'll have to see if he keeps the beard."
The format for Letterman's new show appears to be at least somewhat similar to an episode of last year's National Geographic series, Years of Living Dangerously, in which the comic traveled to India and interviewed the nation's prime minister about solar energy. It will be a co-production between RadicalMedia — the company behind the Netflix documentary What Happened, Miss Simone? — and Letterman's longtime production banner Worldwide Pants. An industry insider tells Vulture multiple outlets had discussions with producers about acquiring the new project, including Letterman's old Late Show home CBS. The Eye was interested in landing the project for the company's All Access streaming service.