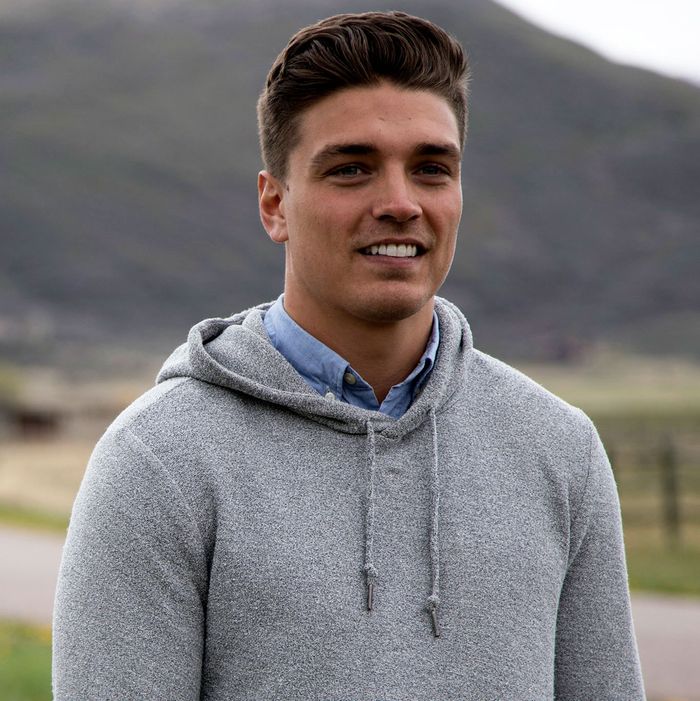 Dean Unglert.
Photo: Josh Vertucci/ABC
The Bachelor franchise has only one pure soul to offer, and his name is Dean Unglert. While his introduction to Bachelor Nation was rickety — he's the one who told Rachel Lindsay he was "ready to go black and never go back" — Dean is exactly what The Bachelor needs right now. He was the youngest contestant on Rachel's season, he demonstrated a surprising dexterity on race and culture, and he could shake up the show's tired structure. Plus, his Instagram handle is @Deanie_Babies.
For starters, Dean's baby-faced personality would be a welcome departure for a franchise that thrives on an antiquated mold of masculinity. How many more times can we sit through a season watching a smarmy Bachelor like Nick Viall, Brad Womack, or Juan Pablo? (Not to mention a lame one like Ben Higgins or Sean Lowe.) Dean is hot but not chiseled; he's more playful than smoldering. The biggest flaw in his relationship with Rachel was that he was too cutesy: When she asked him what kind of family he wants, or what kind of father he'd want to be, he countered with an inquiry about her favorite dinosaur.
Yes, it was a goofy deflection that made him seem immature, but consider all of the other things that Dean did on The Bachelorette. When he apologized for his "ready to go black" comment, he seemed genuinely embarrassed about using a line so tasteless. When Lee Garrett used racist, dog whistle politics to aggravate the house's black contestants, Dean was the first white guy in the house to label Lee's actions as bigoted. "Lee likes to get under people's skin and the people's skin that he's getting under, they're my friends, people I respect," he said in one episode. "The only people I've seen Lee pick fights with are … not the people he's used to seeing on a daily basis, from a cultural perspective." When a producer pressed Dean for a clearer answer, he didn't bite his tongue: "The longer Lee sticks around, the more everyone will be aware of his intolerance."
The Bachelorette never really knew how to handle Rachel Lindsay and its influx of nonwhite contestants — would it ignore race, or try awkwardly to address the subject head-on? — but Dean was a helpful ally. His maturity came up again when he got wind of fans disparaging his father's Sikh faith. "When I said my father was eccentric, I was not referring to his Sikh faith or the turban he wears on his head," he wrote in an Instagram post. "I'm not asking you to spare his feelings (or mine) but instead to be cognizant and accepting of the millions of people that belong to the Sikh community." When Rachel visited Dean's hometown, it became clear that his dysfunctional relationship with his dad wasn't because of religion; it was because his dad seems like an asshole.
Meanwhile, the end of Rachel's season revealed the fault lines of the Bachelor franchise. The show is supposed to end with a tidy engagement, but in Monday's grueling three-hour finale, one of Rachel's suitors didn't think that arrangement was fair: Instead, Peter Kraus simply wouldn't agree to propose if she gave him the final rose. Rachel was unhappy about the situation, to say the least, but the show's structure couldn't withstand Peter's inaction. In the end, she wound up choosing Bryan Abasolo, the season's most obvious choice. He was the contestant who best understood how to play the Bachelor game, maneuvering around sticky conversations whenever the show tried to grapple with Lee's bigotry. And has there ever been a man that seemed designed and delivered from the mid-aught days when The Bachelor and The Bachelorette were more boring? Like the show's forced dating and elimination structure itself, every one of Bryan's decisions felt like he was going through the motions.
When asked about who should be the next Bachelor, Rachel said that Peter wouldn't be her choice. Instead, she'd like to see Alex Bordyukov dole out the roses. It's a polite endorsement, but let's be honest: Alex is an adult man who shares an Instagram with his best friend. Pass. Might Dean be able to do what Rachel's season didn't? Could he make this show politically dexterous and also more fun? Why not change things up with a younger Bachelor who's already having tricky conversations about tolerance, which the show can't address when its format needs black and white contestants to neatly hug at the end of a serious confrontation?
I'll admit that I self-identify as a Deanie Baby. I want to see more Dean on TV, see him go on more dates, and see him ask more goofy questions. But more than anything else, I want to see him untether the franchise from a structure that's made it less and less interesting. We'll see what he does on Bachelor in Paradise, but right now, Dean looks like the best The Bachelor has to offer.