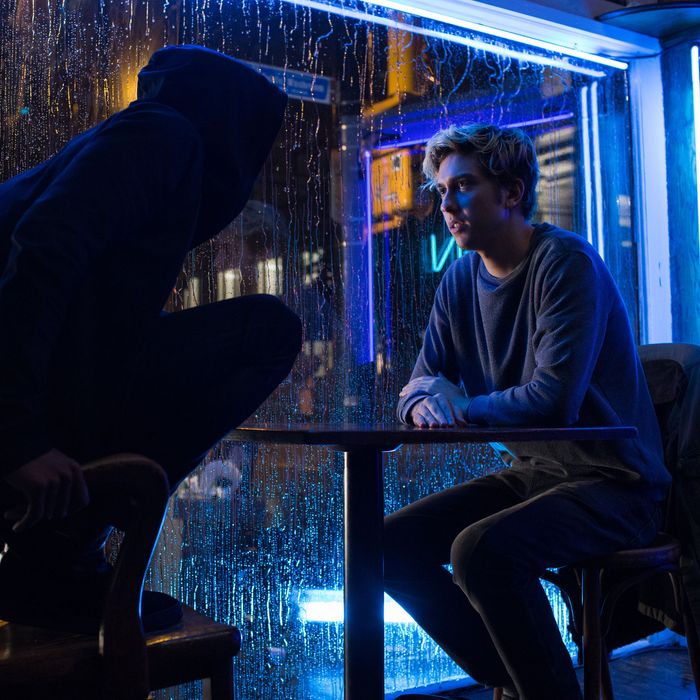 Death Note.
Photo: James Dittiger/Netflix
Death Note, Netflix's upcoming original movie, is the latest Japanese manga series to be translated to a Western market. The horror-thriller centers on a young man named Light, who finds a supernatural notebook that will kill anyone whose name appears in it. The beloved series first appeared in a Japanese manga magazine in 2003, and over the years, has been adapted into several TV series and films.
Death Note won't premiere on Netflix until August 25, but the film is the latest East-to-West adaptation to be criticized for whitewashing — casting white actors in roles previously played by or written as people of color. The film stars two white leads in parts that were originally written as Japanese characters: Nat Wolff as Light Turner (originally Light Yagami), and Margaret Qualley as Mia Sutton (originally Misa Amane). (Similar controversy has surrounded Netflix's Iron Fist, The Great Wall, Kubo and the Two Strings, Ghost in the Shell, and The Martian, among other projects.)
Director Adam Wingard initially seemed frustrated by the backlash, tweeting about what he saw as premature criticisms earlier this summer.
But speaking to Vulture last night at the New York premiere screening of Death Note, Wingard said he was open to the debate. "It's one of those things where it's a good conversation to be having, and it wasn't one we were really expecting," he said. "It wasn't until the Ghost in the Shell cracked it open [that] it became a conversation. But by then, we had already cast all of that stuff."
Wingard also emphasized that his film tells a new story, and focuses on a completely new character. "It's not just taking a character and trying to say a white kid is a Japanese kid. It is a whole new thing," he said. "The characters are all very different and it is a different kind of experience all together."
Wingard added that he wanted to make a film that felt different than what had been done before in Japan. "The approach, in some ways, was letting go of the original source material," he said. "[It was] about creating a new experience out of it. This stuff has already been made into movies in Japan. The anime itself is an adaptation, and a lot of those things are on the nose, so this was a chance to reexplore the material in a new light."
Death Note producer Roy Lee (The Departed, The Ring, The Lego Movie) dismissed the whitewashing criticism, and said they simply found the best actors available. "I think we got the right actors for the parts that were written," Lee told Vulture. "We didn't look at race as a factor. We just did the version that was set in the U.S. There are remakes of U.S. movies like Sideways in Japan, but there was never a thought for them to bring in American actors to play the [characters] in the Japanese remake."
Producer Masi Oka, who famously played Hiro Nakamura on Heroes, emphasized the point that, in the Netflix version, the characters weren't written to be Asian. "The whole idea of whitewashing is putting white people in roles that were meant to be a different race. But this wasn't specifically a racially bound story, because it was set in America," he told Vulture. "Anyone could have played that title role, whether it was white, African-American, Latino-American, or Asian-American. Anyone could have played that role. But at the end of the day, Nat [Wolff] knocked it out of the park, and he fit Adam's vision for the role. He did an amazing job."