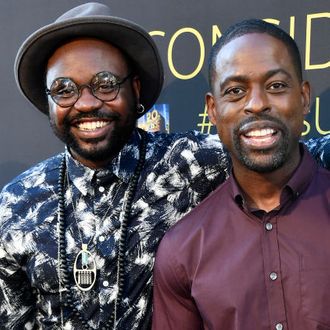 I mean, come on.
Photo: Frazer Harrison/Getty Images
To those not especially up-to-date: Actors Sterling K. Brown and Brian Tyree Henry are best friends, have known each other for more than a decade, and are both now Emmy-nominated for This Is Us on the heels of a breakout 2016. (Brown also starred in The People v. O.J. Simpson; Henry in Atlanta.) Their firmly established connection has long been a point of intrigue. As for what has not been so clear: the specific details of their bond — which are truly the stuff of #FriendshipGoals. Indeed, several excellent tidbits were recently unveiled in a New York Times interview, and they're enough to make this irresistible bromance all the more irresistible to the outside eye. For example: Did you know that Henry gave Brown the gentle but firm encouragement to depart the Lifetime series Army Wives after six years — to return to theater and not drain himself merely for "a lot of money"? That Brown once shaved Henry, who was set to play a drag queen onstage, with a pair of clippers in Park City, Utah? ("It was very nice — I don't know many people who would've hooked a brother up like that," Henry recalled. "I also think he was being very particular about his clippers.") That Brown slept on Henry's couch in New York whenever he'd appear on Person of Interest? (Brown: "We'd sit up, we'd talk trash, we'd watch TV, we'd eat food, we'd kick it. And we'd talk about what it's like to be in this business.") Or that their banter, even in a formal interview, could be so playfully prickly?
BTH: I was in Chicago filming a movie with Steve McQueen at the time —




SKB: Who was it? You dropped a name real quick. Want me to pick that up, Brian?




BTH: Oh, did I? I'm so sorry, Viola Davis was also in it, too.
Perhaps most affectingly, however: Brown was thrilled to see that both he and Henry were nominated for Emmys, but was also surprised to see the latter recognized for This Is Us, on which he was only a guest star, and not Atlanta. Brown said he was looking forward to "Paper Boi getting his due," fawning over Henry's performance in the acclaimed FX half-hour. Henry, naturally, provided an all-too-lovely response. "You know how to make a black man blush, dude," he cracked. "That's damn near impossible."