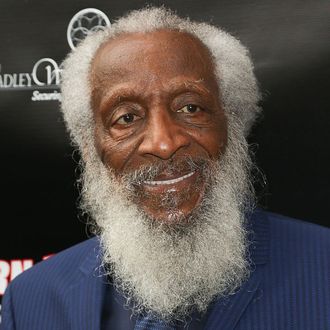 Dick Gregory at the premiere of
Turn Me Loose
.
Photo: Brent N. Clarke/FilmMagic
Dick Gregory, the legendary comedian and civil-rights activist, died on Saturday at 84 years of age. Gregory was taken to the hospital earlier this month after feeling ill, according to his son Christian, for a "serious but stable medical condition."
Dick Gregory began his trailblazing career as a comic during the 1950s while serving in the military, and eventually emerged as one of the first black comedians to receive widespread acclaim performing for predominantly white audiences. He's known for his long-delayed appearance on Tonight Starring Jack Paar, which he only agreed to after being assured a spot on the show's couch after performing — exposure usually denied to black comics who were invited — leading to a groundbreaking conversation between the pair. Gregory is ranked on Comedy Central's list of 100 greatest stand-ups of all time and has been celebrated for his sharp tackling of race and politics in his routines. He was also noted throughout the '60s and '70s for his role in the Civil Rights Movement, public support of the Equal Rights Amendment, activism against the Vietnam War, and unsuccessful write-in 1968 presidential candidacy.
"It is with enormous sadness that the Gregory family confirms that their father, comedic legend and civil rights activist Mr. Dick Gregory departed this earth tonight in Washington, D.C.," Christian Gregory said via a statement from his father's rep. "The family appreciates the outpouring of support and love and respectfully asks for their privacy as they grieve during this very difficult time."
Gregory has more than a dozen albums and books to his name. His life was recently explored in the acclaimed off-Broadway play Turn Me Loose, starring Joe Morton. Gregory continued to speak passionately on politics and culture through to President Trump's election last year, and in one particular Instagram post from March, he offered a stirring message of resistance, power, and hope.