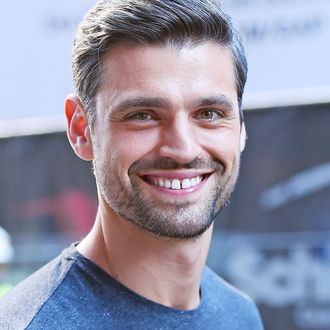 The drama isn't over.
Photo: Josiah Kamau/BuzzFoto via Getty Images
Peter Kraus may have been the fan favorite on the last season of The Bachelorette, but it doesn't sound like he's beloved by the show's producers. Although he did not mention Kraus by name, Bachelor creator Mike Fleiss posted a vague tweet today about Bachelor values, suggesting that someone like Kraus — who effectively withdrew himself from competition when he told Rachel Lindsay that he couldn't just propose to her at the end of the show — wouldn't be fit to become the next star of The Bachelor.
Host Chris Harrison has deflected speculation about who the next Bachelor might be, but now an anonymous insider has told People that Fleiss was definitely talking about Kraus, and that the crowd-pleasing personal trainer should consider himself blacklisted from the Bachelor universe.
"Peter is every Bachelor producer's worst nightmare: the perfect guy who cannot be coerced into proposing at the end," the unnamed source told People. "The fact that no one could talk Peter into buckling under and just giving her the ring — and that he wouldn't play along — absolutely enraged the higher-ups at the show. Including Fleiss, definitely. He is totally on their s— list forever, and there is no way they will reward him with a shot at The Bachelor. No way." Reliable resource Bachelor Steve contributed his own analysis on Twitter as well:
And shoring up some PTSD for fans, the People source reportedly also said, "Even if they weren't so mad, his unwillingness to play by the rules of the game has them afraid he'd be another Brad Womack or, worse, Juan Pablo [Galavis]. Not gonna happen." Let's hope this petty drama continues until a new Bachelor is named, and that there are many more subtweets to unpack.