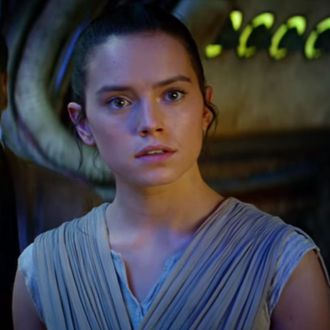 Catch her on Disney's app.
Photo: Lucasfilm
Say good-bye to the blessing that was Moana on Netflix: Disney has announced it will pull its movies from the service and start its own streaming platform. According to The Hollywood Reporter, Disney's service is aiming for a 2019 launch, with an ESPN streaming site expected in early 2018. Disney CEO Bob Iger confirmed that Pixar- and Disney-branded movies will live on the Disney streaming site. Ahead of its development, the company will acquire a majority stake in BAMTech, the streaming-tech company owned by Major League Baseball's streaming arm MLBAM.
"We're building direct-to-consumer Disney service. We've had a good relationship with Netflix. They have been distributing in the pay window Disney-branded movies and Pixar-branded movies, Marvel, and Star Wars," Iger told CNBC on Tuesday. "We had a deal that gave us the option to move our films from the Netflix platform to somewhere else — starting with a calendar year 2019 slate and that's what we're doing. So we're creating a Disney-branded service that will have those movies on it, and if you look at the 2019 slate, it includes Frozen 2, Toy Story 4, and a live-action remake of Lion King." Iger also told CNBC that the new streaming site will include movies from Disney's TV and movie library, along with TV and movies created specifically for the platform. Disney still plans to make Marvel shows with and for Netflix, so your Defenders are safe.
Update, September 7: Say good-bye to Marvel and Star Wars movies on Netflix. Disney CEO Bob Iger told reporters on Thursday that the company has decided to move those properties to the new streaming platform, to debut in 2019. "We've now decided we will put the Marvel and Star Wars movie on this app as well," Iger said at the Bank of America Merrill Lynch Media, Communications and Entertainment conference.