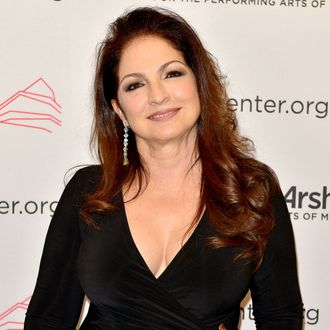 Photo: Johnny Louis/FilmMagic
It's almost time again for the annual Kennedy Center Honors for artists who have made distinctive contributions to American culture. This year's honorees include LL Cool J, Norman Lear, Lionel Richie, dancer Carmen de Lavallade, and Gloria Estefan. The thing about this event is that it's hosted by the president and first lady, and a few of the people being recognized this year stand in open opposition to Donald Trump. Lear, who has a history of criticizing the president, told Variety that he won't attend the pre-ceremony reception at the White House, citing Trump's disdain for funding the arts. However, he emphasized how much it means to him to be recognized by the organization. "I am so grateful to the Kennedy Center for this honor. It is more important now than ever that we stand up for artists, for artistic expression, and for the valiant fight that artists fight to reveal the wonder and oneness of the human spirit."
But Lear isn't the only voice of Trump opposition being celebrated. Estefan, a Cuban-American whose family moved to Miami from Havana when she was young, told The New York Times today that she would not stay quiet at the upcoming Gala with the president in the same room — especially considering the recently introduced RAISE Act, which targets immigration policy. "Mr. President, as a proud immigrant of this country, it's very important for me that you see the wonderful contributions we have made," she said. "We have seen a lot of anti-immigrant backlash this year, so for us, it may hold even more beauty than for someone who has lived here all their lives. To get this kind of award is so American."
As far as LL Cool J goes, he has tweeted at the president about topics like the Flint, Michigan, water crisis and the missing African-American girls in Washington D.C., but he has not made remarks as pointed as Lear or Estefan. Somewhat relatedly, CNN contributor Van Jones did once use LL lyrics to describe a poor debate performance by Trump during the campaign, but surely the rapper did not pen his 1985 song "That's A Lie" with advanced knowledge it would one day be used to blast a presidential candidate. The 40th annual Kennedy Center Honors will be broadcast on CBS on December 26, and it should be a weird night!
Update, August 18: Dancer, choreographer, and actress Carmen de Lavallade has announced that she will skip the Kennedy Center honors in protest of Donald Trump. She provided a statement to the Washington Post that reads, "In light of the socially divisive and morally caustic narrative that our current leadership is choosing to engage in, and in keeping with the principles that I and so many others have fought for, I will be declining the invitation to attend the reception at the White House."
Meanwhile, Lionel Richie is reportedly still on the fence about whether or not he will attend, and LL Cool J — the first rapper ever to be recognized as a Kennedy Center honoree — has not made any statement on the matter.