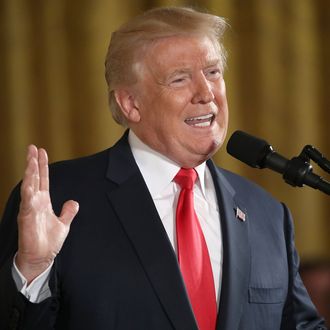 Sounds about right.
Photo: Win McNamee/Getty Images
It's dark futures week here on Vulture and, really, is there a darker future than the Sharknado franchise? On top of constructing a shark-infested world populated only by C-list celebs, the movie franchise once got pretty close to predicting the most harrowing future yet: Donald Trump as president. David Latt, co-founder of the studio behind the series, tells The Hollywood Reporter that he came seriously close to wrangling Trump to play the president in Sharknado 3 in 2015 after negotiations with Sarah Palin, their first choice, didn't pan out. Sharknado star Ian Ziering had worked with Trump on Celebrity Apprentice and pitched the idea — with Ann Coulter as Trump's vice-president. "The Donald said yes. He was thrilled to be asked," Latt recalls of the offer.
Negotiations stalled, however, when Trump's attorney informed the studio that he was eyeing an actual presidential run (which was announced months later), so producers gave the role to noted Trump critic Mark Cuban, with Coulter playing his VP instead. "Then we immediately heard from Trump's lawyer," Latt says. "He basically said, 'How dare you? Donald wanted to do this. We're going to sue you! We're going to shut the entire show down!'" (Trump's lawyer, who is now under FBI investigation for his ties to Russian collusion, tells THR he has "no recollection of the angry correspondence.") Sharknado: actually more prescient than all those random flying shark decapitations would have you believe.