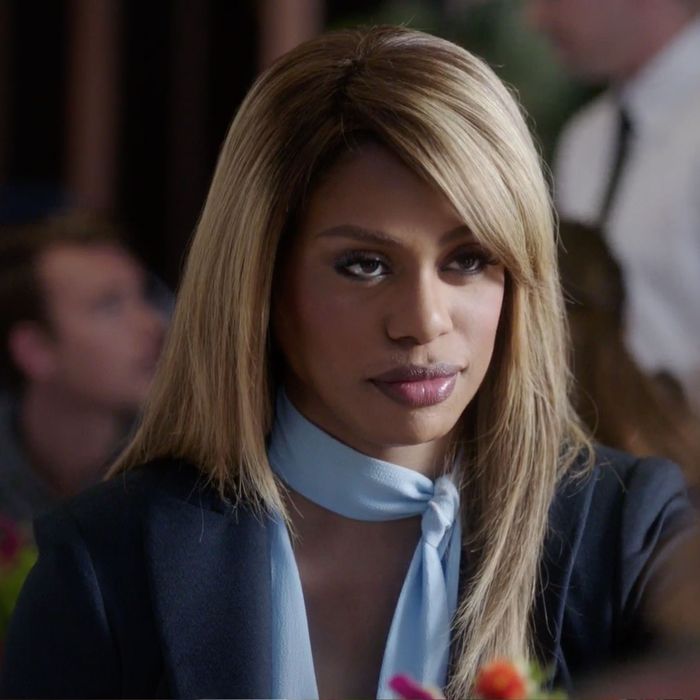 Laverne Cox in
Doubt
.
Photo: CBS
The scene is simple enough: three women eating salads and talking about a date that maybe isn't actually a date. It's far from a revolutionary thing to see on a certain kind of TV show — especially in the post–Sex and the City era — but when it appeared in a recent episode of the CBS legal drama Doubt, viewers got a new spin on the well-worn formula. This time, trans women joined in on the mundanity.
About 11 minutes into Doubt's fourth episode, "Clean Burn," defense attorney Cameron Wirth (Laverne Cox) meets up with her friends Mckayla (Jen Richards) and Valentina (Angelica Ross) to decide whether or not she should accept a slick prosecutor's invitation to a "10 percent date." "Yes!" screams Mckayla. "[He's] better than your current boyfriend [who] won't even be seen in public with you." Valentina is a little more skeptical, warning Cameron that, for all she knows, "He's a chaser." Less than a minute later, a frustrated Cameron takes a bite of her salad, and the show cuts away to another character's plotline.
Boil that scene down to its basic elements, and it's a group of white-collar women commiserating about their dating lives over a businesswoman's special. That's a pretty familiar scene — so familiar that it's easy to overlook just how groundbreaking the whole thing actually is. Here, we have three trans characters, all played by actresses who are also trans themselves, in a scene with zero cis people in it. I've racked my brain, and I can honestly say that I've never seen that on TV before. Amazon's Transparent has had scenes with a lot of trans women, but they've all featured series protagonist Maura Pfefferman, played by cis actor Jeffrey Tambor.
Nick Adams, the director of transgender media and representation at GLAAD, confirmed that it's "extremely rare" to see two or more trans characters talking to each other on a scripted show, regardless of who's playing the part. Seeing a lone trans character with scripted dialogue is only slightly less rare. The 2016–2017 TV season only featured 16 regular and recurring trans characters, according to GLAAD's annual "Where We Are on TV" report, and some of those characters were played by the same actor; Laverne Cox also plays Sophia Burset on Netflix's Orange Is the New Black, for example, and Elliot Fletcher does double duty on Freeform's The Fosters and Showtime's Shameless. Because of this dearth of representation, Adams said that "nearly every scene with Cameron [on Doubt] is a groundbreaking scene for a trans character on TV."
While it's weird to realize that something as mundane as "three trans women hanging out and talking about stuff" hadn't appeared on scripted TV before Doubt, it's even weirder to think about how close it came to never airing at all. Doubt premiered back in February, but then CBS canceled the series — the second on broadcast TV to feature a trans actor playing a trans series regular (after Fox's Star, which features Amiyah Scott as Cotton Brown) — after only two episodes. The network then pulled the show from rotation, leaving 11 full episodes unseen. CBS decided to air the rest of the Doubt's only season this summer, with new episodes every Saturday. The final two episodes will air this weekend.
The lunch scene in "Clean Burn" was written by Johnny Norris, who had input from the rest of the writers room. One of those writers is Imogen Binnie, the author of Nevada, a novel about a punk trans woman living in New York. Doubt co-creators Joan Rater and Tony Phelan are huge Nevada heads, so getting Binnie into the writers room was their dream come true. ("We read Nevada and were like, 'We've gotta get this woman,'" Rater said.) Binnie, who is trans herself, was one of the principal architects of Cameron's story lines and the compelling territory she ventures into.
Laverne Cox also played a major role in figuring out where her character would go throughout the season: During an early brainstorming session, she first suggested a scene that would give viewers a peek into Cameron's life outside of the courtroom to establish that her world is filled with trans people, even if her workplace is not. "In June of 2016, I was invited into the writers room to discuss my character arc for the season," Cox said. "They asked me what I thought. I talked about the role my girlfriends played in my life and how I thought it would be a disservice to see Cameron cut off from community. I pitched Cameron having some trans girlfriends she would get together with to talk about her life. My showrunners, Joan Rater and Tony Phelan, loved it. And, voilà."
Along with making her character more believable, Cox told Vulture that she hoped giving Cameron some onscreen friends would create more opportunities for other trans actresses. Finding talented trans actresses was easy, Rater said, so the hard part came in narrowing them down: "We could have cast at least 16 different people. We had so many good actresses come in." Rater and Phelan ended up casting Ross and Richards — stars of the Emmy-nominated web series Her Story, which Richards co-created with Laura Zak — before realizing that the three actresses were already good friends in real life. "Tony said he cast them because he thought they would probably be Cameron's friends and he was right," Cox said. "The rest is herstory."
Unfortunately, so is Doubt, or at least it will be after the series finale airs on August 12. Regarding the show's cancellation, Rater said that she's happy people are able to watch the final episodes, but "it's certainly bittersweet." Phelan, meanwhile, said he feels blessed to have been able to work with an actress as versatile and collaborative as Cox. He's also thankful to have helped bring one of the most fully rounded trans characters in TV history to small screens across the country. "I think you can't underestimate how powerful it is to have diverse characters in America's living room every week," Phelan said. "It goes a long way in not only educating people but making them understand that these characters are real people and that they face the same challenges that the rest of us do. If you can get people who don't necessarily know anyone who's trans or gay to identify with and empathize with a character who is, that's really powerful, you know?"
This story has been corrected to show that broadcast TV's first trans series regular was Amiyah Scott on Star, not Laverne Cox on Doubt.