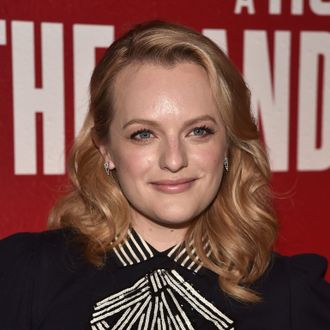 Photo: Alberto E. Rodriguez/Getty Images
Scientology, the religion founded by L. Ron Hubbard and practiced by celebrities like Tom Cruise, has received an almost unyielding stream of bad press in recent years. Former church member Leah Remini even has an A&E docuseries devoted entirely to exposing the church's alleged wrongdoings. Given the accusations made against Scientology, which include claims that some adherents allegedly must sign billion-year contracts, pay thousands of dollars for membership, and maintain strict adherence to its teachings or be labeled a Suppressive Person, some people apparently can't help but see parallels between the church and the strict Christian religion that rises to power in Hulu's The Handmaid's Tale. Or at least one person saw it, specifically a fan who took her observation to the Instagram page of Handmaid's star Elisabeth Moss, herself a member of Scientology.
"Love this adaptation so much," wrote an Instagram user by the name of moelybanks on a photo of Moss posted this week. "Question though, does it make you think twice about Scientology? Both Gilead and Scientology both believe that all outside sources (aka news) are wrong or evil … it's just very interesting." Unsurprisingly, Moss does not, in fact, see her religion as akin to a fictional totalitarian regime designed around the subjugation of fertile women."That's actually not true at all about Scientology," Moss replied to the comment. "Religious freedom and tolerance and understanding the truth and equal rights for every race, religion and creed are extremely important to me. The most important things to me probably. And so Gilead and THT hit me on a very personal level. Thanks for the interesting question!" All and all, probably the politest response to having your religion compared to a faith that leans heavily on the Ceremony.