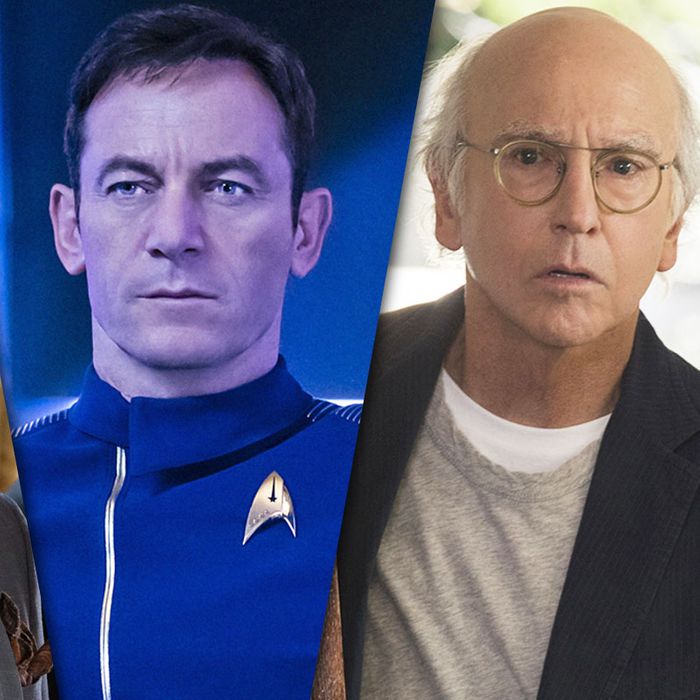 Welcome back,
Dynasty
,
Star Trek: Discover
, and
Curb Your Enthusiasm
.
Photo: CBS/HBO
As much as television networks pride themselves on creating a fresh slate of original programming every year, take a look at the "new" shows set to grace small screens this fall. What do you see? Sure, there's a fair number of promising original series ― HBO's The Deuce, Fox's The Orville, TBS's The Last O.G. ― but the fact of the matter is that reboots, revivals, and spinoffs dominate the TV lineup like never before. If you find it hard to differentiate between the old and the new, allow Vulture to guide you through all of these shows coming this fall.
The Tick (August 25, Amazon)
Based on: The satirical superhero created by cartoonist Ben Edlund in the late 1980s, which already spurred two previous television series.
The premise: In a world where superheroes are the norm, a neurotic accountant is lured into do-gooder-ism by a mysterious super-stranger called the Tick (played by Peter Serafinowicz) to help combat villains in their city. Naturally, becoming his sidekick brings a slew of silliness and misadventures that he wasn't exactly prepared for.
Star Trek: Discovery (September 24, CBS All Access)
Based on: The greater Star Trek television and cinematic universe, which spans all the way back to Gene Roddenberry's Star Trek: The Original Series in 1966.
The premise: Timewise, Discovery will take place ten years before the intergalactic events of The Original Series. Narrative-wise, expect a Klingon leader named T'Kuvma (played by Chris Obi) to attempt to unite all of his people at all costs — even if that means starting a cold war.
Young Sheldon (September 25, CBS)
Based on: The nerdy, Friends-level-money shenanigans going on over at CBS's The Big Bang Theory. Specifically, the mind of Sheldon Cooper.
The premise: The title says it all, really. Young Sheldon follows the life of a 9-year-old Sheldon (played by Big Little Lies' Iain Armitage) who's living in rural Texas and attending high school because of his genius-level IQ. His relentless quirks prove to be a nuisance, but besides the educational hijinks, the series promises to take a deeper dive into Sheldon's dysfunctional family dynamic and how he became the man we know on TBBT.
Will & Grace (September 28, NBC)
Based on: A continuation of Will & Grace's witty original run on NBC from 1998–2006.
The premise: Will and Grace and Karen and Jack's friend quartet returns for more hot takes on modern New York City life, with the events of the previous finale being ignored for the sake of continuity. (Thank God.)
Curb Your Enthusiasm (October 1, HBO)
Based on: A continuation of the previous eight seasons, the last of which aired in 2011.
The premise: Does Curb Your Enthusiasm even need a premise? Just bask in the glory of a fictionalized Larry David as he goes about his daily life in Los Angeles, one complaint at a time. You have our permission to chat and cut on the day it premieres.
Dynasty (October 11, the CW)
Based on: The wildly popular ABC soap opera that aired for most of the 1980s, delighting audiences with every "rich-people problem" twist and turn under the sun.
The premise: The creators of Gossip Girl and showrunner Sallie Patrick are bringing Dynasty back for a younger crowd, as the series will follow a 20-something rich bitch (Elizabeth Gillies, of Victorious fame) and her brother, who find out their father is marrying a woman who doesn't have billions in the bank. Sex, intrigue, and lots of jealousy ensue. Will Joan Collins grace us with a cameo? Start placing your bets!
S.W.A.T. (November 2, CBS)
Based on: The ABC series that aired in the 1970s, which was previously spun off into a 2003 film starring Samuel L. Jackson and Colin Farrell.
The premise: Set in Los Angeles, the drama follows a new SWAT sergeant (played by the dashing Shemar Moore) who's leading his own tactical unit for the first time as racial tensions reach a breaking point in the city. With a capable team in place, they have to work together to prevent an onslaught of violence from tearing their city apart.
Marvel's Runaways (November 21, Netflix)
Based on: The Marvel Comics superhero team of the same name, which debuted in 2003.
The premise: Also hailing from Gossip Girl creators Josh Schwartz and Stephanie Savage, Runaways deals with six teens who discover that their parents are part of an evil crime organization. Even better, they learn that they all have unique powers of their own, uniting to defeat their parents from causing more harm in the world.
She's Gotta Have It (November 23, Netflix)
Based on: Spike Lee's 1986 comedy-drama film of the same name.
The premise: Nola Darling (played by newcomer DeWanda Wise) gets a modern-day spin as a woman with three lovers who juggles her demanding career and family to the best of her ability. Lee is directing all ten episodes.