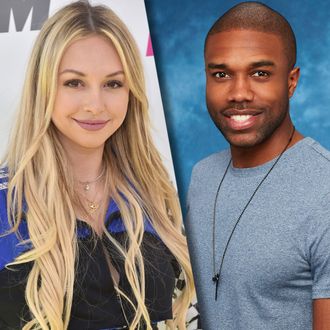 Olympios, Jackson.
Photo: Getty Images/ABC
Corinne Olympios and DeMario Jackson did not return to Bachelor in Paradise after an investigation into possible sexual misconduct temporarily halted production on the show's fourth season. (No evidence of assault was found, and the show was cleared to resume production.) However, enough material was filmed during their brief time on BIP — concerning themselves and the story lines of other cast members — that viewers will see footage of Jackson and Olympios when season four premieres on August 14. Paradise host Chris Harrison explained to Entertainment Weekly:
"There's been a lot written and assumed and said about what we're going to do and what we're not going to do. We had already shot for three days [before the shutdown] and a lot had actually happened — a lot of people had arrived, there had been dates, we'd gotten to the point where there was about to be our first rose ceremony — so we had a week's worth of stuff [that] we didn't want to just throw that away because that's what impacted the show and it's what led to the shutdown."
As far as what specifically will be broadcast of Olympios, Jackson, and the events that led up to the controversial incident, Harrison was clear that the incident in question won't actually be broadcast. "You're going to see more than enough to show you what was happening that led up to the shutdown, within certain taste and values of what we can show on network TV," he said.