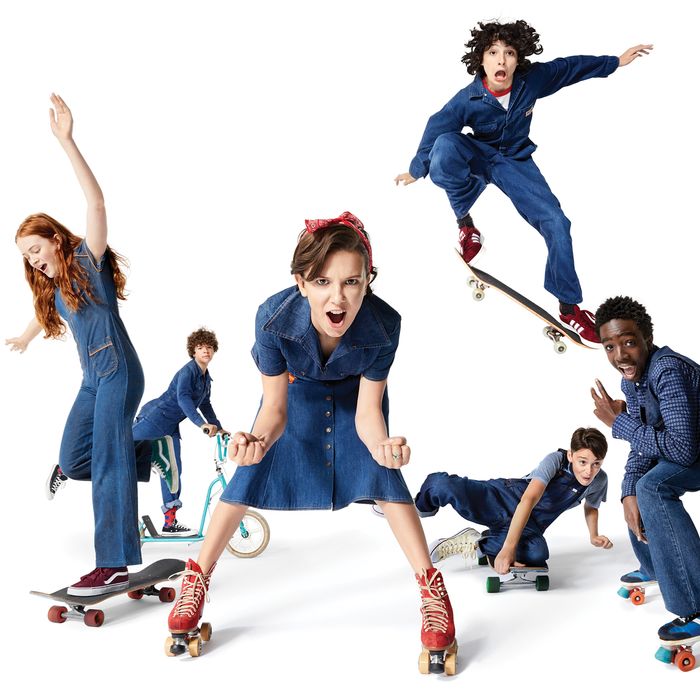 From left, Sadie Sink, Gaten Matarazzo, Millie Bobby Brown, Finn Wolfhard, Noah Schnapp, and Caleb McLaughlin.
Photo: Art Streiber

Since Stranger Things debuted in 2016, the core tween-and-teen members of the cast have handed out peanut-butter-and-jelly sandwiches during a live Emmys telecast; celebrated ecstatically on national television when they won the Screen Actors Guild Award for best TV drama ensemble; met President Obama, who, according to actress Millie Bobby Brown, told them they were "cool"; appeared before thousands of screaming fans at Comic-Con; been celebrated on social media every time one or more of them does virtually anything semi-adorable; and seen their series get nominated this year for a slew of Emmys, including one for Brown's performance as the telekinetically powerful Eleven. (The Stranger Things kids will not be on Emmy PB&J duty this year, America.)
Ask the members of this gang of six — that would be Brown, 13; Finn Wolfhard, 14; Gaten Matarazzo, 14; Caleb McLaughlin, 15; Noah Schnapp, 12; and now Sadie Sink, 15, who joins the cast in the forthcoming second season as a skater girl named Max — what feels most different about their lives now versus a year ago, and they'll mention how often they get recognized in public or how many new followers they've gained on Instagram. But otherwise, they insist their day-to-day is mostly the same.
"It's definitely been affected by the show a big bunch, but it's not different," says Brown. "I'm still the same person." (For the record, during this interview, Brown requested a can of Coke to drink. She did not, however, crush it using her mind.)
"A lot of people consider us famous, but I think we all hate the F-word," says Matarazzo, who plays Dustin, the one with the infectious grin. "All we are is people doing our job, and our job happens to be in the public eye a lot."
As improbable as it sounds, given the toxicity that often results from mixing youth with sudden celebrity, the members of the Stranger Things cast come across exactly like their characters on the show: as good, grounded kids who genuinely like and support one another.
During production of the second season of Stranger Things — which took place over eight months in Atlanta starting last fall, under what the cast admits was a lot of pressure to replicate season one's success — the six actors regularly messaged one another in a group chat they named "Stranger Texts." They rarely brought their phones to set, though, opting to spend their downtime engaging in more old-fashioned pursuits. "We play cards, we play Monopoly, we play games in the school trailer," Brown says. "As soon as we're working, we're kind of like those '80s kids again." They often hung out together off-set, too, taking day trips to Six Flags and trick-or-treating as a unit, which, since they were in costume, mostly enabled them to go unrecognized. "This one kid was like, 'Are you the cast from Stranger Things?' " Brown recalls. "And I was all like, 'No, I'm Harley Quinn.' "
Even outside of filming and their various publicity commitments, the kids stay in touch — though, as is typical in any group dynamic, some one-on-one relationships are closer than others. Brown and Sink, for example, immediately connected as the only two girls of the group and planned a late-summer vacation together with their families. If there's any latent jealousy between any of them, it's not apparent. Schnapp — whose character, Will, is absent from much of season one after getting sucked into the Upside Down, the show's disturbing parallel universe — was sometimes sidelined from the onslaught of media attention in the first season. When asked if that was hard for him, he simply says it's been nicer in season two, now that Will has a more front-and-center role in the story. Then his castmates immediately jump to his defense.
"Noah wasn't a part of a lot of the press stuff" last season, says Wolfhard, who plays Mike. "I remember we were super-bummed when we heard that he wasn't coming to The Tonight Show. But now it's all cool."
"And now we have Sadie," Schnapp says, careful to make sure no one feels left out.
"We really are best friends, I feel like," says Matarazzo, and Sink jumps in to say: "It's not an act."
At least one thing has changed for these kids, Wolfhard concedes. Back home in Vancouver, Canada, he says, "The bullies at my school are kind of afraid of me now. Which is great."
Styling by Rebecca Ramsey; Prop Styling by Rob Strauss; Grooming by Heather Schnell for Exclusive Artists Using Chanel Les Beiges; Hair for Brown by Blake Erik at Statement Artists; Makeup for Brown by Nina Park at the Wall Group.
*This article appears in the August 21, 2017, issue of New York Magazine.
On Noah Schnapp: Overalls by Vans; T-shirt From Vintage Twin; Sneakers by Converse. On Millie Bobby Brown: Jumpsuit From Melet Mercantile; Skirt From Vintage Twin; Bandana by Madewell; Roller Skates by Moxie. On Finn Wolfhard: Coveralls From Vintage Twin; T-shirt by Wrangler; Sneakers by Adidas. On Caleb Mclaughlin: Vest From Vintage Twin; Shirt by Gap; Jeans From Melet Mercantile; Roller Skates From New York Vintage. On Sadie Sink: Jumpsuit From Vintage Loft; Sneakers by Vans. On Gaten Matarazzo: Shirt and Jeans From Vintage Twin; Sneakers by Converse.