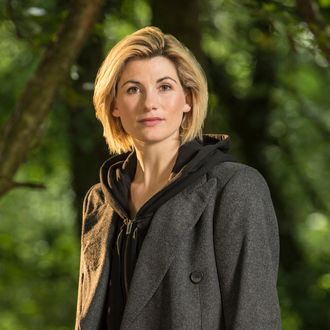 Photo: Colin Hutton/BBC/Colin Hutton
The future is female — and very timey-wimey. Deviating from the tradition of having a male play Doctor Who's titular role, the BBC announced last month that Jodie Whittaker would be portraying the franchise's 13th incarnation of the Doctor in all of her sonic-screwdriver glory. Most people were happy. Others weren't. Regardless, Whittaker will be taking over the role from Peter Capaldi at the end of this year's Christmas Special, and slowly but surely, previous companions on the series have been voicing their support for the casting decision. Jenna Coleman, who portrayed the feisty Clara Oswald alongside #12 Capaldi and #11 Matt Smith, has now become the latest to do just that. "Jodie is such a clever actress," she told The Telegraph. "I can't wait to see what she does. I just want to hear her speak. It's a really exciting time." In fact, almost all of the "modern" Doctor Who companions have been vocal about their happiness for Whittaker's casting, as evidenced below, thanks to social media.
Karen Gillan, meanwhile, said she was "so excited" with the choice of Whittaker, while Catherine Tate advised people to "get over it" if they weren't happy that it was a woman. The Who-niverse is strong here.